Rubio, Yarbrough help Rapids beat Whitecaps
Diego Rubio scored his first goal of the season and Will Yarbrough had three saves to help the Colorado Rapids beat the Vancouver Whitecaps 1-0 on Sunday night. Rubio blasted a rising free kick from about 25 yards that skimmed the crossbar and slipped inside the post in the 26th minute.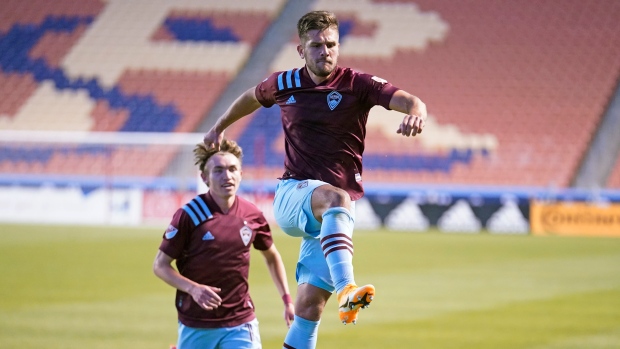 SANDY, Utah — Whitecaps coach Marc Dos Santos felt his team's slow start was its undoing.
Vancouver conceded early and could not recover as the Whitecaps lost 1-0 to the Colorado Rapids in Major League Soccer play on Sunday night.
"Unfortunately, the first 25 minutes really set a tone, it's the way you show up when you start the game," said Dos Santos. "And now the face of the team right away in the first 20 minutes, that's the disappointing part for me.
"Maybe we felt the pressure that we really wanted the opportunity to win the game and get to seven points, so maybe that played something in our heads in the first 20 to 25 minutes."
That slow start put the Rapids in a position to strike when they were awarded a free kick about 25 yards out of Maxime Crepeau's goal.
Diego Rubio stepped up and blasted a rising free kick that skimmed the crossbar and slipped inside the post in the 26th minute for his first goal of the season.
Crepeau dove to his right but could not get a hand on the sublime free kick.
"It's a fantastic strike," conceded the Whitecaps goalkeeper. "It is what it is. Great strike, great goal."
The Rapids outshot Vancouver (1-1-1), which had 57.1% possession, 16-9.
Will Yarbrough had three saves and posted his second shutout of the season for Colorado (1-1-1). The 32-year-old had four clean sheets in 14 starts last season, his first in MLS.
"Coach always says that the league is a marathon," said 'Caps defender Ranko Veselinovic. "We have 31 more games to play. From every game, whether we win or we lose, we have to learn, we have to become better in the next game.
"I hope next game we will start from the first minute to press the opponent, to be compact, to play better in our possession."
The Whitecaps are playing their home games in the United States due to travel restrictions put in place by the Canadian government regarding the coronavirus pandemic.
Vancouver's next game is Saturday against CF Montreal.
--With files from The Associated Press