Saskatchewan Roughriders Season Preview
Get ready for the CFL season with TSN.ca's Team Previews. Check out roster breakdowns and season outlooks from CFL on TSN analysts. We'll roll out a new team each week day. Today, the Saskatchewan Roughriders.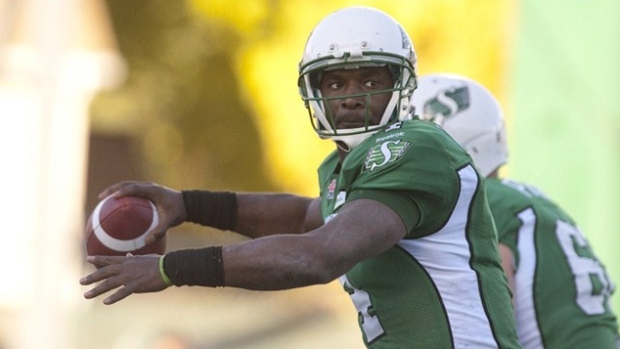 Roughriders look to ride a healthy Durant to success
Head Coach: Corey Chamblin
GM: Brendan Taman
| Record | Offence | Defence |
| --- | --- | --- |
| 10-8 | 305.1 (6th) | 331.8 (7th) |
Last year's late-season collapse proved two things in Saskatchewan: the importance of Darian Durant to the Roughriders, and the importance of solid quarterback depth.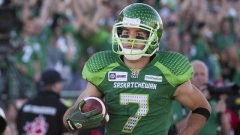 The Roughriders hope they have addressed both this off-season. While health of course can never be guaranteed, Durant entered training camp completely ready to go after an elbow injury cost him the last eight games of last year (six of them losses).
And as for QB depth, the Riders signed veteran Kevin Glenn, who started all but one game for the BC Lions last year, and has likely been the most reliable backups/spot starters the past three seasons.
And strength in numbers at quarterback could be a good thing in Saskatchewan especially this year; no other position will feel the impact of Ben Heenan's departure to the NFL more.
That said, health permitting the Riders have a good chance of picking up where they left off before the Durant injury, battling atop the West Division standings.
Duane Forde's Canadian Content
During their 2013 Grey Cup winning season, the Roughriders homegrown talent pool was so deep that they often started nine Canadians, two above the ratio requirement. Two years later, however, only four of those nine starters remain – guards Brendon LaBatte and Chris Best, and receivers Chris Getzlaf and Rob Bagg.
The list of departures over the last two off-seasons has included defenders Craig Butler, Ricky Foley, and Keith Shologan, as well as offensive linemen Dominic Picard and Ben Heenan. The cushion of having had two extra Canadian starters allowed the Riders to replace Butler and Shologan with Americans last season, and Dan Clark appears ready to slide into Picard's old spot at centre. Middle linebacker Shea Emry was acquired from Toronto in the Foley trade, making it a straight swap of National starters, leaving the loss of Heenan, a ratio breaker at offensive tackle, as the biggest cause for concern in Rider Nation.
With proven Canadian tackles being few and far between, Saskatchewan has accumulated some National depth in the secondary, led by former Calgary Stampeder Keenan MacDougall, creating the possibility of starting a Canadian on the back end. The team also has the option of using Jerome Messam at running back. Grade: B+
Matt Dunigan's Quarterback Analysis
In light of Durant's injury last year, how important is proper QB depth in the CFL?
It's everything to have depth in the CFL, period; but particularly at the most important position, quarterback.
Take last year for example, Durant goes down in Week 11 vs Winnipeg and Riderville received a wake-up call as to the importance of depth behind the centre. Tino Sunseri (U. Pittsburg) was tossed into the fire along with Seth Doege (Texas Tech), then it was scramble mode and BANG, Kerry Joseph (McNeese State) is called upon to try and salvage the season. Not good; not good at all!

This off-season, Kevin Glenn (Illinois State) is snatched up because he has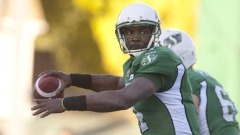 become TSN (THE SAFETY NET) for the last three seasons or more, so that what happened last season won't repeat itself...
This provides immediate assurance, productivity, leadership and a veteran presence offensively if Darian, God forbid, goes down again this season for the Green and White. Huge moving forward! Full analysis
Farhan Lalji's Draft Analysis
The Saskatchewan Roughriders knew Nic Demski was an exceptional talent when they took him with the fifth overall selection, but 10 days into camp, the University of Manitoba product has proven to be even better than expected.
Like even the most seasoned veterans have done in previous years, Demski struggled early on learning offensive coordinator Jacques Chapdelaine's complex offence, but in the past week he has picked things up well, and shown the versatility the Riders were looking for. Demski was considered the most polished receiver in the draft – a player who can run a 4.5 40-yard dash and effectively run a variety of routes. So far in camp he has lined up at multiple receiver spots and even at running back and as a kick returner. Expect to see Dempski in a number of second down packages.
The Royal Canadian Air Force has dwindled in recent seasons, with legitimate options for starting Canadian receivers beginning and ending with Rob Bagg and Chris Getzlaf. That will change this year with the addition of Demski.
The one rookie who could start in Week 1 is defensive tackle Rory Connop, selected 26th overall. The Riders are determined to start a Canadian defensive lineman this year for ratio purposes and drafted three of them. If the season were to start today, that player would be Connop, who has good athleticism and movement, holding his own in 1 on 1 drills.
Seventh round selection Brandon Tennant showed some flashes prior to going down with an injury; he is expected to return in Week 1-2 of the regular season and could be a part of the rotation.
The biggest surprise among the rookie class has been another defensive tackle,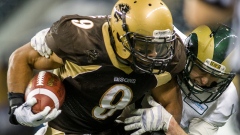 Tim Agbaje from the University of Saskatchewan, who was one of the Riders two protected rookies immediately after the draft. Agbaje has shown very well in pass rush drills with his athleticism, but is still very raw against the run.
Fullback Matt Rea from Michigan State also has a shot to make the team. He has caught the ball out of the backfield better than expected, but hasn't blocked as well the coaches had hoped yet. Nonetheless, he is a very physical player who will push the likes of Scott McHendry and could contribute on special teams.
| Round (Pick) | Player | Position | College |
| --- | --- | --- | --- |
| 1 (6) | Nic Demski | WR | Manitoba |
| 3 (26) | Rory Connop | DL | Western |
| 4 (35) | Matt Rea | FB | Michigan State |
| 5 (42) | Kwame Adjei | DB | Mount Allison |
| 6 (47) | Tyler Langlais | DL | Calgary |
| 6 (50) | Melvin Abankwah | RB | St. Mary's |
| 7 (59) | Brandon Tennant | DL | Laval |
Paul LaPolice's Scouting Report
The Riders are looking to become a more pass-first football team and improve on the fewest passing yards per game in the CFL last year. Look for Weston Dressler to be better used in the short passing game while the return of Taj Smith should help the Riders stretch the field vertically. Jerome Messam is a good back who can provide roster flexibility.
Defensively, the Riders will continue to become a more aggressive defensive unit. Led by John Chick, they sacked the Quarterback 61 times, best in the CFL. Shea Emry will step into a starting role at MLB and the Riders need to establish another national starter between Rory Connop and Keenan MacDougall. They don't have a ton of flexibility on defence with National starters, especially when MacDougall plays the same spot as standout Tyron Brackenridge.
The Special Teams gave up five return touchdowns last year and will have to shore up the coverage units, especially with the new rules involving punt team. Chris Milo needs to help the offence score by improving his field goal accuracy.
The biggest stat for the Riders last year was 10: the number of starts Darian Durant made. The team was rolling with him and then when he was lost for the season, they struggled. It is very difficult to win when you play four different QBs. Enter Kevin Glenn, who Brendan Taman signed in the off-season to have depth in case something happens to Darian again.
Read LaPolice's full analysis here
East: Redblacks, Argonauts, Alouettes, Tiger-Cats
West: Blue Bombers, Lions, Roughriders, Eskimos, Stampeders