Saulnier scores late as Canada beats U.S. in women's hockey
Jillian Saulnier scored with 3:10 left in the third period and Laura Fortino added an empty-net goal to give Canada's women's hockey team a 2-0 victory over the United States in pre-Olympic exhibition play on Tuesday.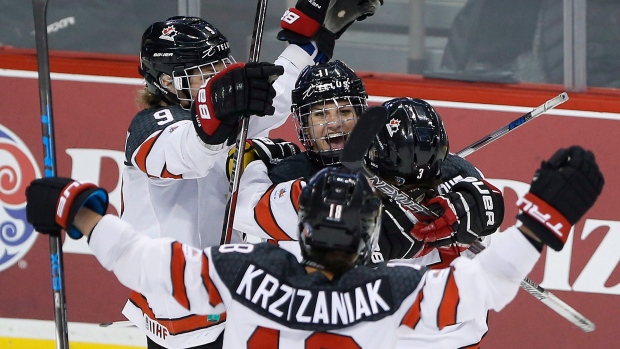 WINNIPEG — Even after stopping 32 shots in a 2-0 shutout over the Americans on Tuesday night, Canadian goaltender Genevieve Lacasse wasn't about to take all the credit.
The Kingston, Ont., native led Canada in the pre-Olympic exhibition win, but said her teammates made the busy night easier.
"I think our team did a good job, " Lacasse said. "We kept them to the outside, and then any rebound in front of the net that I let out, our (defence) boxed out and our forwards got the puck out and it was just perfect."
Jillian Saulnier scored the game's first goal with 3:10 left in the third period on a backhand shot past goalie Alex Rigsby. Laura Fortino added an empty-netter with 44 seconds remaining.
Rigsby made 19 saves in the fourth game of a six-game series leading up to February's Winter Olympics in Pyeongchang, South Korea. Canada leads the series 3-1.
Canada was 0 for 3 on the power play and the Americans went 0 for 5 in front of a crowd estimated at over 11,000 at Bell MTS Place.
"You have to score on the power play, there's just no two ways about it," U.S. head coach Robb Stauber said. "We had some looks and good chances."
Saulnier called her goal a "full-line" effort, from Brianne Jenner getting the puck in deep and Jennifer Wakefield battling for it with a defender along the boards.
"(The puck) ended up popping out to me and I was lucky to get around the defenceman and back it in with my backhand there," the Halifax forward said.
The Americans led shots on goal 13-7 after the first period and then the pace and physicality picked up in the second, with some roughing and body-checking calls.
Illinois winger Kendall Coyne challenged Lacasse twice, making the netminder whip out her glove to grab the puck. Coyne then made a slick move to get around Manitoba defender Halli Krzyzaniak and Lacasse turned aside the shot.
Shots on goal favoured the Americans 25-15 after the second.
"We had great chances, we outshot them, but obviously that's not going to be good enough to win," Coyne said. "We've just got to figure out how to get one by whatever goalie's in the net that night."
Canada, which also won 2-1 in overtime on Sunday in Minnesota, is carrying 26 players and has to cut three to get down to the Olympic roster.
The teams face off again Dec. 15 in San Jose, Calif.