Schultz's championship round picks: Take the Jaguars to cover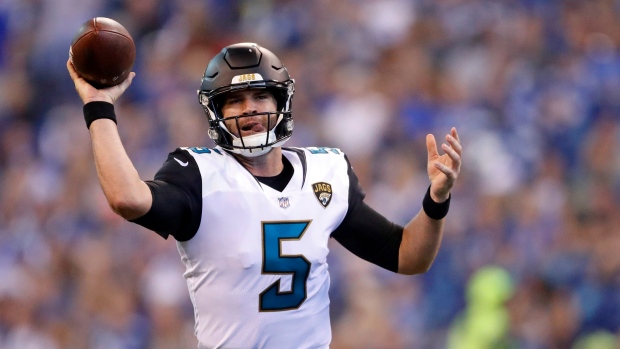 TSN Football Expert Chris Schultz returns with his weekly NFL picks every Thursday.
Jacksonville (+9) @ New England
The Jaguars still aren't getting the respect they deserve as a nine-point underdog heading in to the AFC Championship game in New England. That's too many points for me to take the Patriots.
Jacksonville's defence gave up 545 yards and 42 points, including three fourth-quarter touchdowns, in last week's divisional round win over the Pittsburgh Steelers. However, they also scored a touchdown, set up another score and have a considerable amount of talent at all three levels with their defensive line, linebackers and secondary. I would be surprised if this Jaguars defence didn't perform at a high level in this week's AFC Championship game.
For New England, running back Dion Lewis will be a key to their success. The Patriots are 7-0 when Lewis has recorded at least 100 yards from scrimmage. Lewis will be an important piece as Tom Brady and company attempt to pick apart the Jacksonville defence.
Jaguars quarterback Blake Bortles remains a mystery. Bortles looked terrible in a Wild Card win over the Buffalo Bills, but was much more effective in last week's win over Pittsburgh. Jacksonville's first possession against the Steelers seemed to boost Bortles' confidence and it will be interesting to see how he performs this week. The Jaguars will once again lean heavily on running back Leonard Fournette on offence but Bortles will still need to make some throws if they are going to compete with New England.
The Patriots defence set a franchise record with eight sacks in last week's win over the Tennessee Titans. However, Jacksonville's offensive line should do a better job than the Titans in terms of pass protection while Fournette will help take some of the pressure off of Bortles in the pocket.
The Jaguars should be a confident group after last week's win. As long as they don't implode, Jacksonville should be able to keep this game close. The Patriots will win at home but the Jaguars will give them all they can handle in this one. I'll take the Jaguars to cover.
Minnesota (-3) @ Philadelphia
While most of the talk surrounding this game is centred on the quarterbacks, I've identified one key player for each team that is flying under the radar heading in to the NFC Championship game.
For Minnesota, safety Andrew Sendejo is in the concussion protocol but is expected to play on Sunday. Sendejo has done an excellent job working in tandem with strong safety Harrison Smith and that tandem will need to be exceptional defending the pass in Philadelphia.
Meanwhile, left tackle Halapoulivaati Vaitai will need to perform at a high level for the Eagles. Vaitai will match up against Vikings defensive end Everson Griffen in a number of one-on-one situations throughout the game. While he has done a good job for the most part replacing Jason Peters so far, Vaitai will need to be at his absolute best on Sunday evening against Minnesota.
Philadelphia has three good running backs and one of the best tight ends in the NFL. Nick Foles will need to lean on his weapons at the skill positions in order to take some of the pressure off of their vertical passing game. Foles did an excellent job running the run-pass option in last week's win over the Atlanta Falcons. He will need to get Jay Ajayi, LeGarrette Blount and Corey Clement involved early on in order for the RPO to remain an effective option against the Vikings.
Minnesota owns the best third-down defence in the NFL so there will be a ton of pressure on the Eagles offence at home. Foles doesn't have the mobility that Carson Wentz brought to the table for Philadelphia so pass protection will be key against an impressive Vikings front. Centre Jason Kelce is one of the best in the game at his position and he is responsible for calling adjustments for the line. If the Eagles can run the ball effectively and play great defence then they will have a good opportunity to win at home and advance to the Super Bowl.
However, after watching Minnesota win on a last-second touchdown by Stefon Diggs last week I'm starting to think this just might be the Vikings year. The craziest part about this matchup is the narrow margin of victory both teams won by last week. Nobody will forget the Minneapolis Miracle, but it's easy to forget that Philadelphia barely hung on against the Atlanta Falcons after Julio Jones couldn't secure a potential game-winning touchdown pass from Matt Ryan in the corner of the end zone in the final minutes.
I expect these teams to produce another close game this week that could very well come down to a field goal in the dying seconds. Even if the Vikings win, the Eagles should be able to cover as three-point underdogs at home. Take Philadelphia to cover the spread.