Setting The Pick: Best Bets For Friday's NBA Slate
No NBA games last night and I felt like that meme of John Travolta in Pulp Fiction. But we're back! The 76ers welcome in their hometown hero, Kyle Lowry, as the Heat try to run away with this series.
Wesley Cheng (@chengwesley)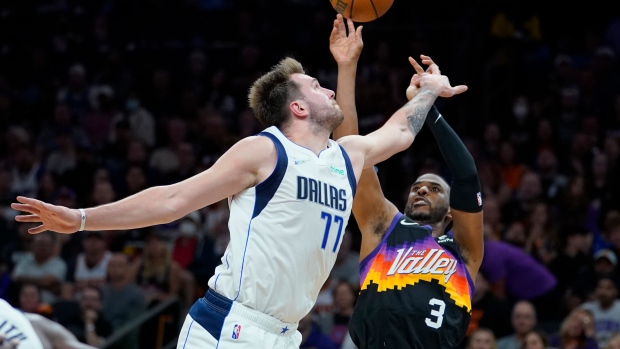 No NBA games last night and I felt like that meme of John Travolta in Pulp Fiction. But we're back!
The 76ers welcome in their hometown hero, Kyle Lowry, as the Heat try to run away with this series.

Joel Embiid is currently listed as out on the official injury report but he has been quoted as "really, really wanting to play". He cleared concussion protocols this morning.
The spread has been on the move getting as high as four points in Miami's favour since opening.
With Embiid's status up in the air, all the props are off the board at the moment.
Pivoting to the West, Dallas welcomes Phoenix to American Airlines Center as they get set to defend home court.
In the first round, the Mavericks were a completely different team defensively at home, a trend that carried over from the regular season.
Even after getting routed in the first two games, Dallas is essentially a pick'em for Game 3.
(1) Phoenix Suns vs. (4) Dallas Mavericks
Current Odds:
PHX -1, o/u 219
1) Is this series just a shoot-out now?
Phoenix had the NBA's third-best defensive rating in the regular season. Dallas had the seventh. But the way these two offences are rolling, all of that feels irrelevant.
From time to time you'll hear the announcers comment, "good D, better O."
That's how it's been all series.
The Suns had the best field-goal percentage in the regular season and they've only gotten better in the playoffs. Through eight games, they're shooting 53.5 per cent from the field.
Luka Doncic shot 45.7 per cent from the field during the regular season. He's up to 50 per cent over five playoff games.
Some player fold under the bright lights, others thrive. Dallas and Phoenix both have shot makers who come through in the clutch.
The total for Game 1 opened at 214.5. It's moved up to 219 for tonight.
Both squads are operating so beautifully in their half-court sets; their respective defensive ratings aren't much of a factor. Add in the fact they're second and third-worst in fast-break points through the semis, and you can see how there's still room for more points.
Best Bet: Over 219
2) Does anyone other than Doncic run Dallas' offence?
In every postseason since Doncic entered the league, his minutes, usage, and scoring have gone up.
He's averaged 26.4 points per game over his regular-season career, that spikes to 33.5 in the playoffs.
Luka is simply a superstar.
Even with Mikal Bridges, a DPOY finalist, lining up opposite him, he's kind of unstoppable.
Last article, I suggested taking the over on every Luka prop. Another way to capitalize on this shift is to target Jalen Brunson's unders.
Coming off a magnificent series versus Utah, the wow factor of Brunson averaging 27.8 ppg since hangs over bettors.
But as you watch this series, you should've noted how muted his offensive usage has been.
When Luka's on the floor, Dallas cherry-picks one player to operate in the pick-and-roll while the other three spread out beyond the arc.
Brunson is not a standstill shooter.
His success versus Utah was all about his dribble penetration. There simply aren't as many of those opportunities with Luka playing at this level.
Add in the fact Brunson's minutes have dropped from 38 mpg to 29.5 mpg series over series, and this is a way to double-down on Luka Magic.
Best Bet: Brunson under 17.5 points
(1) Miami Heat vs. (4) Philadelphia 76ers
Current Odds:
MIA -1, o/u 210
1) How does Embiid's return impact everyone's props?
His presence on the floor changes everything for both teams.
One thing worth pointing out, the doctors would never medically clear Embiid to play Game 3 if he wasn't physically fit to do so. Re-injury risk with concussions is no joke.
The Sixers need him; their season hangs in the balance tonight. He'll be out there if he can.
Projecting his performance is truly impossible. Using past data from other players isn't 1-to-1.
His injuries are unique to him and how his body responds cannot be definitively forecasted based on how other athletes fared.
What's more predictable is how his teammates will be affected by Embiid simply standing on the court.
After the big man was ruled out for Games 1 and 2, James Harden's point props got bumped up to 25.5 from 20.5 assuming he'd shoulder more of the scoring responsibility.
Through two games, he's only taken one more field-goal attempt per game and is scoring a point less than their series against Toronto.
Miami gets a lot of credit for Harden's stagnant scoring as they've smothered him on defence similar to how they handled Trae Young.
Now that Embiid's back in the fold, I'm anticipating Harden to facilitate the offence more than initiating it.
He only scored 20 and 16 points without Embiid this series.
Best Bet: Harden under 20.5 points
2) The Sixers shot 40.8 per cent from three last round versus 21.9 per cent this round. What gives?
Without Embiid on the court, Miami has been able to guard more aggressively on the perimeter leaving the paint vulnerable.
Paul Reed and DeAndre Jordan both took advantage of getting some wide-open lobs at the rim the first two games, but with Embiid returning, the Heat could resort to more neutral defence.
That being said, Miami is still a far superior defence to Toronto.
In their first-round series, the Heat only gave up wide-open threes 34 per cent of the time to Atlanta. NBA teams typically allow a number closer to 50 per cent.
Against Toronto, the Sixers were wide open on 54.2 per cent of their three-point attempts.
In two games against Miami, that ratio has dropped to 31.2 per cent.
Of all the players to go after, I believe Maxey is most vulnerable to missing his three-point prop. While he had three explosive games against the Raptors, where he's been most lethal is in transition and driving to the rim.
Maxey has gone 2-for-10 this series and at 2.5 threes, it's a big ask considering Miami's perimeter defence.
Best Bet: Maxey under 2.5 threes