Six different scorers help Canada rout Denmark
Mitch Marner and Dylan Strome had a goal and an assist apiece as Canada rolled past Denmark 6-1 on Monday at the World Junior Hockey Championship.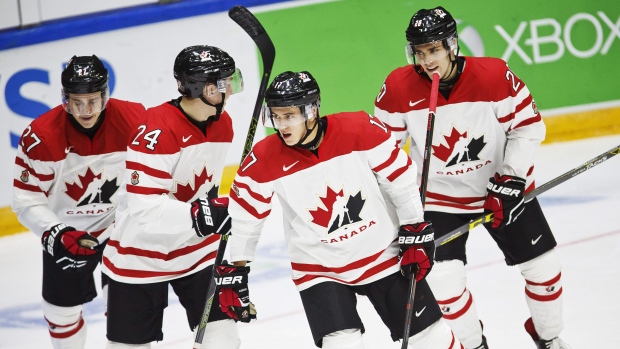 HELSINKI - Mitch Marner took off his sandal, held it up like a microphone and joined the reporters interviewing teammate Dylan Strome.
Strome laughed and swatted away his friend's shoe before continuing to answer questions about Canada's forward lines after a 6-1 victory over Denmark on Monday in the preliminary round of the world junior hockey championship.
It's obvious that Canada's junior team has loosened up on and off the ice after a disappointing 4-2 loss to the United States on Saturday to open the tournament.
"I think our line was having fun, for sure. I think the whole team was too," said Marner, who was paired with Brayden Point and John Quenneville for the first time at the international event. "It's nice going out and doing that especially after the USA game. It's nice to get the confidence back in the room. We've got to make sure we come back tomorrow and make sure we're ready to play."
Canadian head coach Dave Lowry said after the opening loss that his players needed to stop overthinking plays and shoot more often. They delivered Monday by firing 58 shots on Denmark's goalie Mathias Seldrup, more than twice as many as Canada had against the Americans.
"We just wanted to get more pucks to the net," said Marner. "I think that was the problem in our first game we didn't get enough pucks to the net. We really focused on trying to get bodies in front of the goalies.
"Every goalie in this tournament is great when they see the puck so we just got to get bodies in front of them and make sure we get pucks there."
Marner and Strome had a goal and an assist each for Canada (1-1), while Anthony Beauvillier, John Quenneville, Matt Barzal and Lawson Crouse also scored at Helsinki Ice Hall.
"We like winning," said Marner, who was selected fourth overall by the Toronto Maple Leafs in last summer's NHL draft. "Everyone played really well tonight, we had great depth, everyone got a point on our team almost. Any line can score on our team."
Mason McDonald faced 11 shots in total — none in the third period — only allowing a goal on a deflection off the skate of Danish forward Alexander True.
"I can't remember when I faced that little," said McDonald, who said he worked hard to stay focused in the third period. "It had to be peewee or something."
It was likely McDonald's last start of the preliminary round. It's expected that he will give way to Mackenzie Blackwood on Tuesday when the Canadians face Switzerland (0-2). Blackwood had to serve the final two games of an eight-game suspension before suiting up for Canada.
"I feel good about my game," said McDonald. "I don't know who's going tomorrow. We'll find out shortly and then just go from there."
Seldrup made 52 saves in net for Denmark (1-1), which plays Sweden (2-0) on Wednesday.
Marner and Strome, who are good friends off the ice, were split up for this game, with Marner joining Point and Quenneville and Strome centring Jake Virtanen and Brendan Perlini.
At Sunday's practice, Marner, Strome and Perlini skated on a line while on Saturday, Marner and Strome were with three different wingers at various points in the game.
"It doesn't really matter who you're on the ice with," said Strome. "There's 13 forwards on this team who can play with anyone. Everyone puts up good numbers with their Canadian Hockey League team.
"It's not like there's no goal scorers on this forward group, everyone can put pucks in the net, anyone can set up plays, so it's easy to play with anyone."
According to Marner, he and Strome only learned of their new lines shortly before Monday's game.
"In a perfect world, you'd like to keep them together," sad Lowry. "It wasn't working. We weren't generating enough as a group. These guys, they're fine with that. They relish the opportunity to play with different guys.
___
Follow @jchidleyhill on Twitter.