Southgate, England ready to face music of soccer history
Gareth Southgate leads England into the semifinals of a major tournament for the first time since Southgate missed a penalty kick in a loss in the 1996 European Championship semifinals.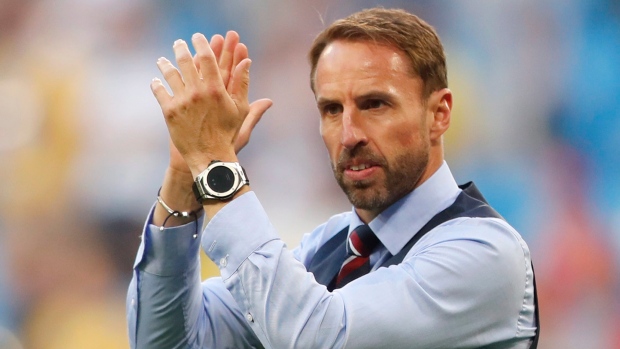 MOSCOW — Gareth Southgate and England are ready to face the music.
No other soccer nation dwells on decades of failure quite like the English. Southgate was so demoralized by his penalty kick failure against Germany in the 1996 European Championship semifinals, he avoided The Lightning Seeds "Three Lions," the team's official song when it hosted the tournament.
Now the song, with its repeated chorus of "football's coming home," is a staple again, No. 5 this week on YouTube UK's top music videos chart with more than 2 million views on the day of England's last match.
"'Football's coming home' is a song I couldn't even listen to for 20 years, frankly, so for me it has a slightly different feel," Southgate said Tuesday on the eve of England's World Cup semifinal match against Croatia. "But it's nice to hear people enjoying it again."
When the song first was released, the chorus proclaimed "Three lions on a shirt/Jules Rimet still gleaming/Thirty years of hurt/never stopped me dreaming." A 1998 update changed the third verse to "no more years of hurt."
England hasn't played in the semifinals of a major tournament since Southgate's penalty kick at Wembley was saved by Andreas Koepke 22 years ago, and Andrea Moeller put the next kick over David Seaman and under the crossbar. The most-cherished national team memory remains the 1966 World Cup final victory at Wembley over West Germany, a demarcation point in the island's history as much as 1066 (the Norman invasion) and 1707 (union with Scotland).
"It was a long time ago, so not too many of us can remember that far back," said midfielder Jordan Henderson, born in 1990.
The winner Wednesday advances to Sunday's final against France. Southgate wants to break stereotypes, and not just on the field.
"I'm rare breed. I'm an Englishman that doesn't drink tea," he said.
England and Croatia are teams that innovated over time but have generally been immutable during the World Cup, sticking to virtually identical starting lineups except for group phase finales, after advancement was secure. In the other four games, Croatia's only variable to its 4-2-3-1 formation was whether to start captain Luka Modric in a deep midfield role and Andrej Kramaric more advanced, or to move up Modric and start Marcelo Brozovic.
Right back Sime Vrsaljko limped off during the quarterfinal win over host Russia and goalkeeper Danijel Subasic had a hamstring injury during extra time but remained in the match. When asked about injuries, Croatia coach Zlatko Dalic responded through a translator with inconclusive palaver about Vrsaljko having "this niggle."
England has gone with a 3-5-2, and the only change was to start Ruben Loftus-Cheek in midfield after Dele Alli injured a thigh.
"The biggest thing that the gaffer's brought since he's come in, which he's brought right from day one, was identity, and about the way that we wanted to create a team," Henderson said. "You can see that togetherness on the pitch now, and I think that's valuable in crucial moments in big games, and yeah, I can definitely say this is most together England team that I've been involved in, and so I think that makes a massive difference and you get your rewards for that."
With an average age of 26, England is one of the youngest teams at the World Cup.
"We were never quite sure how far this team could go," Southgate said. "The age of the players, the improvement in the players, the hunger in the players has been apparent for everybody to see. We're really proud in the style that we've played, with the intelligence that we've played, and that we've performed under pressure and dealt with difficult situations in games where we've had to wait until the last minute to score, we've had to recover from conceding in last minute, we've been through extra time, penalties."
Croatia made its only semifinal appearance in 1998, losing 2-1 to host France. Defender Dejan Lovren is a teammate of Henderson's on Champions League finalist Liverpool, and Lovren bristled when asked about a 4-1 loss at Tottenham last October when England striker Harry Kane scored twice.
"It's completely irrelevant," he said through a translator. "Why didn't you ask me how I played well against him? You are just nitpicking my poor performances."
___
More AP World Cup coverage: https://apnews.com/tag/WorldCup