Stanford's McCaffrey breaks NCAA yardage record
Stanford Cardinal sophomore running back Christian McCaffrey has broken the NCAA FBS single-season all-purpose yardage record.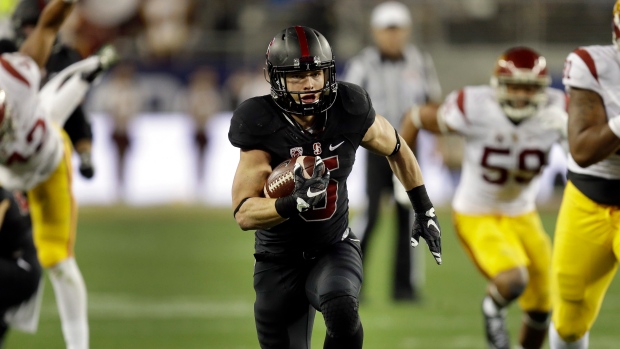 SANTA CLARA, Calif. -- Stanford running back Christian McCaffrey broke Barry Sanders' 27-year-old record for most all-purpose yards in a season in the second quarter of the Pac-12 championship against Southern California on Saturday night.

McCaffrey tied the mark of 3,250 yards set in Sanders' Heisman Trophy season in 1988 with a 31-yard punt return, and then broke it seconds later with a 2-yard run. Sanders set the mark in only 11 games, while it took McCaffrey until his 13th to break it.

As proof that McCaffrey can do just about everything, he also threw an 11-yard TD pass earlier in the quarter on a trick play to quarterback Kevin Hogan.

McCaffrey had 155 yards rushing, four yards receiving and 85 yards on returns to give him 244 at the half.