Star QB Jones announces he'll return to Ohio State next year
It sure seemed like Cardale Jones was going to announce he will turn pro before ultimately announcing he will return to Ohio State next season. Jones made the announcement at a press conference held at his high school. It's unknown at this point if Jones will be the team's starter next year or if he'll back up JT Barrett.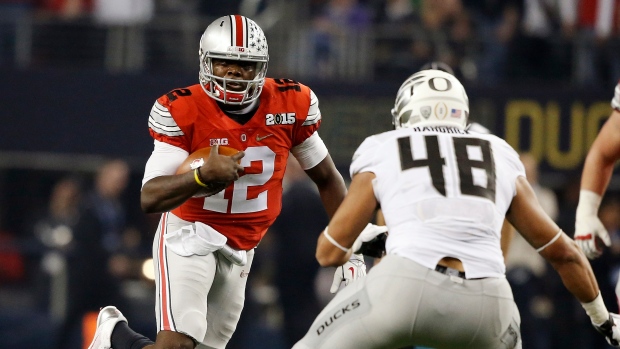 COLUMBUS, Ohio -- Quarterback Cardale Jones shocked the world of college football with his play in starting three late-season games while leading Ohio State to the national championship. He surprised a packed crowd again on Thursday, declaring at his old high school in Cleveland that he would return to the Buckeyes rather than jump into the NFL draft.
"My decision was very simple. I had to talk it over with my family, my friends, my coaching staff," he said. "I'm going to return next year for school."
That sentence was met with audible gasps by many in the gymnasium. Then there was applause from students and teachers present.
Jones, who spent a year at a military school and also had a redshirt season with the Buckeyes, could have turned pro. In his only college starts he led Ohio State to wins in the Big Ten title game, the Sugar Bowl and Monday night's national championship.
"It's everybody's dream and goal when they play football or any collegiate sport to make it to the next level," he said, wearing a grey T-shirt with his nickname "12 Gauge" because of his uniform number and shotgun-like arm. "At my point in my career, I feel like it's best for me to go back to school. One of the most important things for me to do is graduate.
"When I make that decision to play in the NFL, I want to be done with school. I want to devote all of my time and all my effort to the film room and getting better at playing the quarterback position."
Then, before several hundred people at the Ginn Academy, part of Glenville High School, he added: "Thank all of you guys for coming out. I don't know why you guys made it such a big deal."
Two months ago, almost no one knew who Jones was. On Thursday, his decision was broadcast live on ESPN.
The cable network's draft guru, Mel Kiper Jr., said Jones could go as high as the second round of the draft. He, like many football experts, believed Jones, who recently became a father, would jump to the pros.
"The NFL, after three games, was really out of the question for me," Jones said.
The decision was a big deal because of how the 6-foot-5, 250-pound redshirt sophomore played after taking over as Ohio State's starter just before the post-season.
Now, he will battle two-time Big Ten player of the year Braxton Miller, a graduate student still recovering from shoulder surgery, and this year's quarterback of the year in the conference, sophomore-to-be J.T. Barrett (recovering from a broken ankle) for the starting job next season.
"I want to go back and compete for the spot," he said. "I don't want anything given to me."
Barrett led the Buckeyes all season after Miller reinjured his shoulder 12 days before the season opener, setting school records with 3,772 yards of total offence and 34 passing touchdowns. But when he was injured in the fourth quarter of the last regular season game, Jones took over in style.
Jones threw for 257 yards and three touchdowns in the 59-0 Big Ten title rout of Wisconsin. He was named the game MVP. Then, in the Sugar Bowl against top-ranked Alabama, he ran for 43 yards and threw for 243 yards and a touchdown in a 42-35 victory.
In the national title game, he continually was involved in big plays for the Buckeyes with his feet and his arm. He ran for 38 yards on 21 carries and a touchdown, plus completed 16 of 23 passes for 242 yards and a touchdown -- his lone interception coming when the ball bounced off a receiver's hands -- in a 42-20 victory over Oregon.
Jones, his family, mentor and high school coach Ted Ginn and Ohio State head coach Urban Meyer had met earlier on Thursday in Cleveland.
"Of course, you know, I want to play in the NFL, but I want the time to be right," Jones said.
Just over two years ago, Jones infamously posted on his Twitter account that he hadn't come to Ohio State to "play school" but to play football. Now he has chosen to do both, when he could have been locked into the draft.
Jones was asked what he would say to people who believe he's making a mistake.
"I can't say what I want to say to them," he said with a laugh. "It's my life. I have to live it. Not them."