Sunday Night Football Preview: Rams should serve as measuring stick for Trubisky, Bears
After missing two games with an AC joint sprain, Bears quarterback Mitch Trubisky will make his return to the lineup against the Los Angeles Rams who will bring the NFC's highest-scoring offence into Chicago on Sunday Night Football, Domenic Padula writes.
Domenic Padula (@dpadula12)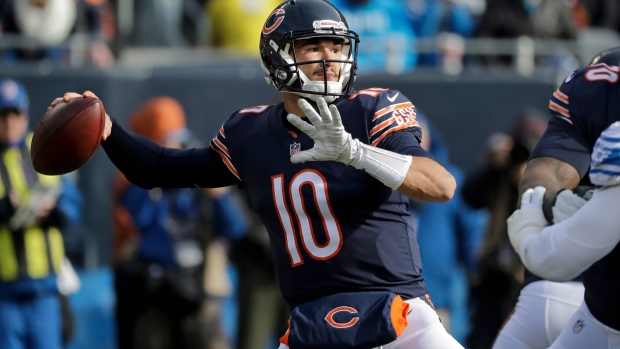 The Chicago Bears stand alone atop the NFC North at 8-4.
Now they have an opportunity to prove they are legitimate contenders in their toughest test of the season so far.
The NFC's highest-scoring offence will clash with the NFC's top-ranked defence when the Los Angeles Rams visit the Bears on Sunday Night Football.
L.A. has averaged 439.9 yards and 34.9 points per game while producing the NFL's best record at 11-1.
Meanwhile, Chicago has held its opponents to just 317.9 yards and 20.1 points per game this season.
Something has to give when these teams meet in prime time.
For as good as the Bears defence has been, they are coming off one of their worst performances of the year in a 30-27 overtime loss to the 4-8 New York Giants.
That should only serve as motivation to bounce back this week.
Generating pressure will be key for Chicago's defence.
Rams quarterback Jared Goff has completed 66.4 per cent of his pass attempts for 3,754 yards, 27 touchdowns and seven interceptions. A substantial portion of his production has come from a clean pocket.
Goff has completed 75.2 per cent of his attempts for 3,120 yards and 23 touchdowns with five interceptions throwing from a clean pocket. He has completed just 40.4 per cent of his attempts for 634 with four touchdowns and two interceptions when pressured. He's also been sacked 27 times.
The Bears rank fifth in the NFL with 37 sacks.
It's no secret that defensive end Khalil Mack has been integral to their success.
Mack leads Chicago with nine sacks in 10 games. However, that number doesn't tell the entire story when it comes to just how effective he has been.
ESPN tracks pass rush metrics for sacks caused, which is essentially the number of instances in which a player was the first to create a pass rush win on a play that eventually resulted in a sack. According to that metric, Mack ranks fifth among defensive ends with 10 sacks caused.
In addition to the impressive sack totals, the Bears have also capitalized on the pressure generated up front by forcing turnovers.
Chicago leads the NFL with 21 interceptions.
Cornerback Kyle Fuller is tied for second in the league with six picks. Safety Eddie Jackson is tied for fourth with four.
Fuller, Jackson, Bryce Callahan, Prince Amukamara and Adrian Amos Jr. have done an excellent job defending the pass this season.
They will be put to the test against a high octane L.A. offence on Sunday.
Meanwhile, the Bears will get a boost on the other side of the football with the return of quarterback Mitch Trubisky.
Trubisky, who has missed Chicago's last two games after suffering an AC joint sprain in his throwing shoulder, practised all week and is confident that he will be ready to play against the Rams.
The Bears will need to make sure they keep Trubisky clean in his first game back from injury. That won't be easy to do.
Rams defensive tackle Aaron Donald leads the NFL with 16.5 sacks, which is four more than the No. 2 player on that list in Von Miller with 12.5.
In fact, Donald is already just 1.5 sacks shy of Keith Millard's all-time single-season sack record for a defensive tackle. With four games left on the schedule, Donald still has plenty of time to break the record.
As is the case with Goff, Trubisky has struggled when pressured this season. The second-year quarterback has completed 71.3 per cent of his pass attempts for 2,048 yards and 18 touchdowns compared to eight interceptions when kept clean. He's completed 44.3 per cent of his attempts for 421 yards, two touchdowns and one pick when pressured.
It will be interesting to see what kind of wrinkles Chicago head coach Matt Nagy has in store for this game. The Bears will need to get creative in order to keep the pressure off of their young quarterback and give themselves a chance to win this game. This matchup should provide an excellent measuring test for a team on the rise in the NFC.
Chicago stands alone atop the NFC North with eight wins. However, there is still work to do in order to clinch a division title. A win over Los Angeles would put the Bears in excellent position heading into the final stretch with games against the Green Bay Packers, at the San Francisco 49ers and then at the Minnesota Vikings to close out the season.
Meanwhile, the Rams have already clinched a playoff spot but still need to finish strong in order to clinch the NFC's top seed. L.A. is one game up on the New Orleans Saints for the No. 1 seed. The Rams can clinch a first-round bye with a win in Chicago. They will visit the Bears on Sunday, host the Philadelphia Eagles, visit the Arizona Cardinals and then host the 49ers to close out their regular season.
Sunday night's showdown could serve as a potential NFC Divisional round matchup preview if the playoff scenarios play out that way.
After all, L.A. and Chicago both seemed primed for postseason action.
Considering the stakes for both teams, Sunday night's clash between the Rams and Bears should be must-see television.