Buchanan comes as advertised, helps New England defeat Toronto FC
Gustavo Bou's 83rd-minute penalty gave the league-leading New England Revolution a 2-1 win over Toronto FC in MLS play Saturday night.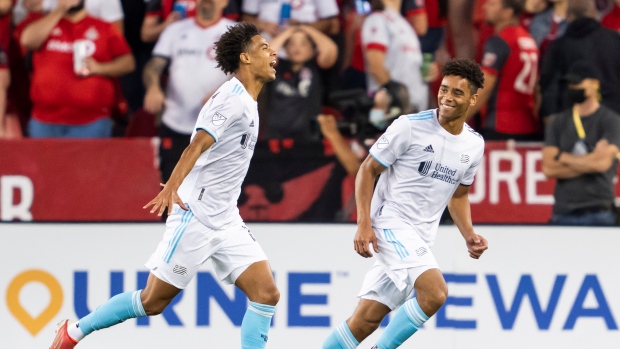 TORONTO — Coach Javier Perez saw positives, but also the same mistakes on defence that have cost Toronto FC all season.
A TFC comeback, with Jonathan Osorio scoring a tying goal in the 79th minute, turned into Toronto's 10th loss of the season when an obvious foul by Eriq Zavaleta prompted a penalty four minutes later. Argentine sniper Gustavo Bou slotted the kick home, giving the league-leading New England Revolution a 2-1 win Saturday.
The game was a matchup of first and worst in Major League Soccer. But for most of the match, it was hard to tell which team was top and which was bottom.
"I always like to focus on positives even if we left empty-handed tonight," said Perez.
"We have now 15 games left. If we keep playing like this we will definitely have more wins than losses and ties combined," added the Spaniard. "We have to stay positive, we have to think forward and keep playing the way we did tonight."
The Revs came into weekend play with a six-point lead in the Supporters' Shield race and 10-point bulge atop the Eastern Conference. Toronto, meanwhile, languished 25 points below in the 27-team league's basement.
Still Toronto (3-10-6) finished with 63.5 per cent of possession. And while New England (13-3-4) outshot Toronto 10-9, TFC had a 4-2 edge in shots on target.
Osorio, for one, wanted more than positives.
"In the changing room, we have a group of guys that know how to win. And we know that positive performances are not enough. We're not satisfied with just positive performance," he said. "But at the same time we have to stay positive. It's the only way to turn this around."
New England scored on both of its chances. Toronto has given up 40 goals in 19 games.
"We keep conceding goals. We have to minimize the mistakes we make at the back," said Perez.
The decisive penalty was called after Zavaleta took Adam Buksa down in front of goal. There was no debate over the call — Zavaleta had both hands around the Buksa's waist, prompting the six-foot-three Polish striker to go down as if launching himself off a springboard.
Bou, in his 50th regular-season game for the Revs, stepped up and slotted home his 12th goal of the season — and 11th in his last 13 appearances.
Osorio had given the home side hope minutes earlier. Winger Yeferson Soteldo dribbled past several defenders from a corner and sent the ball to Alejandro Pozuelo who found Osorio in a mass of players in front of goal for his fourth of the season.
Canadian Tajon Buchanan had earlier added to his growing highlight reel, with a glorious headed goal on his BMO Field debut in front of 15,000 fans.
"I haven't played in front of my family, I can't even remember (how long). It's been years," said the 22-year-old from nearby Brampton.
"This was special," he added.
New England tied a club record with its sixth away win of the season. Toronto is winless in its last four games (0-2-2) and has yet to record a victory in five games (0-1-4) at BMO Field since returning north of the border.
The Toronto lineup contained several surprises with captain Michael Bradley dropping to the bench and striker Jozy Altidore not in the matchday 20 due to a previously unannounced injury. Bradley came on to cheers in the 69th minute.
Perez said he opted to start Bradley on the bench to rest him, citing the need to field a fresh, energetic lineup "regardless of the player and how important that player is."
The first goal in the 20th minute had many wondering why five-foot-three Soteldo was left to cover the six-foot Buchanan. DeJuan Jones curled in a cross that found Buchanan, who rose high above Soteldo and delivered a powerful, well-placed header with 'keeper Alex Bono only able to push the ball onto the goalpost and into the goal.
"A terrific goal," said coach Bruce Arena.
"He has a huge upside ahead of him," Arena said of Buchanan. "We think he has great potential as a player."
Buchanan celebrated his fourth goal of the season, to boos, with a forward double-somersault. It was the league-worst 15th goal Toronto has conceded in the first 30 minutes of a game this season. And it heaped pressure on a TFC side that was 0-8-3 coming into the contest when conceding the first goal.
Buchanan, who won the Youth Player Award at the recent Gold Cup, was one of the Revs' storylines coming into the game with the rising star targeted by European clubs.
He came as advertised, full of pace and guile. It's hard to believe he had to pay to take part in a Syracuse University ID camp in 2016 to make his case to join the Orange. Five years later, he has star written all over him.
The second goal was a gift of a penalty.
"We were fortunate getting the penalty and it was good to see Gustavo convert it," said Arena. "He did a little better with it than he did last week against Philadelphia and took the penalty really well."
Bou's penalty against Philadelphia was saved but he scored on the rebound for a 2-1 Revs win.
The Revs are now unbeaten in seven games (6-0-1). Toronto was the last team to defeat New England, winning 3-2 at Gillette Stadium on July 7 in Perez's debut as coach.
Perez saw his team rally to tie New York City FC last weekend after falling behind 2-0 in the first half. Perez helped engineer the turnaround by replacing Bradley and Altidore at halftime, injecting pace and energy in the form of Ifunanyachi Achara and Ralph Priso.
Both were rewarded with starts Saturday, the eighth career start for the 19-year-old Priso and second for the 23-year-old Achara, whose young career was interrupted by knee surgery in July 2020.
Bradley had started 240 of his 242 previous MLS regular-season and playoff games. The club said Altidore did not dress after feeling some discomfort in his foot in training Friday.
Pozuelo captained the side.
Priso limped off after making a goal-line clearance in the 67th minute and had to be helped back to the locker room. Perez said while he was waiting on a definitive prognosis, it did not look "very severe."
The visitors were without captain and playmaker Carles Gil, who missed his third straight game with a muscle injury.
Toronto hits the road for four straight away games next, playing at Atlanta, Miami, Montreal and Cincinnati. New England returns home to host D.C. United.
---
Follow @NeilMDavidson on Twitter
This report by The Canadian Press was first published Aug. 14, 2021