Crawford defeats Brook to defend welterweight title
Terence Crawford successfully defended his welterweight title Saturday night by defeating Kell Brook via a fourth-round TKO.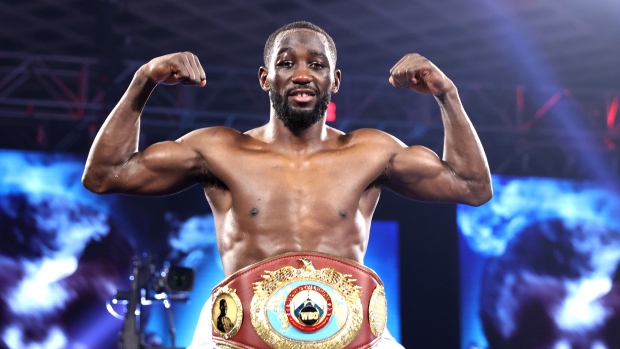 LAS VEGAS -- Going into his fourth WBO welterweight title defense on Saturday, Terence Crawford was supposed to be a quicker, better boxer than Kell Brook. He was clearly the more powerful puncher, as well.
Crawford (37-0, 28 KOs) scored a highlight-reel knockout over Brook (39-3, 27 KOs) at the 1:14 mark of the fourth round, inside the MGM Grand. Crawford was noticeably patient the first three rounds of the fight, switching stances and feeling Brook out. When he did elect to move forward, the knockout came quick and in devastating fashion, as he nearly knocked Brook through the ropes with a short, lead right hand.
Referee Tony Weeks afforded Brook an opportunity to continue, but Crawford was back on him immediately and rocked him into the ropes again with a right hook, which forced Weeks to stop the bout.
"Kell is a tremendous talent, he came and he tried to take my title," Crawford said. "He was in shape. He made the weight. There were no excuses to be put on the table. He came off of three wins. He lost to the better man."
The result was exactly what Crawford needed, in what will mark his only appearance of 2020. The 33-year-old champion had hoped to book matchups with other welterweight stars this year -- namely, Manny Pacquiao and Errol Spence Jr. According to Top Rank president Bob Arum, a deal with Pacquiao was nearly struck earlier this year, before the COVID-19 pandemic interrupted plans.
"Terence Crawford showed, once again, why he is the best welterweight in the world," Arum said. "It was a dominating performance over a very good fighter in Kell Brook. Terence ranks up there with all the great welterweights I've promoted."
Brook, 34, was a significant underdog headed into Saturday, however, he slightly changed the narrative with his impressive physique on Friday. Brook had not fought at the 147-pound limit since 2017, but he made the weight with no issues and was expected to have a noticeable size advantage come fight night.
Brook had some success early, particularly throwing to the body, but part of that was likely due to Crawford's patience. According to Compubox, Crawford landed 36 of 111 punches thrown, compared to 26 of 109 for Brook.
"Never in my career, nobody has ever done that to me, not even in sparring,'' Brook said.
Fighting out of Sheffield, England, Brook has now been knocked out in each of his three professional losses. He suffered knockout losses to Genndy Golovkin and Spence Jr. in 2016 and 2017, although both of those bouts were stopped due to broken orbital bones. Crawford's spectacular fourth-round knockout was in no way related to an injury.
Crawford, of Omaha, Nebraska, will now direct his attention back to bigger fights in 2021. Pacquiao has not fought since July 2019 and has nothing scheduled, while Spence Jr. is scheduled to fight Danny Garcia on Dec. 5.