TFC's Giovinco named player of the month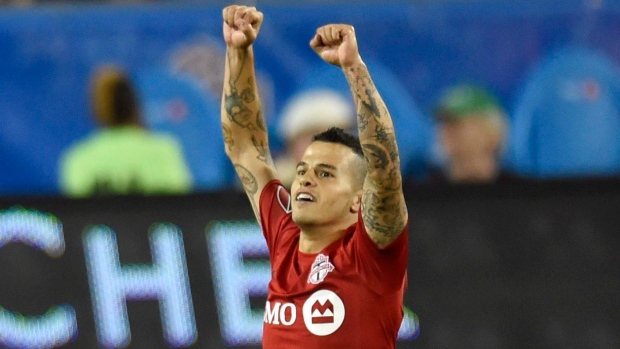 NEW YORK, N.Y. - Toronto FC forward Sebastian Giovinco has been named Major League Soccer's player of the month for the second consecutive time.
The dangerous forward known as the "Atomic Ant" was awarded player of the month honours for August after recording four goals and three assists in six games. Toronto went 3-3-0 over that span.
The bulk of Giovinco's goals came at an Aug. 5 home game against Orlando City. Giovinco recorded his second hat trick of the season as Toronto cruised to a 4-1 win.
A strong candidate for the league's most valuable player, Giovinco ranks second in MLS in goals (17) and is tied for second in assists (13).
His play earned him a callup to Italy's national squad, but an adductor injury will prevent him from representing the Azzurri this week.
Giovinco is the first Toronto FC player win player of the month honours in back-to-back months. He won the award in July after scoring five goals and adding three assists.
Giovinco's play has helped Toronto position itself to make the playoffs for the first time in the franchise's nine-season history. Toronto sits fourth in the Eastern Conference heading into a game Saturday in Seattle.