TFC turns attention to familiar rival in Impact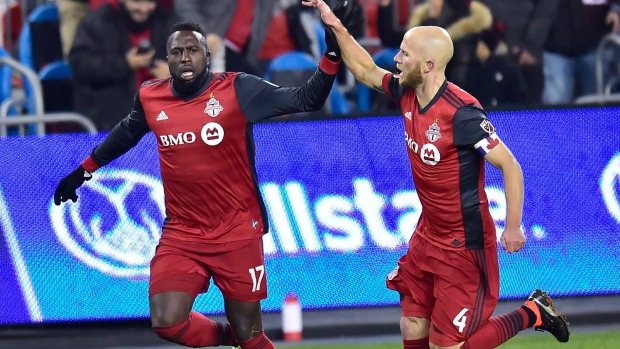 TORONTO — Fresh from its Scotiabank CONCACAF Champions League quarterfinal win over Mexico's Tigres, Toronto FC is pondering some injury question-marks and the prospect of playing on a "garbage" surface Saturday at Montreal's Olympic's Stadium
MLS champion Toronto has been preoccupied with the CONCACAF club championship to date this season, playing four games in the tournament to just one in the league. But with a little less than three weeks before having to face Mexico's Club America in the CONCACAF semifinal, Toronto turns its attention to a more familiar foe in the Montreal Impact (0-2-0).
"It'll be noisy, it will be loud," said coach Greg Vanney. "It's a very big field.
"All these little things, they're a bonus because there's just a little added extra intensity in the game and that's good for us right now. And it's good for the game."
Toronto, which lost 2-0 to visiting Columbus in its only MLS game to date this season, has some injury concerns.
Defenders Justin Morrow and Chris Mavinga had to leave the Tuesday Tigres game early. Midfielder Victor Vazquez has been dealing with a back injury.
Listed as day-to-day with a calf issue, Morrow was walking gingerly Thursday. Mavinga was said to be doing better, described as "very probable" for Saturday. Vanney, however, says Mavinga's injury is in a "growing potential sports hernia area" and will likely require action at some point.
Vazquez is also improving but Vanney may well look to keep him off the unforgiving artificial turf at Olympic Stadium. One of the strike force of Jozy Altidore and Sebastian Giovinco could also be given the day off due to the playing surface.
"The place is garbage, to say the least," said Toronto striker Tosaint Ricketts, softening the criticism with a laugh.
"The surface is not the greatest but it's the same for both sides. So you can't really take that as an excuse."
Veteran defender Drew Moor was more understanding.
"It's such a cool place, though. It's big and cavernous and has a funny smell to it and the lighting's kind of different. The turf's kind of different. But all things that both teams have to deal with. I don't think the Impact like playing on that surface any more than we do."
The Impact play outdoors at Saputo Stadium but often shift early-season games indoors to the 42-year-old Olympic stadium.
After the Montreal game, Toronto will lose several players to international duty including Jonathan Osorio, Jay Chapman, Ashtone Morgan and Ricketts with Canada. TFC hosts Real Salt Lake City on March 30 before opening the two-legged CONCACAF Champions League semifinal with Club America at BMO Field.
Follow @NeilMDavidson on Twitter