The Manziel contract situation just got complicated
Johnny Football won't be giving his services to the Hamilton Tiger-Cats simply for what the team considers a fair offer, TSN Football Insider Dave Naylor writes.
Dave Naylor, TSN Football Insider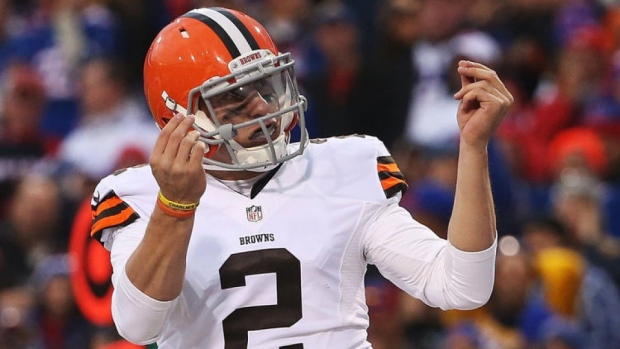 So apparently, this isn't going to be your standard negotiation of a Canadian Football League entry-level contract.
That became evident when Eric Burkhardt, agent for Johnny Manziel, released a statement late Monday in which he made it clear that the former Heisman Trophy winner and darling of both ESPN and TMZ won't be giving his services to the Hamilton Tiger-Cats simply for what the team considers a fair offer.
In essence, the Tiger-Cats believe that Manziel and his agent don't understand the CFL. On the other side, Manziel and his agent seem to believe the Tiger-Cats don't understand – or won't acknowledge – the power of Johnny Football.
To see why this has suddenly become such a complicated affair, consider the ways in which Manziel is like every player who comes knocking on the CFL's door, and how he is different.
On the surface, Manziel is typical of former U.S. college stars who have been shut out of the NFL and come north looking for a chance to resurrect their careers, hoping one day to return to the land of multi-million dollar contracts.
They all have great talent but desperately need a place to play. CFL teams understand they hold all the cards and thus pay players on entry-level contracts modestly, knowing that those players have no football options beyond retiring and moving on with life.
Hamilton has apparently made Manziel an offer better than those extended to most players in his situation, but also not far out of line of what an entry-level deal should look like – Johnny Football or no Johnny Football.
Ticat sources believe it to be the best offer afforded any incoming player since the league's salary management system went into place roughly a decade ago.
Where this gets complicated is that Manziel has star power that could affect the Tiger-Cats' bottom line when it comes to driving ticket and jersey sales and would be an instant boon to television ratings.
This is why his agent is choking on the idea that he'll be making less than Jeremiah Masoli, who has had a half-season of CFL success, or James Franklin, who threw a total of 19 passes last season.
Manziel has given the Tiger-Cats until the end of January to improve their offer, with Burkhardt suggesting in his statement that paying him what previous Hamilton quarterbacks have made would be reasonable.
Recently traded former Ticat quarterback Zach Collaros made more than $500,000 last season but that was a deal he signed near the peak of his success, when he'd been in the league for several seasons and was in contention for the league's most outstanding player award.
So what are Manziel's options? Well, his celebrity gives him earning potential beyond playing the game, be it working with a casino in Las Vegas or working autograph shows, but there's nothing to say he can't do those things and play in the CFL.
There are rumblings of a Vince McMahon-backed spring league being in the works, although about roughly half the alternative professional football leagues ever actually get off the ground. So until that's a reality, it's CFL or bust for Manziel when it comes to playing football.
So where do things go from here?
Well, let's acknowledge a couple of truths.
The first is that there is no guarantee that Manziel will be successful in the CFL. The off-field issues that plagued him the NFL aside, it's a different game that requires patience and respect for the level of competition. Longtime CFL fans know what happens when a talented athlete comes north without those qualities.
Does Manziel have those? We'll see.
So whatever deal Manziel gets needs to be built on incentives. Pay him half a million dollars a year, but make him earn it with his performance.
The other reality is that Manziel is not going to be happy coming to Canada to be a backup. He's going to want to play, sooner rather than later.
To maximize his chances for success, Manziel should ideally come to the CFL as a backup for at least a season, which is the path taken by virtually every other successful quarterback in the history of the league. The track record of those who haven't isn't good.
But some guys aren't built to be understudies and all signs suggest that Manziel is one of those. So handing him a contract full of incentives and then asking him to sit on the bench in Hamilton while Masoli plays feels something that's not going to end well.
Burkhardt said in his statement that he was given permission to try and work out a trade with another CFL team, which all logic suggests is the Montreal Alouettes.
Montreal has a gaping hole at quarterback, a need to make a buzz in their market and a head coach in Mike Sherman who knows Manziel from successfully recruiting him when he was the head coach at Texas A&M. (Sherman left after Manziel's redshirt freshman year.)
At this point, the Tiger-Cats need to see if there's a deal with Montreal and if the Alouettes can find a way to convince Manziel that an incentive-laden contract and the chance to play sooner than later is enough.
If it's not, then it means there's not a fit, and it's simply time to turn the lights out on this long dance between Johnny Manziel and the CFL.