Three and Out: Can Gordon make an instant impact?
Each week, TSN.ca Fantasy Editor Scott Cullen and NFL Editors Ben Fisher and Mike Hetherington discuss three hot fantasy football topics. This week they discuss Josh Gordon's return, Jeremy Hill vs Giovani Bernard, and whether or not you can trust Jay Cutler.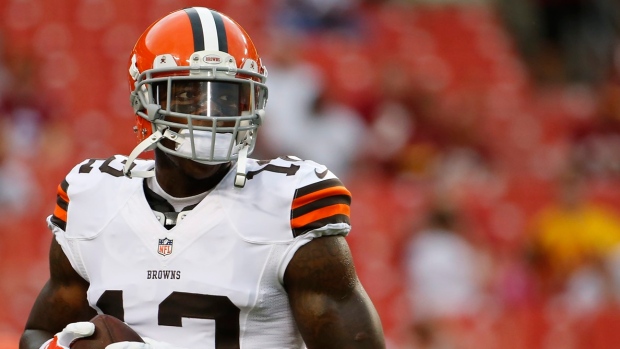 Each week, TSN.ca Fantasy Editor Scott Cullen and NFL Editors Ben Fisher and Mike Hetherington discuss three hot fantasy football topics.
How long will it take Josh Gordon to get up to speed and start producing like a Top 10 wide receiver?
Cullen: Any time a player misses a large chunk of games, whether for injury or suspension, I'm reluctant to place high expectation on the first game back. Basically, I need a show-me week to feel that they are up to speed. However, Josh Gordon is a great player who had some ridiculously huge games last season on his way to 1,646 receiving yards and nine touchdowns and, perhaps more importantly, the Browns are in Atlanta this week and the Falcons are giving up a league-worst 281.2 passing yards per game. That matchup means I'll have WR1 expectations for Gordon immediately.
Fisher: Here's hoping head coach Mike Pettine saying the Browns are going to ease Gordon in and not rely on the superstar receiver until he's fully immersed in the offence is all just rhetoric. Take the kid gloves off and let Gordon fly! Because if you do, Gordon will quickly return to his spot among the elite fantasy receivers. Gordon is a proven stud. If he can lead his position in fantasy points with Jason Campbell and Brandon Weeden tossing him the ball, he can surely put up Top 10 numbers right off the hop with a slightly better QB.
Hetherington: Josh Gordon could easily put up top 10 numbers this week against the Falcons leaky pass defence. However, that is only if the Browns immediately insert Gordon as a starting wide receiver in the offence, as opposed to easing him back in. The Browns had a ridiculous 50 pass attempts from Brian Hoyer last week and if they choose to go that route again this week, Gordon will excel. If the Browns throw him right back in the offence, Gordon could be back to a top-10 option immediately.
As a fantasy player, do you want the Bengals to start (a healthy) Giovani Bernard or Jeremy Hill?
Cullen: If I had to choose one, I'd prefer Jeremy Hill because he seems able to handle a heavier workload – 28 touches last week, 25 in Week Nine – and he seems a little bit more of a prototype No. 1 back, bigger and stronger than Bernard. Both are very good and the Bengals are probably best served with both contributing, but I would expect a higher ceiling for Hill's production.
Fisher: To be honest, I can barely tell them apart. Bernard had five solid weeks and two clunkers before falling to a hip injury. And in his absence Hill has put up two big weeks and one clunker. Bernard might be slightly more of a home run hitter so I'll go with him, but the best answer is either one so long as it's not a timeshare.
Hetherington: I'm really not sure it matters as both figure to get significant time as they rotate in the offence. Owners of both should likely lean towards starting Hill over Bernard if they have already have an RB1 option, simply because Bernard could be on a snap count in his return to the lineup. I see both as acceptable RB2 plays this week, though they do face a tough matchup in the Texans D. As to who I'd like the Bengals start, I'll say they should stick with the hot hand and go with Hill after two 150-yard performances in his last three games.
After his Week 10 struggles, Jay Cutler bounced back with a strong Week 11. What do you make of the Chicago Bears' QB the rest of the season?
Cullen: I don't know how many more 300-yard, three-touchdown games I would need to see from Jay Cutler in order to trust him enough for my fantasy team, but it would likely have to be several more in a row before I'd want to put my weekly hopes in Cutler's hands.
Fisher: It seems Cutler's always getting ripped for his real life football inefficiencies while at the same time slotting in right about where he's supposed to in fantasy football. Through 11 weeks Cutler is performing as a low-end QB1, exactly what you drafted him to be. If you want to pick a beef with an underperforming QB there are much better options. Matt Stafford, Cam Newton, and Colin Kaepernick come to mind.
Hetherington: I think due to the weapons around him Cutler is a borderline QB1 every week. However, his matchup should be considered before each outing. This week, Cutler is an obvious QB1 against the Tampa Buccaneers, however he should be considered a QB2 against Detroit in Week 13. Overall, I expect the Cutler to settle in somewhere between a bottom-end QB1 and top-end QB2 as the season winds down.