Three and Out: Is something wrong with Peyton Manning?
Each week, TSN.ca NFL Editors Ben Fisher and Mike Hetherington discuss three hot fantasy football topics. This week they discuss if it's time to worry about Peyton Manning, Joique Bell as a feature back, and if you should start Jimmy Graham in your playoff games.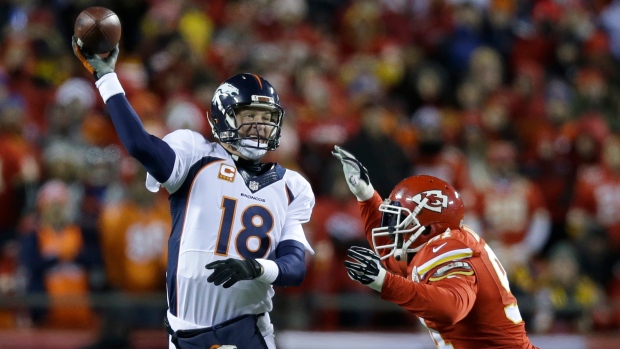 Each week, TSN.ca NFL Editors Ben Fisher and Mike Hetherington discuss three hot fantasy football topics.
As a fantasy player, are you as concerned with Peyton Manning as some 'real football' experts are?
Fisher: Yes. I don't expect Manning's on the quick path to mediocrity like some doom-and-gloomers, but if you drafted Manning, you did so very early on and expected him to play like a top three quarterback all season long. He simply hasn't been that, and come playoff time, you can't have any uncertainties. Now that doesn't mean I'm going to bench Manning but if you're team's success is predicated on Manning scoring 25+ points per game, you may be having some sleepless nights.
Hetherington: The Bills defence did a terrific job of limiting Manning last week, but I'm not hitting the panic button just yet. Peyton Manning is still a solid QB1, even against the Chargers improved pass defence this week. At this point in the fantasy season, Manning has taken you this far and – likely - is far and away your best quarterback option. I say stick with Manning, he struggled last week but is still one of the best signal callers in the game and will be eager to restart his touchdown streak.
Do you trust Joique Bell as a feature back? Where do you rank him at his position?
Fisher: It's hard not to. Since not playing against the Bills in early October, Bell has averaged more than 13 points per week. And since fully taking over the reins from Reggie Bush he's been even better. In as good a fantasy offence as the Lions, Bell is right on the cusp of being an RB1 for me.
Hetherington: I fully trust Bell as the lead back in the Lions offence, and I'm especially encouraged by his five receptions last week. Bell has taken over the Lions backfield from Reggie Bush and is a must start against the Vikings this week for me. I rank him as a high-end RB2 in an offence that scores points. It's hard to see him not totaling over 100 yards from scrimmage this week.
Would you start Jimmy Graham this week?
Fisher: If he played any other position I would seriously consider moving on from him, but the replacement pickings are slim at tight end and with Graham, you always get the promise of his immense talent and impact on a game. Graham isn't 100%, but he has a favourable matchup against the trainwreck Bears this week. Like Manning, if you drafted Graham your team is built around him scoring you lots of points, so it'll be an anxious playoff matchup.
Hetherington: Graham is clearly not 100 per cent, but at fantasy's weakest position he's an absolute must-start. It also doesn't hurt Graham's case that he has a long week to gear up for the Bears' swiss cheese defence on Monday night. If Graham is ever to going to save his disappointing campaign, it will be this week. His upside is worth the risk in an A+ matchup.