Ticats trade All-Star RB Gable to Eskimos
TSN.ca with Canadian Press files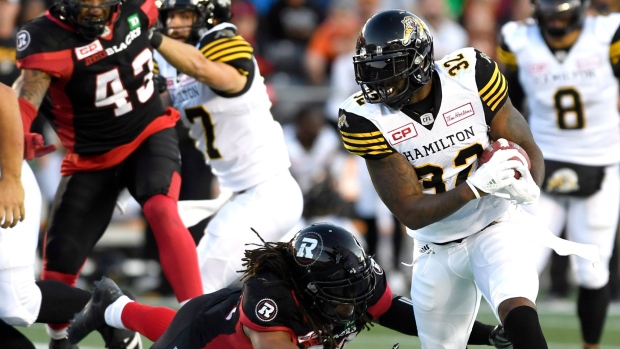 The Hamilton Tiger-Cats have traded running back C.J. Gable to the Edmonton Eskimos in exchange for the rights to two negotiation list players.
According to TSN Football Insider Dave Naylor, Tiger-Cats are believed to be receiving the rights to two offensive linemen from the Eskimos.
Gable, an East Division All-Star last season, owns 466 yards on 74 carries and five touchdowns this season. He sits sixth in the league in rushing yards this season despite missing four games due to injury.
Naylor adds the salary cap played a role in the Tiger-Cats' decision to trade Gable as the team needs to free space to pay quarterback Jeremiah Masoli his bonuses for starting games this season.
The 29-year-old rushed 18 times for 157 yards and two touchdowns on Saturday against the Toronto Argonauts. He was the only running back to carry the ball in the overtime loss.
Gable, also an East All-Star in 2013, owns 25 receptions for 186 yards this season. He is set to become a free agent at the end of the year.
Over his Tiger-Cats career, Gable owns 2,372 rushing yards and 17 touchdowns over 407 carries in 51 games since 2013.
Gable will likely be replaced in the Tiger-Cats offence by Alex Green, who rushed for 140 yards in the club's 24-23 road win over B.C. on Sept. 22.
More details to follow.