Titans WR Hunter found not guilty of assault and battery
Tennessee Titans wide receiver Justin Hunter has been found not guilty of assault and battery by a Virginia judge.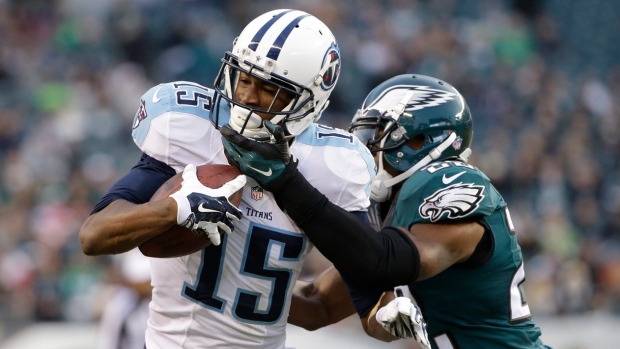 VIRGINIA BEACH, Va. - Tennessee Titans wide receiver Justin Hunter was found not guilty on Tuesday of committing assault and battery in a crowded bar in his hometown over the July 4 weekend.
The charge stemmed from a brawl that began inside a bar in the Virginia Beach oceanfront tourist district shortly before 2 a.m. on July 4.
Prosecutors said the fight led to a man's jaw being broken, although the victim said at trial it wasn't Hunter who landed the most serious blow against him on a sidewalk once the bar had been cleared out. The entire fight inside the bar lasted about 60 seconds and quickly involved numerous people, according to surveillance video presented at trial. The video showed at least one person throwing a bar stool.
Defence attorney Toby Vick said the only reason Hunter was singled out for charges is because he's an NFL player with deep pockets. The victim in the case doesn't have health insurance and has expensive medical bills to pay as a result of the fight, and has hired a personal injury attorney with the intent of suing Hunter.
"This is nothing but a ploy to get to his pocket and money," Vick said.
Vick repeatedly attacked the credibility of the victim, Anthony Blythe, by noting he had two previous felony convictions and that his story of what happened the night of the fight had changed.
Prosecutors said during the trial that the brawl began after Hunter and a group of men exchanged words in the crowded bar. Blythe said the ordeal began after Hunter stepped on his toes. One of Blythe's friends said tempers flared after Hunter stepped between Blythe and a woman at the bar.
Hunter testified that Blythe pushed him from behind to get his attention, and that Blythe was soon joined by his friends, who escalated the situation. One of Blythe's friends approached Hunter with clenched fists while "talking junk," indicating that he might fight, Hunter said.
Vick said Hunter felt threatened, and that's why he began throwing punches.
"I felt like I had to protect myself," Hunter said.
Prosecutor Wendy Alexander said Hunter started the entire brawl by throwing a right-handed jab at one of Blythe's friends, who was later arrested for public intoxication. After Hunter was pushed away, he came back with a large, roundhouse left-handed punch aimed at Blythe, Alexander said. Hunter said he was aiming at Blythe's friend - and not Blythe - who was the stated victim in the case.
As the brawl ensued, Hunter put Blythe's friend in a chokehold from behind, before Blythe began punching Hunter to get him off of him.
"The defendant is the aggressor during the entire confrontation," Alexander said.
Hunter's trial lasted about four hours. General District Judge Gene Woolard found Hunter not guilty, but in what he said was an unusual move for him, did not explain his reasoning for doing so. As the verdict was announced, Hunter's family and friends stood up and erupted in cheers.
Tennessee traded up six spots to draft the 6-foot-4, 207-pound Hunter out of the University of Tennessee in 2013 with the 34th pick overall. Hunter played in 14 games as a rookie, catching 18 passes for 354 yards and four touchdowns. He played 12 games before a season-ending injury in 2014 and finished with 28 receptions for 498 yards and three TDs.
Hunter caught one pass for 11 yards in the Titans' season-opening 42-14 win at Tampa Bay on Sunday.
___
Online:
AP NFL website: www.pro32.ap.org and www.twitter.com/AP_NFL
Brock Vergakis can be reached at www.twitter.com/BrockVergakis