Live Blog: Canada wins gold over Sweden in penalties
Canada has won their first ever Olympic gold in women's soccer defeating Sweden 1-1 (3-2) on Friday morning.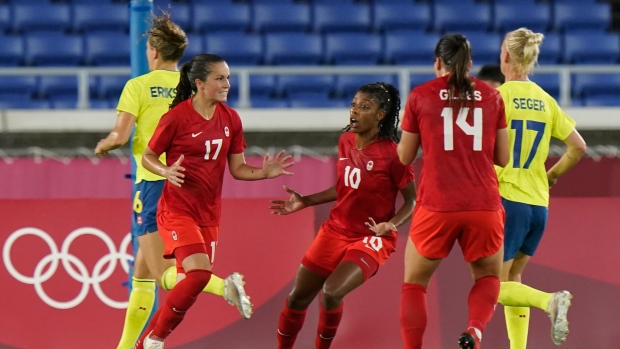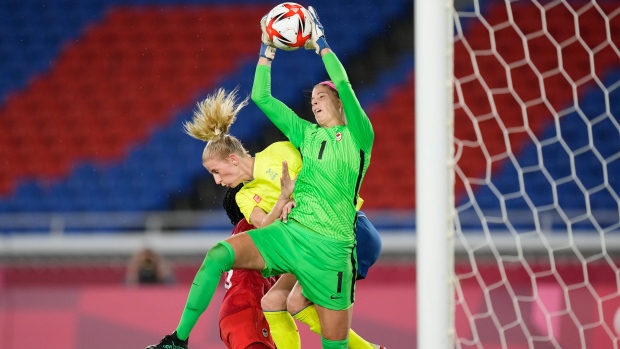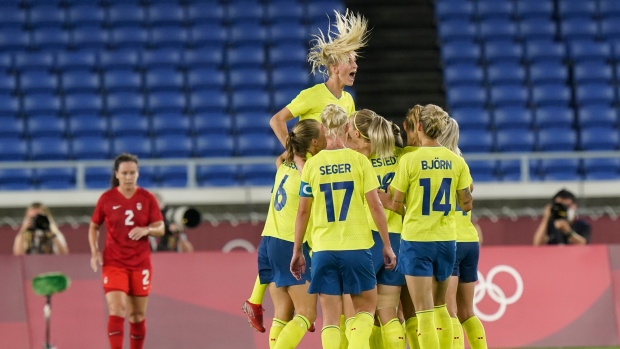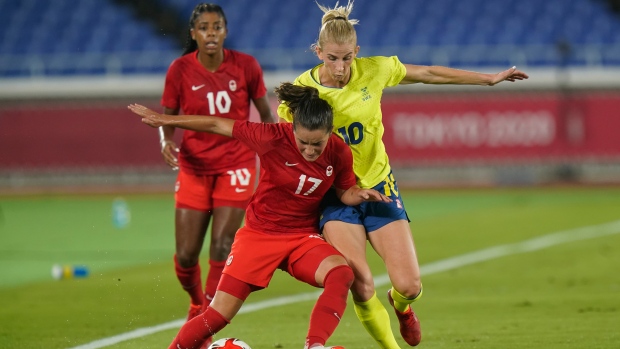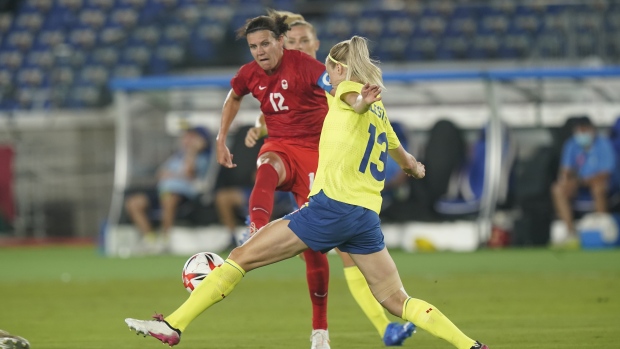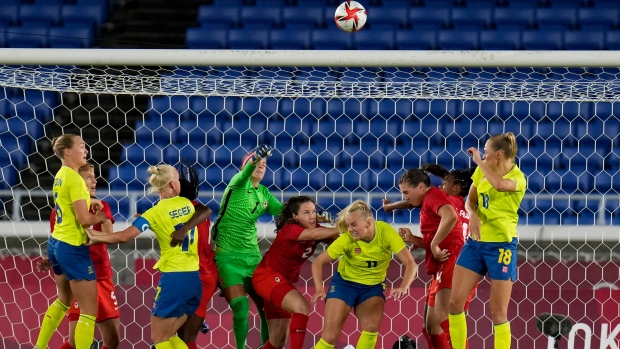 Canada has won their first ever Olympic gold in women's soccer defeating Sweden 1-1 (3-2) on Friday morning. Keep up to date with all the key moments with TSN.ca's Live Blog.
You can also listen to the game LIVE on TSN Radio.
---
Current Score: 1-1 - Canada wins 3-2 in penalties
Penalty Shootout - Live updates
Canada's sixth taker - Julia Grosso - SCORES TO WIN GOLD
Sweden's sixth taker - Jonna Andersson - STOPPED BY LABBE
Canada's fifth taker - Deanne Rose - SCORES
Sweden's fifth taker - Caroline Seger - MISSES
Canada's fourth taker - Adriana Leon - STOPPED BY LINDAHL
Sweden's fourth taker - Anna Anvegård - STOPPED BY LABBE
Canada's third taker - Vanessa Gilles - HITS THE CROSSBAR
Sweden's third taker - Olivia Schough - SCORES
Canada's second taker - Ashley Lawrence - STOPPED BY LINDAHL
Sweden's second taker - Nathalie Björn - SCORES
Canada's first taker - Jessie Fleming - SCORES
Sweden's first taker - Kosovare Asllani - HITS THE POST
Sweden won the coin toss and will kick first.
---
120' + 1 - Penalties to decide gold
The gold medal game will be decided by penalty kicks at Tokyo 2020.
120' + 1 Zadorsky on for Canada
Shelina Zadorsky replaces Desiree Scott with just seconds remaining in extra time.
120' Kullberg subbed in
Sweden's Emma Kullberg is substituted on with penalties perhaps in mind.
119' - Hertig's header is wide
Lina Hurtig gets a free header inside Canada's penalty area, but can't find the target as Sweden continues to challenge.
118' Sweden just denied
A cross from inside the box is punched up by Labbe and leads to two more chance for Sweden, but somehow stays out.
117' Canada survives another corner
Yet another Swedish corner finds the centre of the box, but is cleared away after a scramble
112' Huitema header misses the target
A strong run from Deanne Rose leads a to cross to Jordan Huitema, but her header is off the mark.
111' Swedish header goes just wide
Aslani finds the head of Lina Hurtig with her corner, but the deflection drifts just wide of the Canadian net.
108' - Swedish corner
Aslani's corner finds a crowd in the centre of the Canadian box, but the chance is cleared away.
105' +1 - Still even at 1-1
The first half of extra time solved nothing as the two teams remain deadlocked at 1-1.
104' Aslani gets a yellow card
Kosovare Asllani becomes just the second player cautioned in the gold medal game, picking up a yellow card in the offensive end.
103' Andersson's shot goes just over
Jonna Andersson tries a shot from 30 yards out that goes just over the crossbar above Stephane Labbe.
99' Blackstenius puts one wide
Stina Blackstenius tries a shot from just outside Canada's penalty area and puts it well wide.
95' Canada pressures, but can't find a goal
Canada forces Sweden to scramble in their own box and end the effort with a Julia Grosso shot on net that was saved by Hedvig Lindahl.
93' - Fourth Sub for Canada
Jayde Riviere comes on to replace Allysha Chapman on the backline for Canada.
90' - Extra time underway
Adriana Leon kicks off and extra time is underway.
Going to Extra Time
Thirty minutes of extra time will be added to decide the gold medal game.
90' + 4 - Fleming gives it a try
Jessie Fleming tries to play the hero with a shot from outside the box, but puts it just over the net.
90' - 4 minutes of added time
Four minutes of penalty time have been added to try to solve the gold medal game in regulation.
89' Buchanan saves Canada
Sweden with a big chance in Canada's box with Labbe out of her net, but Buchanan covers and blocks the attempt from Aslani.
86' Huitema replaces Sinclair
Christine Sinclair comes off the pitch as Bev Priestman elects to bring on Canada's youngest player, Jordan Huitema.
84' Fleming down
Canadian goal-scorer Jessie Fleming is down with an apparent cramp. Both sides are taking the opportunity to hydrate. Fleming appears to be OK.
83' Sweden providing pressure
Sweden have been pressuring the Canada, but unable to find a clear chance. Aslani takes a weak shot from outside the box that is stopped by Labbe.
79' A scare for Canada
Fridolina Rolfö goes unmarked in the box and puts her shot just wide.
78' Rose opts to pass
Deanne Rose with a rush into the Swedish box but she elects to pass over shoot and has her attempt cleared.
75' - Triple sub for Sweden
Looking for a spark, Sweden is making a triple substitution with Jonna Andersson, Hanna Bennison and Lina Hurtig replacing Magdalena Eriksson, Sofia Jakobsson and Filippa Angeldal
69' - Canada on the front foot
Fresh off the tying goal, Canada is putting heavy pressure on Sweden. Fleming has a go from inside the box, but puts it just too high.
67' - Fleming scores
Jessie Fleming scores on a penalty for the second straight game. The two sides are tied 1-1.
66' - Penalty It is
Canada will have a kick from the spot after a VAR check. Jessie Fleming will take it.
64' Penalty for Canada?
VAR is checking a potential penalty for Canada after Christine Sinclair appeared to be fouled in the Swedish box.
63' Rose on, Prince off
Deanne Rose replaces Nichelle Prince for Canada, joining Leon as new wingers on the pitch
62' Sinclair draws foul to end corner
After several minutes of Swedish pressure, Christine Sinclair draws a foul to end a corner kick from Sweden.
53' Labbe handles a Swedish corner
Labbe reaches over several players to grab a in-swinging corner from Sweden.
51' Grosso fires it high
Following several minutes of pressure for Canada, Julia Grosso has her first attempt of the game, blasting a shot from outside of the box that goes over the net.
47' Prince gets a shot on target
Nichelle Prince makes her way into the Swedish box and gets a tough angle shot on net that is saved by the Swedish keeper.
45' - Two subs for Canada
Julia Grosso and Adriana Leon have come for Canada, replacing Quinn and Janine Beckie.
45' Halftime
Sweden dominates the final five minutes before half, but Canada holds on to enter the second half down 1-0.
39' Sweden gives Canada another scare
Aslani's free kick into the Canadian box leads to multiple efforts by Sweden before the ball deflects out of play.
37' Beckie's cross intercepted
Janine Beckie tries a cross into the box, but has it intercepted by Swedish keeper Hedvig Lindahl.
35' Sweden takes the lead
After a Canadian turnover in their on half, Kosovare Asllani rushes down to the right flank and centres to Stina Blackstenius whose deflected shot beat Labbe to put Sweden up 1-0.
32' Sweden appeals for handball
After dominating play for the past five minutes, Sweden gets another ball into the Canadian box and appeal for handball on Quinn, but the referee says play on.
29' Labbe keeps Canada equal
Stephanie Labbe makes a terrific reaction save to keep out a Swedish header.
28' Fleming tries from distance
After Christine Sinclair was stopped by the Swedish defence as she tried to break through into the penalty area, Jessie Fleming fires the loose ball over the net.
27' Beckie picks up a yellow card
Janine Beckie picks up the first yellow card of the game for a challenge on Caroline Seger.
25' Beckie can't find Prince
Janine Beckie gets through a defender and into the Swedish box, but can't find Nichelle Prince with her centreing pass.
21' So close for Canada
Nichelle Prince drives down the left flank and tries to find Janine Beckie, who misses a chance to deflect it in for Canada.
19' Beckie wins a corner
Janine Beckie worries the Swedish backline with a low corner that was deflected out of play as it crossed the face of goal. Desiree Scott has a go from distance after the corner, but puts it too high.
17' Labbe with a strong save
Fridolina Rolfö tests Labbe with a strong shot from distance, but the Canadian goaltender knocks down the ball and covers.
15' - Canada's first chance
Prince makes her way into the Swedish box and attempts a centreing pass, but has it blocked.
11' - Another Swedish corner
Swedish star Kosovare Asllani rushes into the right edge of the box and has her cross deflected for a corner. Christine Sinclair was fouled on the corner, leading to a Canada free kick.
10' - Eriksson's shot goes wide
Sweden's Magdalena Eriksson has a go from outside the box, but puts her shot well off target.
---
9' -Chaos in Canada's Box
Sweden gets a shot off after getting the ball into the box, but after bouncing off multiple players, Canada manages to clear.
6' - Prince wins a corner
Nichelle Prince rushed down the right flank to win a corner for Canada in the sixth minute. Vanessa GIlles got her head on the end of the corner kick, but couldn't find the target.
2' - Labbe handles early corner
Sweden won the first corner of the game in the second minute but the effort was punched away by Canadian goaltender Stephanie Labbe.
---
Canada's Starting XI
Canada is sticking with the same starting XI from their upset victory over Team USA, captained by striker Christine Sinclair.
---
Warmups are underway
---
Pregame Summary
After toppling archrival U.S. in the semifinal, Canada's women's soccer team is set to go for gold against Sweden.
The gold medal match kicks off at 9 p.m. local time — 8 a.m. eastern — after both teams requested a later start to avoid the worst of the midday heat.
Organizers also changed the venue from Tokyo's Olympic Stadium to International Stadium Yokohama, about 20 kilometres to the southwest, to prevent a conflict with the track and field program.
The Swedes are slight favourites heading into the match, having started the Olympics ranked No. 5 in the world to Canada's No. 8.
They've also won all of their matches in Tokyo, going a perfect 3-0 in the group stage while Canada finished with a win and two ties.
Win or lose, the Canadian side will fulfil its promise of changing the colour of its bronze medal from the last two Olympics, while Sweden is looking to improve on its silver medal from Rio in 2016.
- From the Canadian Press