Top five storylines at Roland Garros
Michael Gallo, TSN Tennis, TSN.ca Staff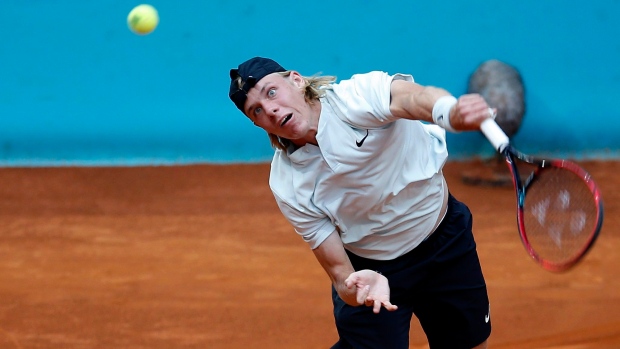 Canadian Denis Shapovalov will bring some clay-court momentum into Paris when the French Open gets underway Sunday. TSN's Michael Gallo has his top five storylines from Roland Garros:
Comfy on clay
Canada's Denis Shapovalov is having a very impressive clay-court season. After losing his opening matches in Monte Carlo and Budapest, the 19-year old from Richmond Hill, Ont., rebounded by winning six of his next eight matches including a semifinal in Madrid. Both of his losses at the final two Masters clay events came against Rafael Nadal and Alexander Zverev, the top-two seeds at this year's French Open, so it's nothing to get stressed about.
What's been surprising about his clay surge in 2018 is that Shapovalov lost all four matches he played on clay last year. But his game on dirt has improved drastically in such a short period of time and now he's become a threat on every surface.
"It's grown a lot, really quickly. A couple weeks ago I would say clay is my least favourite surface," Shapovalov told TSN on Friday. "But now I can say that I'm pretty comfortable on it, I'm playing really well on it. These past couple weeks have really helped my confidence on these courts."
Shapovalov has had quality wins this spring over top-50 players Tomas Berdych, Kyle Edmund, Robin Haase and fellow Canadian Milos Raonic. Seeded for the first time at a grand slam, the No. 24 faces unseeded Australian John Millman in the opening round at Roland Garros, and is projected to play No. 14 seed Jack Sock in the third round. Nadal, the 10-time French Open champion, looms in the round of 16.
Missing in action
The two players that have helped put tennis on the map in Canada will both be absent at Roland Garros. Milos Raonic pulled out of the men's singles tournament with a knee injury while Eugenie Bouchard withdrew from her first-round women's qualifying match with an abdominal injury. The French Open is the first Grand Slam tournament that will not include either Raonic or Bouchard since the 2011 U.S. Open.
Injuries have been the main reason why the 27-year old Raonic left the top-10 ranking in 2017 although he did show promise when he was healthy earlier this year, reaching the semifinals in Indian Wells and the quarterfinals in Miami. Canadian fans can hope that this rest will help Raonic, who has dropped to the No. 28 ranking, as the most important stretch of the year approaches in July.
The 24-year-old Bouchard, who has plummeted to No. 167 in the world, will drop even further to around No. 195 at the conclusion of Roland Garros.
The 2014 French Open semifinalist will have no choice but to play lower-level ITF tournaments and is on the cusp of just getting into qualifying at Wimbledon. Bouchard, from Westmount, Que., is currently playing without a full-time coach or hitting partner, which should be at the top of her priority list as she tries to find her game.
Pit stop for Pospisil
It's been two full years since Vasek Pospisil played an ATP World tour match on clay, but the 27-year-old makes his return this year after opting to forgo the qualifying tournament in 2017.
Pospisil's ranking was not high enough for the main draw last year, but was well inside the cutoff this year and he's playing Roland Garros after skipping the majority of the clay season. The world No. 88 opted to play challenger events in Asia, reaching two finals, and was entered to play in Geneva this week to get one clay tournament under his belt, but he ultimately pulled out.
One of the Asian tournaments Pospisil competed in was on clay – he lost in the second round – so at least he has gotten in some work on the surface before arriving in Paris. The Vernon, B.C., native has lost all five of his career matches at Roland Garros and has a very difficult match awaiting him in the first round against World No. 60 Marton Fucsovics. The Hungarian defeated former French Open champion Stan Wawrinka on Thursday en route to the Geneva final.
Lucky loser
If there's one Canadian who's made a living out of playing qualifying events at grand slams, look no further than Peter Polansky of Thornhill, Ont. This year in Paris, the 29-year-old Polansky played in his seventh straight grand slam qualifying tournament, but lost in the final round for the fourth consecutive event.
However, luck was on his side as there were four "lucky loser" spots available from late withdrawals. Since Polansky was one of the six-highest ranked players who lost in the final round of qualifying, he was placed in a draw where four of the top-six players were randomly selected, and Polansky was one of the four.
The world No. 125 makes a Grand Slam main draw as a lucky loser for third time in the last six tournaments, and will face Frenchman Pierre Hughes Herbert in the opening round.
Dabrowski, partners settle down
Gabriela Dabrowski, Canada's top doubles player, had a fantastic start to 2018. By mid-February, she had won two titles with two different partners – one with regular partner Xu Yifan in Sydney and the other with fill-in partner Jelena Ostapenko in Doha.
After you add two semifinals and a quarterfinal at the Australian Open, it was as a good a start to the year as the 26-year-old could have hoped for. Skip ahead to the clay season and the success has stalled.
Now ranked 11th in the world, Dabrowski and her partners have lost their opening matches in three of their four tournaments they've played. Last week in Rome, however, Dabrowski and Xu did win their opening-round match after a first-round bye, so they do have a win on clay going into Roland Garros.