Toronto Argonauts Season Preview
Get ready for the CFL season with TSN.ca's Team Previews. Check out roster breakdowns and season outlooks from CFL on TSN analysts. We'll roll out a new team each week day. Today, the Toronto Argonauts.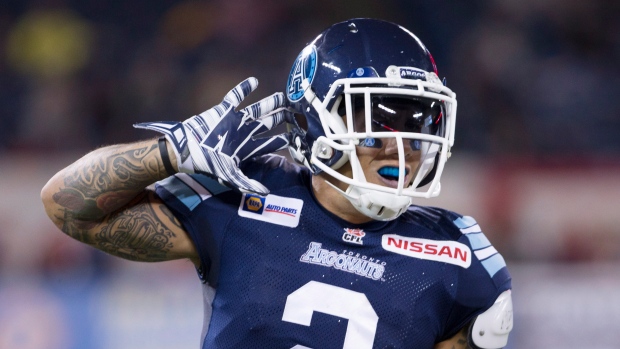 Argos hope positive ownership vibes translate
Head Coach: Scott Milanovich
GM: Jim Barker
| Record | Offence | Defence |
| --- | --- | --- |
| 8-10 | 354.3 (3rd) | 331.0 (6th) |
The biggest news of the Argonauts off-season wasn't roster related of course, but rather their sale to Bell and Larry Tannenbaum.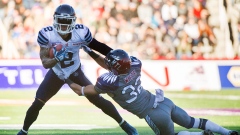 With the new owners also comes a sense of new hope for a team that has failed to maintain the success they experienced in their historic Grey Cup season two years ago.
The revitalization will only be amplified a year from now when the Argos move into their new digs at BMO Field.
They have to first say goodbye to the Rogers Centre however, and will start their final season under the dome without star QB Ricky Ray.
Ray underwent off-season shoulder surgery and won't be ready for the opener, thrusting Trevor Harris into the spotlight as starter. Harris, and his 94 career passing attempts in the CFL, will have to hold down the fort until Ray is ready to return.
The Argos weren't particularly active in free agency while losing a number of players in the process, most notably offensive lineman SirVincent Rogers.
Duane Forde's Canadian Content
While most teams tend to fill the majority of their Canadian starting positions on the offensive side of the ball, with O-Linemen and receivers, the Argonauts find themselves with some interesting options on D. With last season's arrival of linebacker Cory Greenwood, a 2010 first round pick who spent four years in the NFL, GM Jim Barker was able to flip Shea Emry to Saskatchewan for defensive end Ricky Foley, who racked up 20 sacks over the last two seasons. The move gives the Double Blue another proven National starter on a defensive unit that frequently featured up and comers Jermaine Gabriel and Cleyon Laing at free safety and defensive tackle respectively.
Offensively, the team has two potential game-breaking homegrown talents in slotback Andre Durie and running back/slotback Anthony Coombs. The challenge is keeping them healthy after both missed significant time due to injuries in 2014.
On the offensive line, tackle Chris Van Zeyl, guard Tyler Holmes, and centre Jeff Keeping are the sure things but it would go a long way if Matt Sewell can develop into the ratio changing left tackle the Boatmen projected him to be when they drafted him in 2013. Grade: B
Matt Dunigan's Quarterback Analysis
How can a veteran quarterback lead and improve a young offence?
First of all, before Ricky Ray can attack the record books anymore he must fully heal and recover from off-season shoulder surgery. Subsequently, head coach Scott Milanovich, has taken the "bull by the horns" and named Trevor Harris (Edinboro) the starting quarterback … for now!
I love this strategic move by Milanovich. It puts Harris in a different state of mind knowing it's his team until Ray is a go. This allows him to deal with all the pressures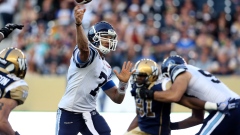 of being "The Guy," early. There is a difference, and the earlier the better to start experiencing the reality of those pressures.
Harris takes control of the Argos offensive ship with 94 career pass attempts under his belt. That's 6,123 less than Ray; just saying! Full analysis
Farhan Lalji's Draft Analysis
Very few players leave an NFL opportunity on their own accord, but Daryl Waud did just that, asking for his release from the Washington Redskins. With the Argos first round draft pick, Sean McEwen, deciding to return to school, all eyes will now turn to Waud - taken 12th overall - and his ability to make an early contribution. Waud got first team reps early in camp with the absence of Cleyon Laing, and showed that he is ready to play as a rookie.
He is expected to be a part of the D-line rotation, while third round draft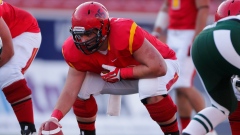 pick Cameron Walker from Guelph will be given a similar opportunity to back up Ricky Foley, once he returns from a quad injury.
The biggest surprise for the Argos among this crop of draft picks has been RB Dillon Campbell, who has shown he will be ready to step in for Anthony Woodson, who left for Hamilton.
| Round (Pick) | Player | Position | College |
| --- | --- | --- | --- |
| 1 (3) | Sean McEwen | OL | Calgary |
| 2 (12) | Daryl Waud | DL | Western |
| 3 (21) | Cameron Walker | DL | Guelph |
| 4 (30) | Matt Norzil | WR | Laval |
| 5 (39) | Dillon Campbell | RB | Wilfrid Laurier |
| 7 (55) | Kevin Bradfield | WR | Toronto |
| 7 (56) | Dan MacDonald | LS | Guelph |
Paul LaPolice's Scouting Report
The Argonauts are a pass first offence using high percentage passes to move the ball. The running backs get a lot of touches in the passing game to substitute for the run. They'll have to protect the ball better this year offensively to be successful. Without Ricky Ray (out indefinitely), Trevor Harris will have to lead the team. He has looked very good in training camp.
Defensively, the Argonauts have revamped many key players in a secondary that had given up the most TDs in the CFL. The team needs to establish a pass rush without having to blitz so they can play more zone coverage behind it. Brandon Underwood, a rookie from the NFL, has looked tremendous in camp. Look for him to be an impact player.
Swayze Waters, the 2014 Most Outstanding Special Teams Player, gives the defence some of the best field position in the CFL with his strong leg and booming kicks on punts and kickoffs. He has the ability to kick long field goals and should not have any issues with the new rules for extra points this year. Chad Owens is still a prime time returner but the Argos need to find someone to take some reps for the full-time receiver.
The Argos are once again road warriors, playing eight out of their first 10 games on the road. They'll have to protect the ball better, especially on the road, and Trevor Harris needs to be able to not just manage games, he'll have to win them as the defence develops. They need to steal some wins on the road and wait for the return of Ricky Ray.
Read Lapolice's full analysis here
East: Redblacks, Argonauts, Alouettes, Tiger-Cats
West: Blue Bombers, Lions, Roughriders, Eskimos, Stampeders