Trade Talks: Leafs and Canadiens dealing?
Could the Toronto Maple Leafs and Montreal Canadiens actually have a deal in the works? Check out today's trade rumours and speculation from around the NHL beat.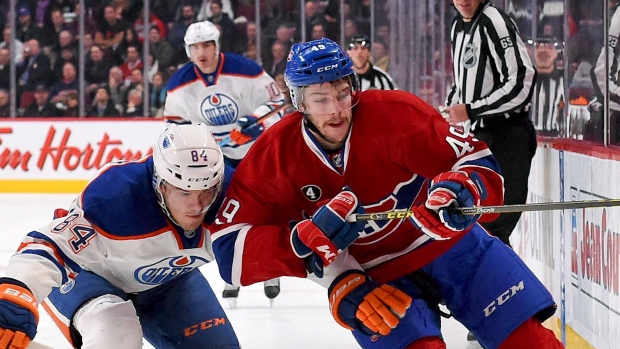 The NHL's Mar. 2 Trade Deadline is approaching and teams are making decisions on whether to buy or sell and decide which players can make the biggest difference and hold the greatest value. Check out today's trade rumours and speculation from around the NHL beat. And follow TradeCentre on TSN and TSN.ca through Deadline Day for all the updates.
Differences aside?
The Toronto Maple Leafs have inquired about Montreal Canadiens forward Michael Bournival and prospect Christian Thomas, RDS reported on its website Friday.
According to RDS, the Leafs as sellers at the deadline are looking at Canadiens players with expiring contracts. Bournival is in the final year of a three-year, $2.7 million deal he signed in 2011.
Bournival is the main target behind the rumoured talks, but questions have been asked about Thomas, son of former Leafs forward Steve Thomas.
Days numbered?
After being a healthy scratch for three straight games earlier this month and reportedly requesting a trade, it looks like Sean Bergenheim's time with the Florida Panthers is coming to an abrupt end.
The Panthers' beat writer for the Florida Sun-Sentinel Harvey Fialkov tweeted Friday evening that he would "be shocked if Bergenheim is on (the) team within a week."
Bergenheim was a healthy scratch again and head coach Gerard Gallant didn't mince words when giving the reason behind his benching.
"I'm trying to win,'' Gallant said. "When I made my decision with my coaches, it was only who gives us the best chance to win.''
Plan B
According to Stephen Harris of the Boston Herald, the Winnipeg Jets and Buffalo Sabres made life a little more difficult for the Boston Bruins after a mega deal this past week.
Part of the deal sent 29-year-old winger Drew Stafford to the Jets, who Harris wrote on BostonHerald.com Saturday was on the Bruins' "list of possible trade targets."
Moving forward, Harris says the Bruins could be in the market for a familiar face. Former Bruins forward Michael Ryder could come at the affordable price of "nothing more than a draft pick."
Buffalo's Chris Stewart is also another option, however both players have been underwhelming this season.
"I feel like I'm a broken record every year at this time," Bruins GM Peter Chiarelli said, as quoted by Harris. "A lot of teams are in (the playoff race). There's a few teams that are out that have very high prices (for tradeable players).We're looking at both rentals and hockey trades. It's hard to do a hockey trade and the rentals are overpriced. So we just keep pecking away."