Trainer: Oaks winner Munnyfor Ro being pointed to Queen's Plate
The $1-million Queen's Plate remains very much on Oaks winner Munnyfor Ro's radar. Trainer Kevin Attard said the three-year-old filly is being pointed towards the opening jewel of the OLG Canadian Triple Crown slated to be run Aug. 22 at Woodbine Racetrack.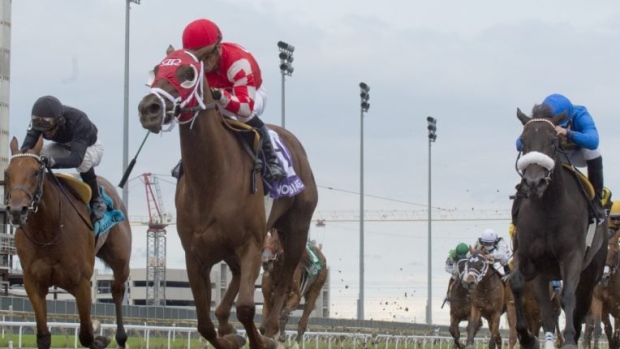 TORONTO — Since 2008, at least one starter from the $500,000 Woodbine Oaks has gone on to run in the $1-million Queen's Plate.
Munnyfor Ro is giving trainer Kevin Attard every indication she'll continue that streak.
Attard said Tuesday the '21 Oaks champion has come out of that race well and is being pointed towards the Plate. The opening jewel of the OLG Canadian Triple Crown is slated for Aug. 22 at Woodbine Racetrack.
"Obviously, the race (Plate) is on the table," Attard said. "We're going to just keep monitoring her and see how she does.
"If she continues to keep doing what she's doing and training forwardly, then that race is going to be a high probability. We're still day-to-day right now with that race as a target but not yet 100 per cent committed until we get a little closer."
One horse that won't be in the Plate is Weyburn, a three-year-old colt that was rated as an early 3-1 favourite in March. The horse is owned/bred by Chiefswood Stables and GM Robert Landry said the timing of the race as well as the course it's held on were the two main factors in the decision.
Weyburn last ran July 31 when he was fourth in the Grade 2 US$600,000 Jim Dandy Stakes, a 1 1/8-mile dirt race at Saratoga. What's more, the horse has never run on Tapeta, an artificial surface that the Plate is held on annually at Woodbine Racetrack.
Four Oaks starters have gone to beat the boys and win the 1 1/4-mile Plate, the longest continuously run thoroughbred stakes race in North America. Inglorious did so in 2011, followed by Lexie Lou (2014), Holy Helena (2017) and Wonder Gadot (2018).
Inglorious, Lexie Lou and Holy Helena completed the Oaks-Plate double while Wonder Gadot captured the Plate after finishing second in the Oaks to Dixie Moon.
Jockey Justin Stein guided Munnyfor Ro to a 1 1/4-length win in the Oaks on Aug. 1. The three-year-old, Ontario-bred filly served notice for the Plate considering that earlier Avoman won the $150,000 Plate Trial in 1:52.84 over the same distance and course.
"She came out of the Oaks in great shape," Attard said. "She looks pretty happy, full of herself.
"She's pretty content, taking everything in and feeling a little frisky. She seems like she knows she's done something and achieved some sort of greatness, I guess you could say."
The Oaks win was a first for Attard. Stein also the opening event of the Triple Tiara for Canadian-bred three-year-old fillies in 2015 aboard Academic.
It was the second victory in seven starts this year for Munnyfor Ro, who's now 2-2-2 from nine career races and has earned over $320,000. The 3-1 third choice in the Oaks was coming off a second-place finish in the Grade 3 Selene Stakes at Woodbine on July 10.
"It (Selene) wasn't the race we intended to run but our original race did not fill so we were kind of forced into that direction," Attard said. "I thought she was a good second, I think that day kind of confirmed she belonged . . . and that we had a viable Oaks contender.
"Within the last few weeks it just seems like she's mentally gone to a new level. She's very keen of her surroundings right now, she's kind of taking everything in. She goes to the track, she stands and just looks at everything very calm and collected. She's acting like a good horse right now and doing everything the way you'd want her to do it."
Following the Oaks victory, Attard said he wasn't concerned about the Plate distance. But if decision is made to enter Munnyfor Ro into the Plate, the horse's connections will have to pay a $25,000 supplemental fee, which is $15,000 more than if she'd been nominated to the race.
If Munnyfor Ro does run in the Plate, Attard said Stein will again be in the irons. Stein won the '12 Queen's Plate with Strait of Dover.
And for the first time since 2019, fans will be allowed to attend the Plate. Approximately 5,000 spectators are expected to be at Woodbine for the race.
This report by The Canadian Press was first published Aug. 10, 2021.