Trestman fired by Argonauts a year after winning Grey Cup
Marc Trestman paid the ultimate price for the Toronto Argonauts' dismal season less than a year after leading the franchise to a stunning Grey Cup championship.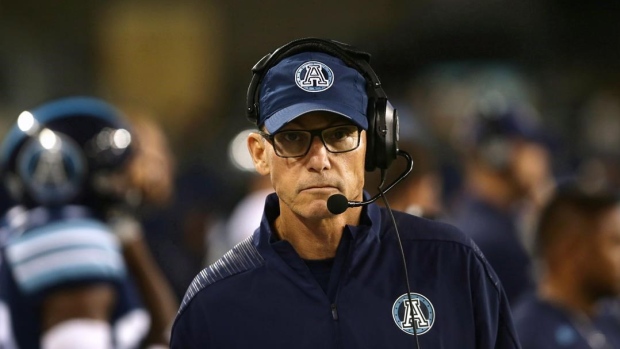 TORONTO — Marc Trestman paid the ultimate price for the Toronto Argonauts' dismal season less than a year after leading the franchise to a stunning Grey Cup championship.
The Argos fired Trestman early Saturday morning, hours after their lacklustre 24-9 season-ending loss in Ottawa. Toronto (4-14) dropped nine of its final 10 games and sported an abysmal 0-9 road record.
Adding insult to injury, Ottawa (11-7) rested most of its offensive starters having already clinched top spot in the East Division. What's more, Redblacks offensive lineman Jon Gott celebrated his team's final touchdown by chugging a beer in the stands, then crushing the can against his helmet when he was done.
Argos president Bill Manning said he informed Trestman of the news at 2 a.m. ET on Saturday morning. Manning added it was a collective decision that involved himself and GM Jim Popp and Toronto's horrid 4-14 record wasn't the only reason for the move.
"Over the last few weeks as we dug into the progress of this team, it became clear to me there was some misalignment on where we want to be as an organization," Manning said. "I'm a firm believer you need your front office in sync with your coaches.
"The best teams in sports have a front office that's in sync with their coaches."
Manning provided two examples of that disconnect: Toronto's quarterback situation; and receiver Duron Carter.
The first — and most impactful — challenge Toronto faced this year came June 23. That's when starter Ricky Ray, who made 17 starts last season, suffered a season-ending neck injury in a 41-7 home loss to Calgary in a rematch of last year's Grey Cup game.
Trestman went with James Franklin, who Toronto obtained from Edmonton last December as Ray's heir apparent, but switched to McLeod Bethel-Thompson after Franklin went 1-3 as the starter. However Bethel-McLeod was 2-6 under centre and Trestman finished the season with Franklin as his starter.
In August, Toronto signed free-agent Carter after his release from the Saskatchewan Roughriders. But the two-time 1,000-yard receiver was drastically under-utilized, registering 10 catches for 119 yards and a TD in eight games.
"I think the quarterback situation, clearly there was some difference in opinions on who should be playing," Manning said. "The acquisition of Duron Carter where again there was a little bit of difference.
"MLSE, in any of our sports, doesn't want to be a 4-14 team and I felt a change had to be made. I had to make a decision on who I wanted moving this football operation forward and I decided Jim was the right guy to do that."
Injuries also plagued Toronto's defence. Linebackers Marcus Ball and Bear Woods as well as defensive back Cassius Vaughn all missed plenty of playing time.
Popp and Trestman spent seven years together in the CFL with Montreal (2008-12) and Toronto, reaching the playoffs six times and winning three Cup titles. Trestman was 15-23 with the Argos and has an overall record of 72-54 in Canada.
But 2018 was also a tough year off the field for Trestman. His father, Jerry, died on Labour Day at the age of 88 while his mother, wife and sister have had or continue to battle cancer.
"It's obviously very difficult for me with my relationship with coach Trestman," Popp said. "Moving forward it came down to a decision that we needed a change.
"This has been a very difficult season for us, a lot of things didn't go right and we've all got to be better for it. You learn a lot from losing, much more than you do from winning and we'll be a better origination moving forward for it."
Popp and Trestman got a late start with Toronto after being hired Feb. 27, 2017. The Argos struggled early but won five of their final eight regular-season games to finish atop the East Division. After downing Saskatchewan 25-21 in the conference final, the club captured a stunning 27-24 Grey Cup win over Calgary in the snow at T.D Place.
But the Argos were never able to reclaim their '17 magic.
"If we were 14-4 we wouldn't be having this conversation," Manning said. "If we were 10-8 we probably wouldn't be having this conversation.
"Towards the end of the season I just felt the team wasn't playing for Marc . . . the team lost its way. This was about winning football games."
Popp said he'll begin immediately looking for a new coach. The veteran GM was quick to say he won't be heading to the sidelines, something he did on four separate occasions in Montreal.
"I think there's some strong candidates in our league right now that are with other teams," Popp said. "But we'll look at all aspects, we'll look at what's best.
"The likelihood, not a guarantee, is that coach would come out of our league currently. It doesn't necessarily mean it will be on the offensive side of the ball, it could be on the defensive side. There's a lot of work we have to do. We're not where we want to be."
A new Argos coach could find the cupboard a little bare at quarterback, with Franklin the only one of the current batch under contract next season.
Predictably, Argos players were stunned by the coaching change.
"It's tough," said Ray, who was installed as Trestman's starter the day the coach was hired. "I obviously enjoyed playing for Marc . . . the year we had last year was pretty special
"He's just a great man, a great coach, one of the best coaches I've ever played for. My heart goes out to him and everything he put into this team and organization. It's a tough day."
Veteran receiver S.J. Green, who played for Trestman in both Montreal and Toronto, echoed those sentiments.
"I was surprised, man," he said. "It's tough to see something happening to people you care about but this is the business we all chose to be a part of.
"I know coach Trestman understands the business aspect of it too but the reality is it still hurts."
Offensive lineman Chris Van Zeyl said he and his teammates must shoulder some of the blame for Trestman's departure.
"I was pretty shocked and sad," he said. "Our play put him in that position and we had a lack of consistency as a complete team.
"We left a lot to be desired and I just hope he knows how much he did for this program and the guys in this room, not just as football players but people in general. He changed a lot of lives here and he's a pretty special guy."