TSN.ca CFL Draft Profile: Danny Groulx
Tony D'Archi, TSN.ca Staff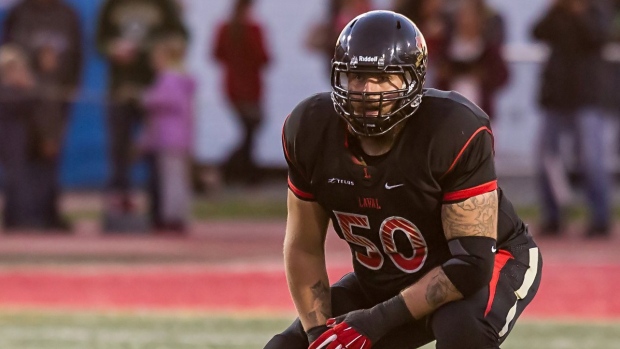 "I got this blue collar attitude when it's football time and when it's business time."
For 6-foot-6, 325-pound Laval offensive lineman Danny Groulx there are certain aspects to the game of football that he likes, and the physicality is definitely one of them. While not politically correct to say in 2015, football's appeal for many remains the contact and the degree of violence that is inherent in the sport.
"For me, when I get on the field, I like to hit people and have fun doing it," Groulx told TSN. "When I was young I was always fighting with my brother, always fighting with my friends and stuff. I was playing hockey and I found they don't hit in hockey until a certain age. When I played football I said 'oh man you can hit people even in practices and games.'"
Groulx started playing football in high school in Sherbrooke and due to his size was encouraged to be aggressive. He's never looked back.
"At one point when I was in high school people were like 'hey, be more aggressive,'" Groulx remembered. "I was like, you just don't know how it is, some people see an offensive lineman just pushing and they say he's not aggressive and I just changed my style of play. I wanted to be more aggressive. I started liking the physical aspect of the game and I liked to put people on the ground, that's what I like."
Groulx took the mentality of a defender playing on offence. This attitude got noticed and was envied by opposing coaches.
"I know some defensive coaches, they told me they liked my attitude. Some coaches they told me 'man, I would love to have my defensive guys with your attitude,'" Groulx said. "Some people see the O-line as people that take the hit or just push people around. If you want to be a great O-lineman you can't just take the hit, you have to bring the hit. It's something special to bring someone from Point A to Point B against his will."
Groulx originally played hockey but soon realized he didn't have the skills to be a professional. His family signed him up for football and he knew after his first practice that football was a game at which he could excel. His toughness and his work ethic stood out and would eventually get him noticed.
"I would say my toughness and my hard work. I think both together can make a good player," Groulx said. "Sometimes people, they see it with how I play and my teammates know I'm tough and they know I work hard. I think if you want to achieve what you want in life in whatever you do you have to work hard."
He eventually ended up with Glen Constantin at Laval. Constantin encouraged Groulx's attitude as he wanted all his offensive linemen to be aggressive. With Laval, Groulx would go on to win two National Championships (2012 and 2013). He didn't receive any All-Star or All-Canadian awards during his time at Laval, but his size and style of play helped him stand out.
He knows he will need to bring more than size as a pro.
"If you're goal is to make pro, everybody's sic-foot-six, six-foot-five, six-foot-seven so you need something else other than just the size," Groulx explained. "It helped me sometimes at the college level but that is not what it's like. It's not only the size, it's my attitude and what I bring to the table and makes the player that I am."
Groulx just completed a five-week camp at Compass Athletics in Atlanta to prepare for an NFL Regional Combine in Baltimore at the end of February. He believes he has the potential to make it to the NFL and with the likes of former RSEQ lineman like Laurent Duvernay-Tardif and David Foucault making it onto NFL rosters last season, the idea is not far-fetched. His agent Jonathan Hardaway often has his clients exhaust any and all NFL options before coming to the CFL. Despite this, Groulx expects to be at the CFL Combine this March and plans to give teams the same message when he talks to them.
"I'm just going to tell them what kind of player I am. I'm just going to tell them how tough I am, how physical I am. I'm just going to tell them that I think they'll get their hands full with a good O-lineman, a technical O-lineman with an aggressive mindset that just wants to pound some people and just loves that game."
"I think I've put so much effort into football all my life," Groulx stated. "I've never been given anything and I'm still working to go as far as I can in football. Even if I get drafted, I will still work my ass off. I know my weaknesses and I'm always working harder and harder each year to get better. They'll get a good player and they'll be happy if they take me."
While CFL teams will like what they see and hear from Groulx, the degree of interest from NFL teams is sure to impact where he gets taken in the 2015 CFL Draft.
Our next player profile will be on the No. 9 prospect in the 2015 CFL Draft, Addison Richards, receiver from the University of Regina.