TSN.ca's 2015 MLS Preview: Eastern Conference
The 2015 MLS season is nearly upon us. Get caught up with the League after a busy off-season with TSN.ca's week-long season preview. Today we have a look at the American clubs in the Western Conference.
Shane McNeil, TSN.ca Staff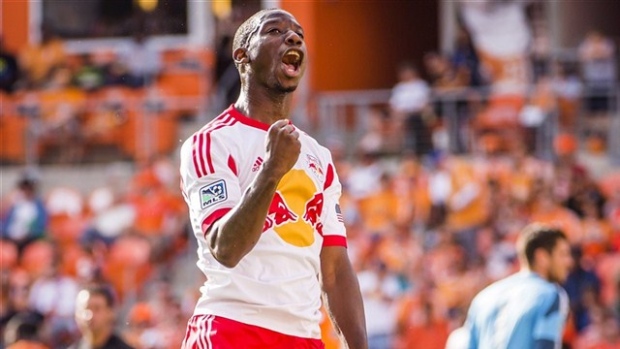 The 2015 MLS season is nearly upon us. Get caught up with the League after a busy off-season with TSN.ca's week-long season preview. Get forecasts for season success, who's in, who's out and when teams will be visiting your local pitch.
Today we have a look at the American clubs in the Eastern Conference.
Chicago Fire
The Fire endured their worst-ever MLS season in 2014. Finishing ninth in the Eastern Conference, the Fire finished level on wins with the last-place Montreal Impact.
It's tough to find positives in a six-win season, but the team did manage to lose only three games in the first three months of the season. The problem is that they only managed to win two over that same span with an impressive six-straight draws in March and April.
Mike Magee and Quincy Amerikwa potted eight goals apiece last season, but the Fire clearly had an offensive boost in their sights this off-season in adding a trio of DPs: Nigerian striker Kennedy Igboananike, Ghana's David Accam and former Wigan man Shaun Maloney in the midfield.
If those players can provide some offence, the team's D – which allowed fewer goals than all but one non-playoff team last season – could help provide a return to respectability, if not the MLS Cup Playoffs.
IN: F David Accam (Transfer – Helsingborgs, Sweden), D Adailton (Transfer - Bahia, Brazil), GK Jon Busch (Free – San Jose), D/F Guilherme do Prado (Free – Southampton, England), F Eric Gehrig (Trade - Orlando City), Kennedy Igboananike (Transfer – AIK, Sweden), D/M Joevin Jones (Transfer - W Connection, Trinidad & Tobago), M Shaun Maloney (Transfer – Wigan, England), M Michael Stephens (Free – Stabaek, Norway).
OUT: F Juan Luis Anangono (Transfer - Universidad de Guadalajara, Mexico), F Robert Earnshaw (Option declined), D Patrick Ianni (Option declined), M Benji Joya (Loan expired), M Sanna Nyassi (Re-Entry Draft), M Logan Pause (retired), D Gonzalo Segares (Option declined), D Bakary Soumare (Re-Entry Draft), M Grant Ward (Loan expired).
National Tour Dates: Montreal (Apr. 18, Sept. 5), Toronto (Sept. 26)
Columbus Crew
The Crew's return to the post-season in 2014 was encouraging, even if the results were not. Columbus returned to the MLS Cup conversation after two years on the outside, but ran immediately into the powerhouse New England Revolution (and a stunning lack of discipline) in the first round.
Columbus' season was the story of two hot stretches bookending a pretty poor couple of months. The Crew started the year on a three-game winning streak, including wins over the teams that would finish the year atop both conferences. It was a steep drop from there, though, as the Crew won just once between March 29 and July 19.
The team would turn it around, winning eight of its last 11, including an impressive 4-1 win over the eventual MLS Cup champions, LA Galaxy, and a 1-0 edging of the Revs.
The big off-season get was Sierra Leonean captain Kei Kamara, who returned to MLS after a season and a half in England. Kamara has proven he can score in the league, twice hitting double digits with Kansas City, and could help make the Crew one of the more potent offensive sides in the East, on top of having the East's third-stingiest defence last year.
IN: D Hernan Grana (Free– All Boys, Argentina), F Kei Kamara (Allocation - Middlesborough, England), D Chris Klute (Trade from Colorado), M Cedrick Mabwati (Transfer - Real Betis, Spain), M Mohammed Saeid (Free– Orebro, Sweden), M Kristinn Steindorsson (Free– Halmstads BK, Sweden)
OUT: M Bernardo Anor (Trade - Sporting KC), F Jairo Arrieta (Expansion Draft - Orlando City), D Eric Gehrig (Expansion Draft - Orlando City), D Josh Williams (Trade – New York FC)
National Tour Dates: Vancouver (Apr. 8), Montreal (July 11), Toronto (Oct. 17)
DC United
It's hard to argue with a worst-to-first turnaround. United went from a woeful, three-win side in 2013 to the Eastern Conference's top side in 2014 thanks in large part to a roster overhaul that saw stars like Dwayne De Rosario shipped out and pieces like stud defender Bobby Boswell and former Montreal Impact captain Davy Arnaud brought in. Argentinian striker Fabian Espindola would score 13 goals and assist on another nine.
However, D.C.'s success would be based on keeping goals out of their own net. Boswell and Keeper Brad Hamid both earned Best XI honours as United conceded an Eastern Conference-low (and joint-league-best) 37 goals.
An opening day loss to Columbus notwithstanding, United were excellent at home all year. They lost just twice (including the opener) and posted eight clean sheets. However, all that work was undone in the Conference semis, as the upstart Red Bulls took them down 3-2 largely thanks to a 2-0 win in the aggregate opener.
United will hope the same formula works this season, as the major pieces remain in place. They added some punch and experience with Costa Rican national Jairo Arrieta, but otherwise, the squad will live or die based on 2014's formula.
IN: F Jairo Arrieta (Trade - Orlando City), M Andrew Driver (Trade - Houston), M/D Markus Halsti (Free– Malmo, Sweden)
OUT: D Nana Attakora (Option declined), M Alex Caskey (Option declined), D Samuel Inkoom (Trade - Houston), M Lewis Neal (Expansion Draft - Orlando City), D Jeff Parke (Option declined)
National Tour Dates: Vancouver (Apr. 25), Toronto (June 27), Montreal (Aug. 8, Sept. 26)
New England Revolution
The Revs took their 2013 resurrection from cellar dwellers to contenders to the next step in 2014, missing a championship by mere minutes.
New England's regular season finished with a torrid 9-1-1 streak that pushed the club to second in the East. It earned them a first-round date against the Columbus Crew, who they handled easily with a 7-3 aggregate win that saw the Crew finish their season with just nine men on the pitch. The Revs followed that up by dispatching Golden Boot winner Bradley Wright-Phillips and the Red Bulls in the East Final.
They pushed the L.A. Galaxy to extra time in the MLS Cup Final, but Robbie Keane proved a finisher in every sense, burying a winner in the 111th minute.
So, what do you do after getting that close to glory? Nothing, of course. Juan Agudelo is back from a year abroad after contributing seven goals to the Revs in 2013, but other than that, it's pretty much status quo in Foxborough. Mid-season boon Jermaine Jones is out until mid-March, at least, after sports hernia surgery, which might make the start of the year more difficult, but otherwise there's no reason not to expect the Revs to be a force again.
IN: F Juan Agudelo (Free– Stoke City, England), M Jeremy Hall (Traded - Toronto FC)
OUT: F Patrick Mullins (Expansion Draft – New York FC)
National Tour Dates: Toronto (Sept. 13), Montreal (Sept. 19)
New York FC
The League's second foray into the continent's biggest market got a huge international boost in the summer of 2014 with two of the biggest names in international soccer helping launch New York City FC.
Spanish striker David Villa signed on to become a designated player in June, followed one month later by long-time Chelsea man Frank Lampard … or so it seemed. Turns out Lampard had signed a non-binding commitment to the club, the reason he remains on the blue side of Manchester at the start of 2015 instead of in Gotham. Lampard will join the expansion side in July, once the BPL season is well complete.
So, what can fans expect out of FC? The attack will definitely be there, between Villa, American international Mix Diskerud the eventual arrival of Lampard.
Chris Wingert is the team's only defender that enjoyed first-choice minutes with his previous club and starting 'keeper Ryan Meara hasn't made an MLS appearance since 2012. So 2015 could well be a year's worth of FC trying to outgun its Eastern competitors.
Projected Starting XI (2013-14 clubs): GK Ryan Meara (NY Red Bulls), D Jeb Brovsky (Montreal), D Jason Hernandez (San Jose), D Josh Williams (Columbus), D Chris Wingert (Real Salt Lake), MF Mix Diskerud (Rosenborg, Norway), MF Ned Grabavoy (Real Salt Lake), MF, Andrew Jacobson (Dallas), F Patrick Mullins (New England), F Khiry Shelton (University of Oregon), F David Villa (Atletico Madrid, Spain).
MF Frank Lampard (Manchester City, England) will join the club as of July 1.
National Tour Dates: Toronto (June 20), Montreal (July 4), Vancouver (Sept. 26)
New York Red Bulls
Bradley Wright-Phillips had himself a year in 2014. He didn't just win the League's Golden Boot, but he tied an all-time record with 27 goals in a single campaign. Number 99 dropped a trio of hat tricks in front of the Red Bull Arena faithful and helped provide a definitive answer to the question: "What's the logical follow-up to Thierry Henry?"
The 37-year-old Frenchman has finally ridden into the sunset and the 29-year-old Wright-Phillips is the man. The pairing was enough to get the Bulls close in 2014, but after knocking off top-seeded D.C. United, the team didn't have an answer for a more balanced Revolution squad.
Gone, too, is Australian national hero Tim Cahill, leaving the Bulls looking to keep things moving forward with what they had in-house and American international Sacha Kljestan, who makes his return to MLS after four-plus seasons in Belgium.
The schedule wasn't kind to the Bulls, either, with their season opener taking place at the always-noisy Sporting Park in KC. They also have two dates against D.C. and hosting duties against the defending champs within the first two months. Still, the Bulls will score enough to keep up in the weaker Eastern Conference and once again contend in 2015.
IN: D Andrew Jean-Baptiste (Free– Chivas USA), M Sacha Kljestan (Transfer - Anderlecht, Belgium), M Felipe Martins (Trade - Montreal), M Sal Zizzo (Trade – New York FC), D Ronald Zubar (Transfer – Ajaccio, France)
OUT: M Eric Alexander (Trade - Montreal), M Tim Cahill (Mutual contract termination), M Bobby Convey (Option declined), D Richard Eckersley (Option declined), F Thierry Henry (Retired), D Kosuke Kimura (Option declined), D Jamison Olave (Trade - Real Salt Lake), D Ambroise Oyongo (1/27/15 - traded to Montreal), D Ibrahim Sekagya (Option declined)
National Tour Dates: Montreal (Aug. 5), Toronto (Oct. 14)
Orlando City SC
Unlike New York FC, Orlando made shoring up their final line of defence one of their first priorities. With the first pick in the Expansion Draft, Orlando selected keeper Donovan Ricketts from the Portland Timbers. What better way to launch your franchise than with a man who has backstopped a team to an MLS Cup and is just one season removed from a Goalkeeper of the Year award?
Like New York, Orlando swung hard on a DP and landed Brazilian enigma Kaka as their first franchise face. At 32, Kaka is well-removed from the man that was named the best footballer on the planet in 2007. But MLS is also not going to provide the calibre of opposition he faced in his 2013-14 return to Serie A.
Orlando's strength is in the middle of the pitch with Kaka challenging from midfield and Brek Shea providing a more defensive presence. Another DP, Honduran Bryan Rochez, scored 20 goals in La Liga in 2013-14, so if the supporting players can provide capable and responsible minutes, Orlando may be able to achieve a less-flashy measure of success than their expansion cousins.
Projected Starting XI (2013-14 clubs): GK Donovan Ricketts (Portland), D Aurelien Collin (Sporting KC), D Gustavo (Boavista/Villa Nova, Brazil), D/M Amobi Okugo (Orlando City), D/M Brek Shea (Stoke, England), M Eric Avila (Chivas USA), M Kaka (AC Milan, Italy), M Kevin Molino (Orlando City, NASL), M Lewis Neal (DC United), F Danny Mwanga (Colorado), F Martin Paterson (Huddersfield Toen, England), F Bryan Rochez (Real Espana, Spain)
Orlando selected Brampton, Ont.-native F Cyle Larin first overall in the 2014 MLS SuperDraft.
National Tour Dates: Montreal (Mar. 28, June 20), Toronto (Aug. 5, Aug. 22)
Philadelphia Union
It was another up-and-down year in Philly. After just one year as full-time head coach, John Hackworth was given the boot in June. He exited the club with a winning clip of just 35 per cent and not a single playoff game to his credit.
Still, the Union's sixth-place finish was its second-best in the club's five-year MLS lifespan, even if they were four points of 2013's final tally. The club also made it to the U.S. Open Cup Final, where the Seattle Sounders broke their hearts in extra time.
They added some pedigree in the off-season with ex-Sporting KC striker C.J. Sapong and Canadian-born, Portuguese centre-back Steven Vitoria from Benfica.
Will either/or lead to the team scoring more goals than it concedes? The team finished even in goal-differential in 2014, which just didn't cut it as far as the playoffs were concerned. If French veteran Sebastien Le Toux can put in another strong offensive season, the team can compete, but they'll also need a strong season out of Algerian 'keeper Rais M'Bolhi, whom many fans will remember as the man that nearly stopped Germany from winning the 2014 World Cup in the Round of 16.
IN: F C.J. Sapong (Trade – Sporting KC), D Steven Vitoria (Loan – Benfica, Portugal), Fernando Aristeguleta (Loan - Nantes, France)
OUT: F Conor Casey (Option declined), M Leo Fernandes (Loan - New York Cosmos), GK Zac MacMath (Loan - Colorado), M Amobi Okugo (Trade - Orlando City), F Pedro Ribeiro (Expansion Draft - Orlando City), F Aaron Wheeler (waived), D Austin Berry (Loan - FC Anyang)
National Tour Dates: Vancouver (May 9), Toronto (July 18, Oct. 3), Montreal (Aug. 22)