TSN delivers Canada's biggest party, the 104th Grey Cup
Canada's biggest party touches down in Toronto as the 2016 CFL season culminates on TSN with the 104th Grey Cup presented by Shaw, live from Toronto's BMO Field, on Sunday, Nov. 27.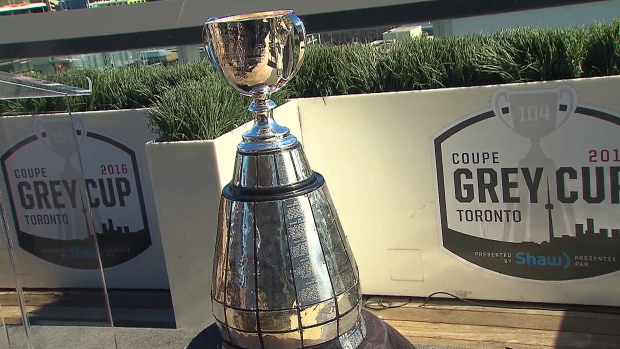 TORONTO - Canada's biggest party touches down in Toronto as the 2016 CFL season culminates on TSN with the 104th GREY CUP presented by Shaw, live from Toronto's BMO Field, on Sunday, Nov. 27. Featuring the Calgary Stampeders vs. the Ottawa Redblacks TSN's live coverage begins with the network's five-hour pre-game show, GREY CUP SUNDAY, at 1 p.m. ET followed by the 104th GREY CUP presented by Shaw at 6 p.m. ET.
For the first time ever, TSN will broadcast the GREY CUP in stunning 4K – marking Canada's largest 4K production to date – following a slate of CFL ON TSN games produced in 4K throughout the 2016 season.
TSN ushers in another GREY CUP production first on Sunday with the introduction of 360-video content. Shot in the pre-game and made available by halftime, TSN will turn around a fully immersive 360-video of both teams' pre-game speeches and player introductions, as well as the ceremonial coin toss. By halftime, fans will be able to experience the 360-video on a Samsung Galaxy S7 in the SAMSUNG VR app, downloadable in the Google Play store. The virtual reality video will also be available on TSN's official Facebook and YouTube accounts.
TSN's exclusive live coverage of the 104th GREY CUP presented by Shaw is available for live streaming and on-demand viewing to TSN subscribers via TSN GO. RDS delivers live French-language coverage beginning at 5 p.m. ET. TSN's GREY CUP production will also air live on ESPN2 in the United States.
Broadcast Team
TSN's all-star team of broadcasters is on-site at BMO Field in Toronto for the 104thGREY CUP presented by Shaw:
• Host: James Duthie
• Play-by-Play: Chris Cuthbert
• Game Analyst: Glen Suitor
• Features Host: Brian Williams
• Panel: Rod Smith, Chris Schultz, Milt Stegall, Matt Dunigan, and Jock Climie
• CFL Insiders Panel: Farhan Lalji with Dave Naylor and Gary Lawless
• Reporters: Sara Orlesky and Matthew Scianitti
• Grey Cup Saturday and Grey Cup Sunday Pre-Game Show Hosts: Darren Dutchyshen and Kate Beirness
• Grey Cup Sunday Tailgate Host: Kate McKenna
Programming Highlights
TSN platforms feature a comprehensive slate of programming surrounding the 104th GREY CUP presented by Shaw, including the following highlights:
GREY CUP SATURDAY (Saturday, Nov. 26) – 12 noon ET on TSN4 and TSN GO
• TSN delivers six hours of preview coverage on GREY CUP SATURDAY, hosted by SPORTSCENTRE's Darren Dutchyshen and Kate Beirness, who broadcast live from the TSN Fan Zone at the Metro Toronto Convention Centre.
• Throughout the day, the CFL ON TSN panel checks in from BMO Field with GREY CUP updates, news, and analysis, including the teams' final walkthroughs before the big game. Later that night, an encore presentation of the 103rd GREY CUP airs at 7 p.m. ET on TSN2, a game that saw the Edmonton Eskimos win their 14th championship in franchise history with a 26-20 victory over the Ottawa Redblacks.
GREY CUP SUNDAY PRE-GAME SHOW (Sunday, Nov. 27) – 1 p.m. ET live on TSN1, TSN4, TSN5, and TSN GO
• Live from BMO Field, TSN primes fans for kickoff with five hours of pre-game coverage hosted by James Duthie alongside Dutchyshen and Beirness. The pre-game show also features CFL ON TSN host Rod Smith and the network's team of CFL Insiders and experts teeing up the game from every angle.
• As well, chefs Spencer Watts and Robert Jewell of Gusto's SPENCER AND ROBERT'S GAME DAY BUFFET join TSN's pre-game coverage alongside CFL ON TSN's Kate Mckenna, as Watts and Jewell cook up an epic game-day feast, live from the official GREY CUP tailgate party – the Nissan Titan Tailgate.
TSN Original Features
During the GREY CUP SUNDAY PRE-GAME SHOW, the network debuts the following TSN Original Features:
• 1982 Grey Cup: The 104th GREY CUP presented by Shaw will be the first CFL title game to be held outdoors in Toronto since 1982. That year the championship game featured the Edmonton Eskimos seeking a fifth straight title, against the hometown Toronto Argonauts. A torrential rainstorm drenched Exhibition Stadium in the second half, leading to sloppy play, sending fans to the exits, and convincing the city of Toronto to build a dome. Fronted by Brian Williams, the story features interviews with CFL greats Warren Moon, Hugh Campbell, Condredge Holloway, and Bob O'Billovich.
• Welcome Home: This past spring, images were seen across the country and around the world of Fort McMurray, Alta. being engulfed by a massive wildfire. One resident, James Poitras, was preparing to compete in his first season with the city's semi-pro football team, the Fort McMurray Monarchs. Before he could hit the gridiron, Poitras got a call from a friend – a firefighter – that upended his life. Welcome Home is the story of how Poitras and his teammates helped the city heal and chased their ultimate goal – a national championship.
• The Buds: On the same day in 2015, the Ottawa Redblacks shored up their receiving corps by signing Greg Ellingson and Brad Sinopoli. The duo would eventually form half of the CFL's most feared receiving unit. Fronted by Brian Williams this feature gets to know these fast friends who are now known as "The Buds." From building offseason tree forts to competing in a wide array of board games, Ellingson and Sinopoli have been inseparable since their signing day.
• For Mylan: Canadian running back Jerome Messam was enjoying a career year for the Calgary Stampeders in 2016 when tragedy struck. His good friend and teammate Mylan Hicks lost his life in a shooting during the early hours of Sept. 25, 2016, during which Messam himself was at the scene and held Hicks' hand as he was taken away in an ambulance. Messam's healing didn't begin until Renee, Mylan's mother, travelled to Calgary four days after the shooting. Brian Williams visits Renee's hometown in Michigan to discuss her son's life and his friendship with Messam.
• Grey Cup Head Coaches: James Duthie explores the game plans of Ottawa coach Rick Campbell and Calgary coach Dave Dickenson in one-on-one interviews.
• Grey Cup Quarterbacks: Matt Dunigan sits down with the two franchise quarterbacks going head-to-head in the big game: Calgary's Bo Levi Mitchell and Ottawa's Henry Burris.
• Journey to the Grey Cup: Redblacks and Stampeders: Two mini-documentaries focusing on the East and West Division champions and their season-long journeys to the big game, including in-game live mic sound from Burris and Mitchell from last weekend's Eastern and Western Finals.
104th GREY CUP presented by Shaw – 6 p.m. ET live on TSN, TSN GO, and the Grey Cup Radio Network presented by Mark's
• In this year's CFL championship game, the Calgary Stampeders look to win their 8th Grey Cup in franchise history, making their return to the big game after winning it all in 2014. They take on the Ottawa Redblacks, who make their second consecutive appearance in the championship game in just their third season, having entered the league as an expansion team in 2014.
• TSN counts down to kickoff with the Sirius XM Kickoff Show, featuring a performance by Canadian singer-songwriter and JUNO award-winner Alessia Cara. Canada's multi-platinum, JUNO award-winning vocal group, The Tenors – Clifton Murray, Fraser Walters and Victor Micallef – will sing the national anthem. At halftime, TSN airs the Freedom Mobile Grey Cup Halftime Show featuring multi-platinum rockers OneRepublic.
GREY CUP POST-GAME SHOW – 10 p.m. ET live on TSN, TSN GO, and the Grey Cup Radio Network presented by Mark's
• CFL Commissioner Jeffrey Orridge presents the Grey Cup to the winning team, as well as the awards for Most Valuable Player and Most Valuable Canadian. The CFL ON TSN panel delivers post-game analysis and interviews with players and coaches on the field leading up to SPORTSCENTRE after the game.
TSN Radio
TSN also delivers live national radio coverage across the country on the Grey Cup Radio Network presented by Mark's, a collection of 24 radio stations simulcasting TSN Radio's pre-game, in-game, and post-game coverage.
• Play-by-play commentator Rod Black and analyst Giulio Caravatta call the game live across the Grey Cup Radio Network presented by Mark's and on SiriusXM satellite radio. Live streaming radio coverage is also available on TSN.ca/Radio and on smartphones and tablets anywhere via the TSN GO and iHeartRadio apps.
• GREY CUP SATURDAY – Live coverage GREY CUP SATURDAY kicks off across the Grey Cup Radio Network on Saturday, Nov. 26 at 11 a.m. ET. Hosted by TSN Radio 1050 in Toronto's Dave Naylor and TSN Radio 1040 in Vancouver's Matt Sekeres, the show features special guests, up-to-date news, live hits from the teams' final walkthroughs at BMO Field, expert analysis, and insight on Sunday's big game.
• GREY CUP SUNDAY – Game day coverage begins Sunday, Nov. 27 at 4 p.m. ET with the Vistaprint Countdown to Kickoff pre-game show hosted by Naylor and Sekeres. TSN Radio 1200 in Ottawa's AJ Jakubec and TSN 1040's Scott Rintoul contribute reports from the sidelines. After the game, Naylor and Sekeres wrap up the 104th GREY CUP presented by Shaw with a full 90-minute post-game radio show, including the trophy presentation.
TSN Radio stations from across the country deliver live broadcasts from GREY CUP RADIO ROW presented by Chic Choc Spiced Rum, beginning Thursday, Nov. 24 with the following highlights:
• TSN Radio 1150 in Hamilton's TI-CATS AT NOON with host Jamie Thomas at 12 noon ET
• TSN Radio 1040 in Vancouver's Matt Sekeres, Scott Rintoul, and Giulio Caravatta beginning at 1 p.m. ET
• TSN Radio 1050 in Toronto's Scott MacArthur at 1 p.m. ET
• TSN Radio 1290 in Winnipeg's Andrew 'Hustler' Paterson and Gary Lawless hosting HUSTLER AND LAWLESS at 3 p.m. ET
• TSN Radio 1150 in Hamilton's TATTI & MARSH featuring hosts Jim Tatti and Marshall Ferguson at 3 p.m. ET
• TSN Radio 1200 in Ottawa's Redblacks broadcast team of AJ Jakubec and Jeff Avery at 3:30 p.m. ET
TSN Digital
TSN Digital platforms complement the network's extensive television and radio broadcast of the 104th GREY CUP presented by Shaw with the following highlights:
• Live streaming of the coaches' news conference, as well as Commissioner Jeffrey Orridge's "State of the League" news conference
• Exclusive daily digital video and news reports from TSN's team of CFL Insiders and experts, including Dave Naylor, Gary Lawless, and Farhan Lalji
• Lalji delivers comprehensive coverage of the CFL Player Awards
• Instant video features and in-game highlights, plus a full breakdown of the championship game matchup complete with news and analysis