TSN delivers every game from March Madness
From the First Four all the way to the championship game, TSN delivers complete live coverage of NCAA March Madness, the NCAA Division I Men's Basketball Championship, across five national feeds and TSN GO.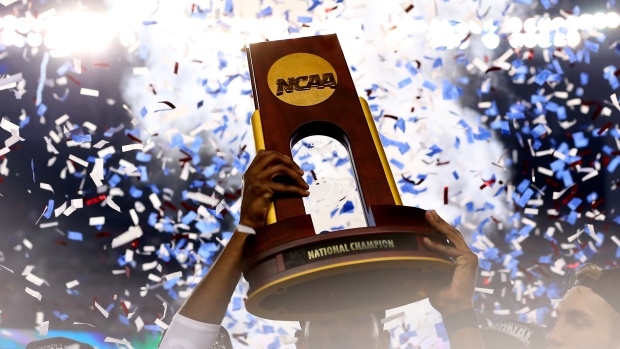 TORONTO - From the First Four all the way to the championship game, TSN delivers complete live coverage of NCAA March Madness, the NCAA Division I Men's Basketball Championship, across five national feeds and TSN GO (see complete broadcast schedule below). The network's comprehensive coverage shines the spotlight on top Canadian players competing in NCAA March Madness, including Gonzaga's Kyle Wiltjer and Kevin Pangos, Kentucky's Trey Lyles, and Villanova's Dylan Ennis.
TSN's live coverage of NCAA March Madness begins Tuesday, March 17 at 6 p.m. ET on TSN2 with the First Four, and culminates with the championship game on Monday, April 6, with pre-game coverage kicking off at 8:30 p.m. ET live on TSN and TSN GO.
"With multiple must-see games happening at the same time, TSN's five national feeds are the ideal way for fans to experience the thrill of NCAA March Madness," said Shawn Redmond, Vice President of Programming and Marketing, TSN. "TSN subscribers across Canada can now enjoy every minute of action from the world's best college basketball tournament."
TSN primes fans for the tournament with all the news from Selection Sunday on College Gamenight - Bracketology airing Sunday, March 15 at 7 p.m. ET on TSN2. This comprehensive preview show is followed by the world premiere of ESPN 30 FOR 30 documentary I Hate Christian Laettner at 9 p.m. ET on TSN2. The latest edition of ESPN's award-winning documentary series, the film features interviews with former teammates and rivals as well as Laettner himself, exploring why the polarizing basketball player was - and still is - so disliked.
Broadcast Team
TSN's Gurdeep Ahluwalia and Nabil Karim host the network's NCAA March Madness coverage from the TSN Studio alongside analysts Jack Armstrong, Leo Rautins, and Morris 'Mo Pete' Peterson. The original studio show features comprehensive pre-game, halftime, and post-game analysis of the day's action.
As well, ESPN's award-winning NCAA basketball play-by-play commentator Dan Shulman joins the TSN panel to provide analysis on all the breaking news, top seeds, and bracket busters from the early rounds.
SportsCentre
SportsCentre, Canada's most-watched sports news and information show, covers all angles of the tournament, with Shulman previewing the tournament, Rautins spotlighting the Top 5 Canadians to watch, and Armstrong breaking down the Top 5 key storylines.
Reporters on location for the opening weekend of NCAA March Madness include Jermain Franklin covering Kentucky and Matthew Scianitti covering Gonzaga.
SportsCentre also features breaking news, daily highlights, technical breakdowns, bracket updates, and more throughout the tournament.
Sponsors
TSN's lineup of sponsors for NCAA March Madness includes Enterprise Rent-A-Car, Infiniti, Reebok, Wendy's, and Furious 7. In addition, Ford has signed on as sponsor of the TSN Tournament Challenge.
TSN Original Features
TSN showcases some of the top Canadian storylines from NCAA March Madness, debuting TSN Original features on:
- Gonzaga's Kyle Wiltjer - A former member of the Kentucky Wildcats, this Canadian national team player has transformed his game at Gonzaga to become a finalist for the 2015 Wooden Award, the most prestigious individual honour in NCAA basketball
- Kentucky's Trey Lyles - Born in Saskatoon, this freshman is a key player for the undefeated Kentucky Wildcats, who are being touted as one of the greatest NCAA basketball teams ever
- Orangeville Prep - This high school basketball program organized by Canada's Athlete Institute has encouraged the development of homegrown basketball talent in Canada, and also attracted some of the brightest young talents from around the world
These TSN Original features air in SportsCentre as well as during TSN's live broadcast coverage of the tournament, and will also be available on demand on TSN.ca and TSN GO.
TSN Digital
TSN Digital platforms present Play of the Year: Tournament Edition, a daily head-to-head matchup of the best plays from the 2015 NCAA March Madness. Fans can vote each day for their favourite play, with the lone survivor being crowned the Play of the Year.
TSN.ca and the TSN GO app also feature in-game highlights, highlight mixtapes, Top 5 plays of each round, and breaking news stories from the tournament.
BarDown
Fans can visit BarDown.com, TSN's home for sports and pop culture, for all the best viral moments from the tournament, as well as the best reactions from social media, including photos, Vines, GIFs, and more.
Broadcast Schedule
TSN's broadcast schedule for the 2015 NCAA March Madness tournament is as follows.* TSN GO also delivers full live streaming of TSN programming to TSN subscribers.
First Four
Tuesday, March 17
- NCAA Tip-Off @ 6 p.m. ET on TSN2
- 6:30 p.m. ET on TSN2
Wednesday, March 18
- NCAA Tip-Off @ 6 p.m. ET on TSN2
- 6:30 p.m. ET on TSN2
Second Round
Thursday, March 19
- NCAA Tip-Off @ 11 a.m. ET on TSN5
- 12 noon ET on TSN1, TSN3, and TSN4
- 12:30 p.m. ET on TSN5
- 6:30 p.m. ET on TSN1 and TSN2
- 7 p.m. ET on TSN GO
- 10 p.m. ET on TSN5
Friday, March 20
- NCAA Tip-Off @ 11 a.m. ET on TSN5
- 12 noon ET on TSN1, TSN3, and TSN4
- 12:30 p.m. ET on TSN5
- 6:30 p.m. ET on TSN1 and TSN3
- 7 p.m. ET on TSN4 and TSN5
Third Round
Saturday, March 21
- 12 noon ET on TSN
- 5 p.m. ET on TSN4 and TSN5
- 7 p.m. ET on TSN3
Sunday, March 22
- 12 noon ET on TSN
- 5 p.m. ET on TSN4 and TSN5
- 7 p.m. ET on TSN1 and TSN3
Sweet Sixteen
Thursday, March 26
- NCAA Tip-Off @ 6 p.m. ET on TSN2
- 7 p.m. ET on TSN1 and TSN2
Friday, March 27
- NCAA Tip-Off @ 6 p.m. ET on TSN1
- 7 p.m. ET on TSN1, TSN4, and TSN5
Elite Eight
Saturday, March 28
- NCAA Tip-Off @ 5 p.m. ET on TSN2
- 6 p.m. ET on TSN2
Sunday, March 29
- 2 p.m. ET on TSN2
Final Four
Saturday, April 4
- 6 p.m. ET on TSN2
Final
Monday, April 6
- Championship Central @ 8:30 p.m. ET on TSN1, TSN4, and TSN5
- Final @ 9 p.m. ET on TSN1, TSN4, and TSN5
- Final @ 10:30 p.m. ET on TSN3
*Schedule subject to change