TSN's Father's Day Gift Guide
TSN provides the ultimate last minute Father Day gift guide for your golf dad. From gadgets for your phone, to clothing on the course, to clubs and balls, TSN has you everything you need to get the perfect gift for your dad's short-of-perfect game.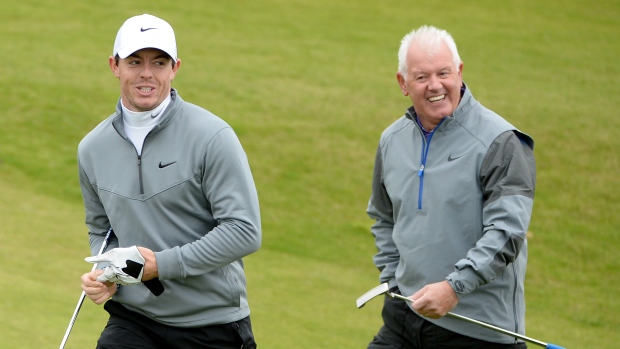 Footjoy Hyperflex
From FootJoy (Website):
This soft premium full grain leather offers outstanding waterproof comfort, breathability, and durability. FJ warrants that this golf shoe will be waterproof in normal use for two years.
Pulsar cleats by Softspikes® are the No. 1 selling cleat in golf and the overwhelming choice of touring professionals worldwide. The Pulsar cleats feature all the same turf grip and walking comfort advantages of Black Widow plus the additions of and radiused legs for extra durability and cleat webbing for easier cleaning.
Why Dad will love them:
Unwrapping a FootJoy box is a gift in itself for any golfer. The Hyperflex is no exception. These stable, comfortable kicks will keep Dad locked in, and comfortable, through 18 holes.
--

ARCCOS System
From Arccos (Website):
The Arccos system features 14 sensors that attach to the grip end of a club and pair via Bluetooth with the company's free iPhone app. Once the user begins a round of golf, the system maps, measures and records every shot taken, automatically capturing critical data on club distances, putts per round, greens hit in regulation, driving accuracy and more to help players identify patterns and refine strategy.
Why Dad will love it:
This cool tech lets Dad track his distances as he plays, giving him a much better sense of how far he actually hits his driver – which is not 280 yards.
--

Adidas Golf Climachill
From Adidas Golf (Website):
Designed and developed to raise performance levels by helping regulate body temperatures, adidas Golf engineers have revolutionized golf apparel technology with proprietary climachill fabric, engineering the most breathable material the company has ever incorporated into its apparel lines.
Delivering a cooling sensation upon contact with the skin, small aluminum dots were strategically located inside the back neck, one of the warmest areas on the human body. The climachill fabric construction utilizes woven titanium fibers that maximize surface contact with skin.
Why Dad will love it:
Not only will Dad look awesome out on the course, but he'll stay cool and stop bugging you to pack it up on the 15th hole when it is 35 degrees out.
--

ECCO Tour Hybrid Shoes
From Ecco (Website):
Combining hand-crafted elegance with advanced technologies, ECCO Tour Hybrid boasts a classic style for the busy Dad to go right from the office to the fairway. The fashion-forward, wingtip leather uppers receive a tanned-in HYDROMAX™ treatment for superb weather protection for wherever the day takes him. Built atop ECCO's E-DTS spikeless outsole with approximately 800 traction angles, the shoes provide Tour-quality grip on and off the golf course. For an easy transition from the clubhouse to a night out, they look just as good on the course as they do with dress pants.
Why Dad will love them:
Who wouldn't want to combine classic Ecco comfort and support with throw-back styling? Plus they'll match your dad's plaid, pleated golf pants.
--

Titleist Vokey Wedges
From Vokey (Website):
Vokey Design Spin Milled wedges are available with an unmatched number of choices for loft, bounce and sole grind, and are now available in two different groove configurations to meet every shot requirement, swing-style, course condition and rules governing tournament play.
Each wedge design is based on Bob's experience working with the best players in the world, including sole designs hand ground by Bob based on continuous input from Tour professionals. Vokey Design wedges have been the most played wedges on the PGA Tour since 2004.
Why Dad will love it:
The name synonymous with 'wedges' Titleist Vokey give you a crazy amount of shot options. Dad will be able to dial in the wedges to suit his game, giving him better control over his approach shots.
--

Adidas Golf Power Boost
From Adidas Golf (Website):
Adidas' new Adipower Boost and Adipower Sport Boost golf shoes are designed to energize and stabilize your golf swing with the company's Boost and GripMore technologies.
For golfers, the Boost technology is useful during the swing to help load energy on the backswing and unload energy into impact, while also helping golfers keep the bounce in their step when walking the course.
Why Dad will love it:
No Dad hates having comfortable feet. These shoes won't only offer him tremendous support, but they look great and offer an incredible fit.
--

DST Golf Compressor Warm-Up Club
From DST golf (Website):
The greatest ball strikers in history have one thing in common, they are able to reach the optimal impact position consistently and maintain control of the club face after the ball has been struck. DST Golf took this knowledge and created the DST Compressor, a warm-up club with a scientifically curved shaft club that replicates the shape of a normal shaft under maximum load. This gives golfers a set up position that closely replicates the optimal impact position which helps to build muscle memory of an address position and optimal movement through impact. Mastering these mechanics improves accuracy and consistency and, ultimately, lowers scores.
Why Dad will love it:
While he may get frustrated at first, he will likely see a strong improvement in his ball striking, leading to him taking your money on the course. At which point you may want to ask for one for your birthday.
--

Nike Vapor Driver
From Nike Golf (Website):
The Vapor Flex, which is a fully tunable driver, features an adjustable hosel that allows for loft and face angle to be altered independently of one another, providing 15 different combinations. There is also the ability to move the centre of gravity through the Flight Pod, a small stick with more weight at one end that can be inserted into a port in the bottom of the club.
Why Dad will love it:
Giving your Dad big distance and control off the tee may seem like a bad idea for your skins game – but think about your annual scramble… Dad will now be the 'bomber' on your team, an improvement over 'guy who paid our entry fees.'
--

Titleist ProV1 / NXT Tour
From Titleist (Website):
ProV1: More short game spin and control with even softer feel, penetrating trajectory for exceptional distance, and long-lasting durability.
NXT Tour: The Titleist NXT® Tour golf ball is designed to deliver low driver and long iron spin for outstanding distance, commanding short game scoring performance and soft feel. This advanced multi-component golf ball features a large dual core with a soft center, soft Fusablend cover and spherically tiled 302 octahedral dimple design.
Why Dad will love it:
Who wouldn't love getting a dozen ProV1's? Plus this way, you won't have to pretend to be running low on golf balls when he asks for a second ball on the tee.
--

TaylorMade AeroBurner Driver
From TaylorMade (Website):
The AeroBurner driver features an advanced aerodynamic shape designed with a rounder toe, raised center crown and new hosel fin to deliver maximum distance, and its new and improved Speed Pocket increases the size of the sweet spot and reduces spin.
Why Dad will love it:
He will hit the ball further and straighter. Any further questions?
--

TaylorMade EF Wedges
From TaylorMade (Website):
The Tour Preferred EF wedge combines industry-first technological advancements with the meticulous craftsmanship of renowned club designer Clay Long in a tour-validated wedge that delivers astoundingly long-lasting high-spin performance; exceeding that of any wedge TaylorMade has ever created.
Why Dad will love it:
Not only will they last a long time (Dad loves to be thrifty), but they look good and the ATV grind performs as advertised – meaning Dad should be able to get the ball closer to the hole, or at least closer to the green.
--

Nike RZN golf ball
From Nike Golf (Website):
There are 4 models of the RZN golf ball – white, black, red and platinum. Find the golf ball that fits your game the best. The Nike RZN Black is designed to minimize spin on long drives. The Nike RZN Red and Platinum are designed for longer distance and a more consistent, stable ball flight. The Nike RZN White has a softer RZN core provides for exceptional feel and the softer cover for enhanced playability.
Why Dad will love it:
The new Nike RZN ball is a great feeling long-bomber of a golf ball. Hopefully this means fewer houses hit and less wading into goose-infested waters to retrieve wayward shots.