Uncertainty surrounds Newton ahead of date with Patriots
Domenic Padula, TSN.ca Staff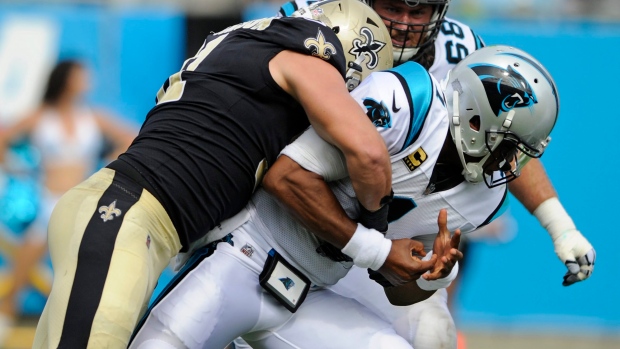 The Carolina Panthers suffered their first loss of the season when they fell to the New Orleans Saints 34-13 in Week 3.
Panthers Quarterback Cam Newton Throws 3 Interceptions In 34-13 Loss To New Orleans Saints
While no one in Carolina is panicking after one loss, there are reasons for concern.
Tight end Greg Olsen is on injured reserve with a broken foot. Wide receiver Kelvin Benjamin's availability is in question after he injured his surgically repaired knee in the loss to New Orleans. Without Olsen and Benjamin, the Panthers top receiving options could be Devin Funchess, Russell Shepard, Curtis Samuel, Damiere Byrd and tight end Ed Dickson when they visit the New England Patriots on Sunday.
The biggest concern for Carolina is the status of quarterback Cam Newton. The 2015 MVP is officially listed as questionable for this week's game against the Patriots. Newton is expected to play, but there is a sense of uncertainty surrounding his overall potential as he continues to deal with shoulder and ankle injuries.
Newton didn't throw a football for six months following off-season surgery to repair a partially torn rotator cuff. He sat out for a large portion of training camp dealing with soreness in his throwing arm. The Panthers limited Newton's practice reps throughout the first three weeks of the regular season in an effort to avoid any additional strain on his throwing arm.
The lingering effects of the shoulder injury and a lack of practice time have really limited Newton's production early on this season.
Newton completed 59.6 per cent of his passes for 399 yards and two touchdowns with one interception in wins over the San Francisco 49ers and Buffalo Bills. While he was kept clean in Week 1, Newton was sacked six times by the Bills in Week 2, including the hit that caused the ankle injury.
Carolina won both games – in large part – thanks to a defence that didn't allow a touchdown. Meanwhile, Newton did just enough on the field to maintain a level of optimism that he was on the right track.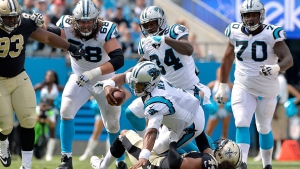 Cam Newton Posts Career-Worst 4.4 Total QBR in 34-13 Loss To New Orleans Saints
That changed in the Week 3 loss to the Saints.
Newton posted a 4.4 Total QBR against New Orleans. That's the lowest mark he's recorded in 96 career games.
The fact that the worst performance of his career happened against a Saints defence that had been absolutely torched through the first two weeks of the season only magnified his struggles.
On a scale of 0 to 100, New Orleans entered Week 3 with a defensive efficiency rating of 3.1. To put that in perspective, they were 10 points lower than the second-worst team on the list in the New York Jets, who were at 13.1.
Newton completed 17-of-26 attempts for 167 yards and three interceptions against the Saints. He was sacked four times.
One of those sacks came on the Panthers opening drive of the game. Newton was in the shotgun on a third-and-three at the Saints' eight-yard line. Tight end Ed Dickson and rookie running back Christian McCaffrey line up in the backfield next to Newton.
After the snap, Dickson will immediately move to his right to help McCaffrey in protection. Newton expects left tackle Matt Kalil to protect his blindside by blocking defensive end Cameron Jordan. Instead, Kalil turns inside and allows Jordan a free path to Newton for the sack.
It's a simple mistake by Kalil that results in his quarterback taking a big hit and forces the Panthers to settle for a field goal in the red zone.
While Newton was sacked four times, Carolina's offensive line did a decent job protecting him for the most part on Sunday. Newton was kept clean in the pocket on 20 of his 31 drop backs.
He actually fared worse when he didn't face pressure than when he did face pressure. Newton went 5-of-6 for 77 yards when he was pressured. He went 12-of-20 with three interceptions on drop backs when he was kept clean in the pocket.
With eight minutes left in the second quarter, the Panthers were backed up at their own 24-yard line. Funchess is lined up at the top of the screen with Saints cornerback P.J. Williams positioned nearly 10 yards off of him. Newton keeps the ball on the option and stares down Funchess as he takes off downfield.
Williams, who recognizes the slant route that Funchess is running, breaks on the football before Newton begins his throwing motion. Newton forces the pass and Williams jumps in front of Funchess for the athletic interception.
One reason that Williams was able to sit on that slant route is that he wasn't afraid that Funchess would beat him deep. This was a common theme throughout the game, thanks in large part to the lack of vertical threats in the Carolina offence.
The Saints cornerbacks had allowed a perfect passer rating on targets 20 yards or more downfield through the first two weeks. New Orleans had actually allowed more touchdowns (three) than incompletions (two) on passes that had travelled 15 or more yards downfield.
Newton, who posted the second-best passer rating in the NFL on deep throws in his 2015 MVP season, had just one completion on three targets 20 yards or more downfield against the Saints. With injuries to Olsen and Benjamin, Newton relied heavily on McCaffrey out of the backfield.
Newton had 26 pass attempts on Sunday. Nine of them were caught by McCaffrey, who accounted for 101 of Newton's 167 passing yards. Nine attempts were incomplete. Carolina's wide receivers combined for eight receptions for 71 yards.
Newton will enter Week 4 with the third-worst Total QBR in the NFL. He will be limited in practice once again this week and he won't have his top two receiving options when the Panthers visit New England on Sunday.
Considering the injuries to the most important players on the Panthers offence, including Newton, there is definitely some cause for concern moving forward.