Under the wire: Three goalies to add
Luke Garrison, TSN.ca Staff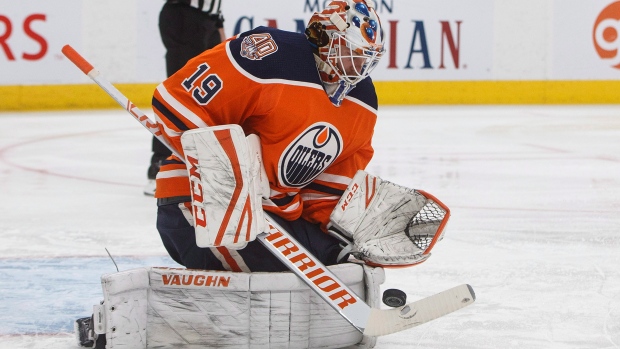 There's nothing more annoying than having weak goaltending on your fantasy hockey squad.
After all, nearly half of the scoring categories in head-to-head matchups depend on the quality of your netminder. Perhaps you waited too long to pick a reliable backstopper or maybe you've just run into injury problems. Either way, these three goaltenders should help provide some consistency between the pipes.
---
Mikko Koskinen, Oilers (28.8 per cent owned)
It's rare for a 30-year-old goaltender to have a breakout year, but Koskinen looks to be on the brink of something special. Koskinen hadn't made an NHL appearance since 2011 before this season but the seven years he spent developing in Europe seem to be paying dividends. In his last nine games (eight starts) he has a 5-2-1 record with a 1.88 goals-against average and a .930 save percentage. Usual starter Cam Talbot has been nothing short of abysmal since the beginning of last season, therefore Koskinen has established himself as the Oilers' No. 1 netminder until further notice. Especially since he appears to have won over recently hired head coach Ken Hitchcock.
---
Roberto Luongo, Panthers (2.9 per cent owned)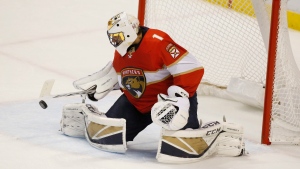 It's hard to believe Roberto Luongo is already 39 years old. Injury problems have caught up to him in recent years, but he's helpful when healthy. Through 10 starts this season, he has a 5-3 record to go along with a 2.71 goals-against average and a .914 save percentage. After missing five games, he returned on Tuesday and made 33 saves en route to a shutout win over the Boston Bruins. He may be in-and-out of the lineup for the rest of the year due to his knee ailment, but it can't hurt to have an extra goaltender on your bench.
---
Adin Hill, Coyotes (3.6 per cent owned)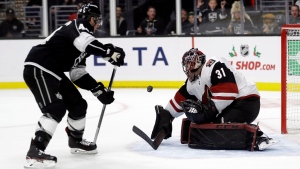 The Arizona Coyotes have a lot of questions in the crease; however, Adin Hill has proven to be the answer in the interim. Through five games (three starts), the 22-year-old has a 3-0 record and boasts an incredible 0.56 goals-against average to go along with a .977 save percentage. Those numbers are just off the charts and the Yotes really have no choice but to play him until he cools off. Antti Raanta is set to return from injury as early as Thursday although there's not much incentive to rush him back as long as Hill is playing at such an elite level. This setup appears to be extremely temporary but there's little harm in stashing him or riding him while he's hot.