United need Ander Herrera
As TSN's Kristian Jack writes, Manchester United's Spanish midfielder Ander Herrera has an ability to impact a game in many different areas of the pitch.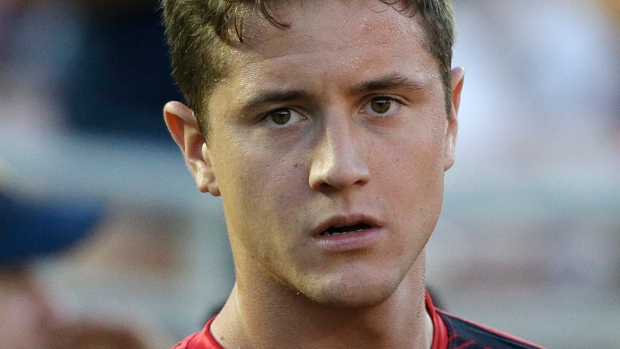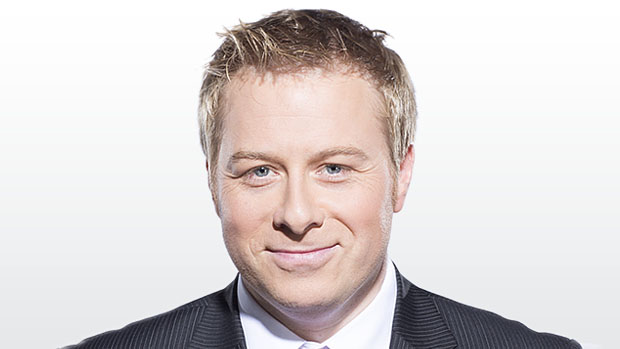 Louis van Gaal wanted no part of thinking about the future. Not yet.
His team had just defeated Tottenham 3-0 at home in the 30th game of the season. He stopped short of saying it was the team's best performance of the season, claiming he had to "watch the video to analyze first" but the smile on his face told the real story.
It was the eighth month of the season and it was the best performance under the new coach for Manchester United.
Ahead of the next game at Liverpool, the interviewer wanted to talk about how important it was to win before the big match ahead but the Dutchman would not be drawn off the topic at hand.
"This game was a massive game. It was a fantastic performance, after the defeat against Arsenal we needed that. Very important we won today."
That was March.
"It's a fantastic performance and after the defeat against Arsenal we needed that. It's very important to have won today."
That was Saturday.
Another significant response to an Arsenal loss, another 3-0 win against a difficult side, away at Goodison Park where Everton had manhandled Chelsea in their last league game.
While some looked for a much-needed response from United, few imagined United could go there and control the game the way they did.
Control is a word Van Gaal uses often. He was left shaking his head after watching his team lose 3-0 at Arsenal before the international break and said he needed time to "re-evaluate" things at the club while many players were away for their countries.
United went to Everton on the back of two away games – at Southampton and Arsenal – where they conceded five times. Ronald Koeman's men had opened the scoring in September when Sadio Mane sprinted from a midfield position to blast past United goalkeeper David De Gea, whose heroics only ensured more goals weren't conceded.
Looking at the goal it was alarming how easy the Saints were able to pass the ball out of defence and around United's front two, particularly Wayne Rooney in the second striker role. Arsenal exploited this a couple of weeks later with Francis Coquelin winning a key battle against the United skipper in the buildup to the first goal, and Santi Cazorla doing the same a minute later as Arsenal raced into a 2-0 lead.
Van Gaal had relied on Rooney to play that position and found out what Sir Alex Ferguson and Roy Hodgson discovered years ago: the Englishman cannot be trusted in that role. It was why Rooney was dropped in key matches against Real Madrid in the Champions League and why he wasn't played there at the World Cup in Brazil after Andrea Pirlo was handed so much freedom to dictate Italy's game against England at the 2012 Euros.
It was after the triumph against Tottenham in March when Van Gaal was asked whether he would now stick to the 4-3-3 system he had revered to with Rooney playing up top behind a midfield three including the impressive Ander Herrera.
"I don't want to change systems or shapes because we had a lot of injuries I had to look for solutions in the first six months but now its four times (in a row) 4-3-3."
It was the first time Herrera had played five league games in a row at United. He made it six the next week at Anfield and was magnificent in a 2-1 win. United spent too much of the 2014-15 season playing direct football and lacked genuine playmakers to find space and make lateral movements inside or out of markers.
Herrera was becoming a vital cog in United's side.
When Robin van Persie and Radamel Falcao left the club in the summer some expected United would play this season in a similar shape with Rooney up top.
"My best position, I have always said, is as a striker," said Rooney in the summer. "Hopefully I can get a good run of games up there this season, repay the manager and score goals."
However, Van Gaal started the new campaign in a 4-2-3-1 shape with new signing Memphis Depay playing off the front man in the opening game of the season. The next experiment was Adnan Januzaj in that role and although he scored at Aston Villa in the second match he struggled, particularly when the team broke in transition as his movement and passes were not quick enough.
Four goals in the opening four games, no goals for Rooney and the signing of Anthony Martial led to more changes. Rooney was back in a number 10 role, behind the 19-year-old star who scored brilliant goals against Liverpool and Southampton, looking very much someone who can play as a true number nine.
"When we play 4-2-3-1 I prefer to have a striker play in the number 10 role," said Van Gaal.
With Martial scoring and very few other options available Rooney was back to an area where he was being miscast once again.
Van Gaal found this out to his cost, but the manager so often accused of being too stubborn should be given credit for changing this quickly on Saturday. Herrera was asked to play off the forward, who was Rooney, with Martial coming in for Depay on the left.
It was arguably the best performance United have had under Van Gaal and, like against Tottenham and Liverpool last season, the star of the game was 26-year-old Herrera. His movement and ability to read the game again showed he has an ability to impact a game in many different areas of the pitch.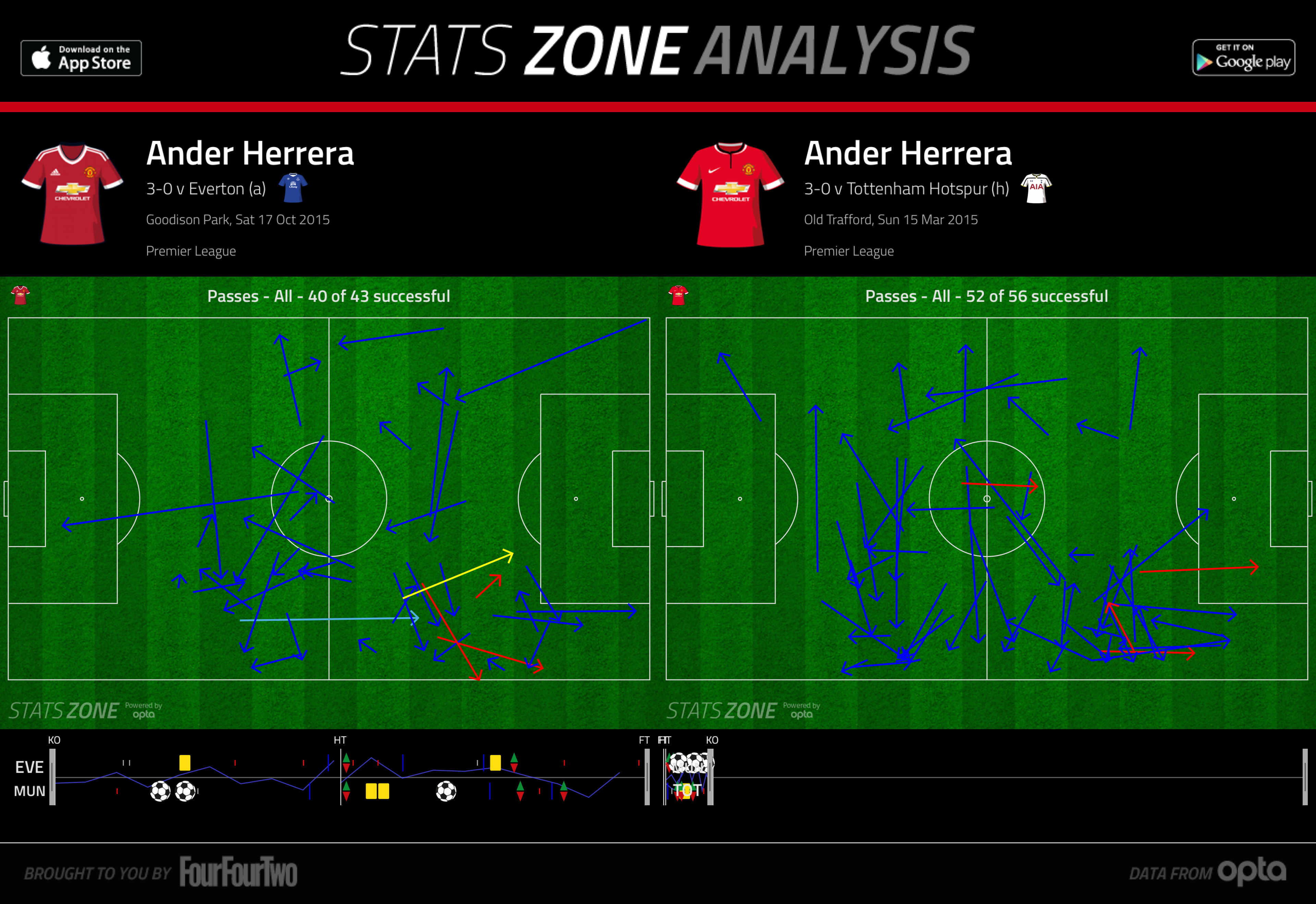 Van Gaal said Herrera put in "a fantastic performance" and - not for the first time - the Spaniard has reached a level deserving of much more regular playing time.
It appeared he was a victim of Van Gaal's preferred system at the beginning of the season – starting just twice of the first eight games - where he had to be patient and wait for United's flaws to come to light.
Rooney's tactical indiscipline, United's performances away from home and the inconsistent form of Depay have all played a role in Herrera's return to the side.
United desperately need intelligence in the final third, not simply a directness based around instincts. They need a planner, a player like Herrera who can run from deep and finish the way he did at Everton, something they haven't had since Paul Scholes left.
They need a player in a central position who can connect well with the brains and power provided by Morgan Schneiderlin and Bastian Schweinsteiger. They need a player who can overlap in wide areas or cover defensively when Juan Mata drifts in and Herrera has an outstanding relationship with his countryman who is one of his best friends off the field as well.
United need Herrera.
It was another performance from the Basque that shows why he could prove to be the most important part of United's front four in years to come and, yes, that includes much bigger names like Memphis and Martial who continue to get more attention.
Catch Ander Herrera and Manchester United in their next match, from 2 p.m. ET live on TSN1, this Wednesday as they visit CSKA Moscow in the Champions League.
Stats brought to you by Opta.