Vasilevskiy rips Russia's effort vs. USA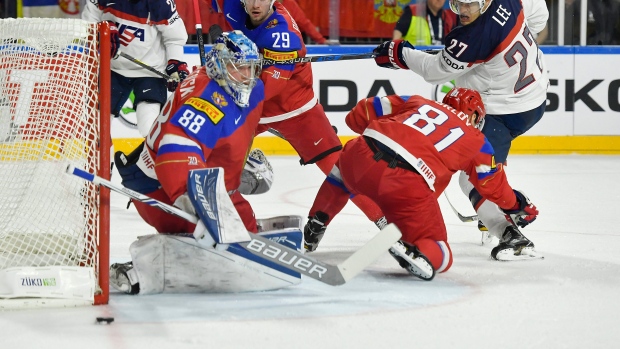 Andrei Vasilevskiy says Russia needs to take their loss to Team USA on Tuesday as a wakeup call at the World Hockey Championship.
Russia slipped to second Group A with Tuesday's 5-3 loss to the Americans. They blew three one-goal leads in the game and picked up five of their eight minor penalties in the first period.
"[Against the Americans] we saw a repeat of the things I talked about after the Slovakia game," Vasilevskiy said, per the tournament's website. "If we play like that, we won't get away with it. We took stupid penalties. In the first period we held on thanks to some good defence, but after that the quality of the Americans made the difference.
"It's one thing playing against Slovakia or Denmark. With all due respect, we should beat these teams, our roster has more class. But maybe we relaxed a little bit after those games and didn't manage to adjust [against the Americans]. The USA is a serious opponent, but we didn't keep control of the puck and we gave up stupid goals. It should be a lesson for us."
As a result of Tuesday's loss, Russia will play the Czech Republic in the quarter-final, a win would have set up a match against Finland, who came fourth in Group B. A win will place Russia in a semifinal matchup with either Canada or Germany, as opposed to Sweden or Switzerland had they finished atop Group A. Russia beat Sweden 2-1 in their opening game of the tournament.
Vasilevskiy, a member of the Tampa Bay Lightning, said he hopes Russia can improve from their lone loss of the tournament.
"The key thing is not to let this distract us," he said. "The big games are still to come and we need to be ready for them. We found it hard to score, and allowed goals too easily. We'll have a look at the video, see what went wrong, and work on it."