Virtue and Moir create from the heart for upcoming tour
Five-time figure skating Olympic medalists Tessa Virtue and Scott Moir put their 'own vision into place' as they prepare for their fall cross-country 'Thank You Canada Tour' following their most successful Games yet in PyeongChang, South Korea. Their partnership, 21 years in the making, continues to be the pinnacle of their success so Beijing 2022 isn't off the table just yet.
Brandi Awad, TSN.ca Staff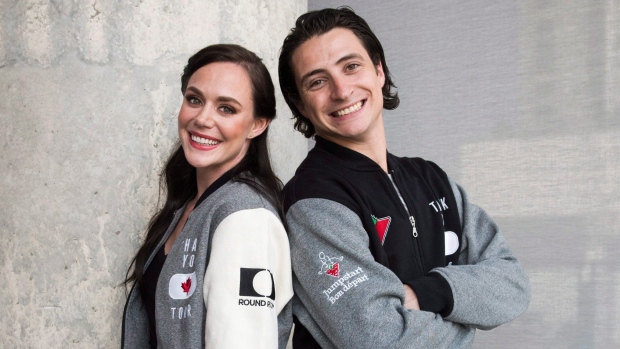 Tessa Virtue and Scott Moir are finally coming home.
After enchanting the world at the 2018 Winter Olympics in PyeongChang with their synchronized jumps, eloquent lifts and undeniable chemistry, Canada's longest-lasting figure skating duo has landed and is ready to give back.
Following their most successful Games yet, where they earned gold in both the ice dance and team competitions, the pair has spent their time since doing world tours and sitting down for interviews.
Now, they're ready to embark on something much closer to their hearts.
Virtue, 29, and Moir, 30, are gearing up for their cross-country Thank You Canada Tour this fall. The five-time Olympic medalists will be joined by a number of other household Canadian figure skating names including Patrick Chan and Kaetlyn Osmond, to name a few. The tour begins Oct. 5 in Abbotsford, B.C., and concludes Nov. 24 in St. John's, N.L., making stops in 26 communities across Canada.
"It's so neat to be able to put our own vision into place with the tour. For such a long time, we've taken part in tours around the world and skating shows and we've had these ideas, dreams and plans in our mind of what we could do," Virtue tells TSN.ca. "So we thought what better time than now to cross the country and create something… Hopefully we'll create something memorable and special to Canadians who have given us so much support."
"It's nice to be able to put on a show that's just for the fans," Moir adds. "We're lucky to have that avenue in our sport and we want to make sure we take advantage of that and share more of our art."
The fans – who stretch across the Great White North and beyond – are the people Virtue and Moir credit everything to. Moir says they consider it their "duty" to give back to their supporters.
"We always felt that we should be the ones saying thank you because we've benefited from all that support for so many years." Moir explains. "We just want to make sure other Canadians feel that same support from us."
That support is what led the superstars back to the Olympics after retiring for two years following their controversial second-place finish at the 2014 Games in Sochi.
"I remember coming home from Sochi just feeling like we disappointed the country and our communities," Moir says. "But we got so much support and I will never forget that."
Fast forward four years, Virtue and Moir are now the most decorated figure skaters in Olympic history, five-time Olympic medalists, three-time World Champions, eight-time National Champions, and the pride and joy of a country.
However, the road back to the Olympics was far from easy – filled with "gruelling hours" of training. But, in spite of that, the couple says the process of getting there is the most memorable of their decades-long partnership.
"In that comeback process, leading into the PyeongChang Games, we had such a formidable team around us… We had such positivity and love around us that it made the gruelling hours, sacrifices and hard work worth it," Virtue says. "It's a little bit cliché to just talk about the process, but that really was the most rewarding and fulfilling part because we felt like we had succeeded before even taking the ice in Korea."
"Each Olympics brought a different storyline, each Olympics brought a different lesson for us, but none were as fulfilling as 2018," adds Moir.
Their partnership, 21 years and counting, is the pinnacle of their success – founded on passion, trust and creativity. It's something that can be seen with every pirouette and every spin in every performance. On the ice, Virtue and Moir are an extension of one another.
And while it may seem effortless during a performance, they admit it takes a lot of work off the ice.
"We work at it – really diligent hard work," Virtue explains. "It's on a daily basis, it's working with counsellors and therapists and sports psychologists, and prioritizing that bond we share."
"Of course we've had those moments [where they thought the partnership wouldn't work]… We're very passionate people, we're very different people, we've had some battle," Moir continues. "But it's crazy when we look back at the past 21 years and still think there's nobody else you'd rather work with."
As for the end of that partnership, Moir and Virtue can't say whether or not it's near – meaning Beijing 2022 isn't off the table just yet.
"You know how people say you're not supposed to make big decisions following a major life event, I think we're taking that seriously. We've been on the go since the Games… I think we owe it to ourselves to give a little bit of breathing room," Virtue says. "We weren't planning on making a comeback when we took time off in 2014 so you just never know, but if it was the end then what better way to go out on such a high."
Until they make that decision, the duo is looking forward to a more relaxed schedule – one that includes their cross-country tour, cottages and family.