Vote for your favourite TradeCentre moment
What's your favourite TradeCentre moment?
For 20 years, TradeCentre has become a day-long show where TSN's Hockey Insiders and panelists break the news and provide analysis on every deal that goes down.
And with 10 hours of live broadcast time each year, we also have a bit of fun along the way.
Gino and the Llamas
In February of 2015, two llamas captivated North America for a day, dominating the news cycle on live TV broadcasts with all the attention of a high-speed car chase. Seemed like a good idea to kill some time early on TradeCentre Day - until they got loose in the parking lot. 7-Eleven That's Hockey's Gino Reda was TradeCentre MVP that day, finally grabbing them and hugging them into submission. Sort of.
Is there ketchup on that?
Long days in the studio mean catered meals and no one was happier about that than Jeff O'Neill, who dug right into an incoming order of hamburgers. But O-Dog forgot that his mic was live, and interrupted James Duthie's interview with Ottawa bureau reporter Brent Wallace with five words that will forever be immortalized in TradeCentre lexicon.
Marty vs. Jen
Everyone loves the T-Shirt cannon - except Jennifer Hedger. There's a reason why arena staffers point those things UPWARD before they fire. And no one told Marty Biron, who got Jen right in the gut. But after a year of waiting, training and brooding, Jen got even.
The Kiss Cam
Our own Mark Masters - who once made his wife sit in coach while he wined and dined in business class on a flight - didn't look any better on James Duthie's Kiss Cam.
The Prime Ministers Race
If it works for the Ottawa Senators, it works on TradeCentre, right? Sir John A. MacDonald, Sir Wilfrid Laurier, William Lyon MacKenzie King and Sir Robert Borden did their own mascot race in the studio, with Laurier winning in a photo finish. Don't think the Senators will be making headlines like this on Monday.
So what's your favourite moment? Vote below and we'll share the results on TradeCentre, Monday at 8am et/5am pt on TSN, TSN.ca, the TSN App and TSN Direct.
TSN Hockey wants to know...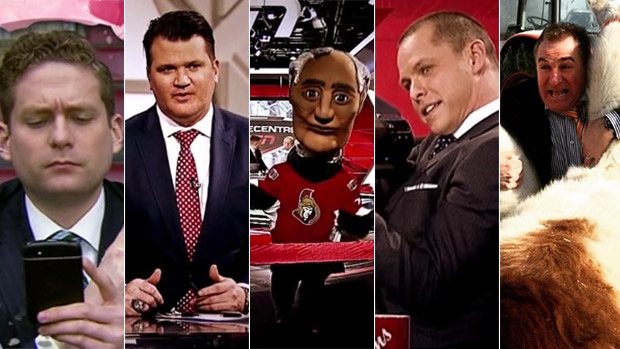 What's your favourite TradeCentre moment?