Waston emerging as leader for Whitecaps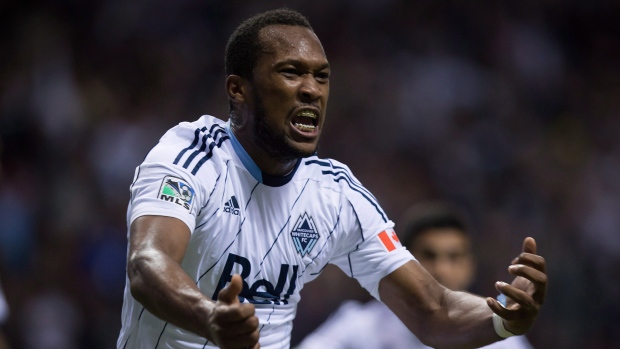 The bus ride was mostly quiet.
The Vancouver Whitecaps were en route to the airport in Monterey, Mexico, after a 2-0 loss at Tigres UANL in the CONCACAF Champions League semi-finals.
The underdog MLS squad executed their game plan just as they had hoped for 66 minutes. Then, in a reminder that the game can be cruel, Whitecaps centre back Kendall Waston scored an own goal.
In a game where they had to be almost perfect defensively, Waston's attempt to do the right thing went horribly wrong. Sliding to do away with a cross on the ground, the ball deflected off his leg and into the net to break a scoreless deadlock.
Waston spent the bus ride replaying the situation over and over in his head, watching the play on a phone and talking with Whitecaps and Costa Rican international teammate Christian Bolaños about what he could have done differently.
It was a hard lesson learned at the highest level by a player growing into the role of team leader.
Waston is a rare combination of size and skill. At 6-foot-5 and 215 pounds, he caught the eye of plenty of people with his play back home with Deportivo Saprissa, but his commitment to the craft was not what it needed to be to take that next step.
A move to Major League Soccer and becoming a new father to son Keysaack changed both the man and the player. Maturity and focus came from the responsibility to provide for his family and the challenge of adjusting to life outside his comfort zone.
Waston was a nominee for MLS Defender of the Year in his first full season in North America. He was also named Whitecaps' player of the year in 2015, raising expectations for 2016.
Waston arrived last season with a new contract in hand, expected to be the anchor and centrepiece of the 'Caps defence.
Instead, a rash of mental mistakes, reckless tackles and poor decisions defined a season that was only colourful in terms of red and yellow cards. Eight yellows and three reds put pressure on others to fill the void. The resulting struggle was one of several reasons the team missed the playoffs.
Waston said off-season discussions with his wife and Whitecaps head coach Carl Robinson put him in position to bounce back.
"They gave me some good advice," Waston said this week. "I took it on board. Hopefully we can continue on the same road."
Waston, 29, is one of those athletes who changes when he steps across the line. Loud and gregarious, his smile is constant around the team and locker room. Then he steps on the field then and things change. He uses size and strength to intimate opponents and control things in his end.
While he's avoided attention from referees so far this season, Waston insists he hasn't changed his physical style of play.
"Not at all. I think I'm going to continue with the same aggressiveness," he said. "Everybody is talking about that because I don't have any yellow cards yet, but I think I'm doing the same job. Maybe I'm being a little bit smarter in different types of plays…I'm just trying to help and work hard."
It looks like the dominating Waston is back. Much like when he became a father, his recent performance on the pitch coincides with increased responsibility.
With the departure of Pedro Morales, Robinson has been careful about officially naming a captain, yet the armband has been on the bicep of the big centre back for the early part of the season.
"He's been very good," said Robinson. "I look at Friday's game as an example. With 10 minutes to go and Seattle putting us under pressure, I wouldn't want any other player in the box defending headers and clearances and that lot. He puts his body on the line. I think being captain has made him more responsible."
The role seems to fit Waston in more ways than one.
"I take it as a big responsibility," Waston said. "It's an honour to wear the armband and being the captain of this team is very important. I don't want to disappoint [Robinson], who has given me the opportunity to be the captain. And obviously all my teammates – I don't want to leave them with 10 men, running harder every game. This year we want to get to the playoffs and we need everybody."
The next step on that journey is in Portland on Saturday against the rival Timbers (4 p.m. ET/ 1 p.m. PT on CTV, CTV Two and TSN5) in the first of four consecutive matches away from home for the Whitecaps.
Waston said the road swing is a chance for the team, currently 2-3-1 to sit seventh in the Western Conference, to build on last week's win and prove its mettle on the road.
"It's going to be rough like always," he said of the stretch. "It's going to be a nice battle. Hopefully, if we keep with the same type of mentality – trying to play with the ball and obviously scoring is the most important thing right now – I think we can get a lot of points.
"We know that it doesn't matter where we play. We have to try to win all of the games. It's not going to be easy, but it's not impossible. I think we have the personnel and the quality in each player to win anywhere."