Watch in VR: TFC advances to East final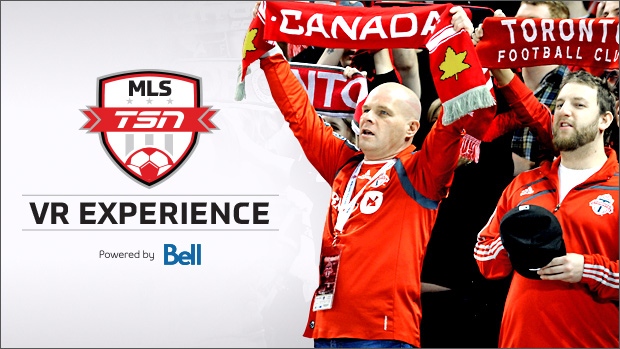 Here's your chance to get an an exclusive VR look at the MLS on TSN action today during the playoff match between Toronto FC and the New York Red Bulls. This will put you right in the middle of the action as you can virtually participate in the supporters' march to the match, the coach's pre-match speech, NetCams and unique views of the Toronto FC's wild match as they advance to the Eastern Conference final from throughout the stadium.
Users on a mobile phone or tablet will need the YouTube app, while desktop users can get the full MLS on TSN VR Experience powered by Bell at youtube.com/TSNCanada.
Toronto FC Advances to Semifinals
Take an exclusive look at the final seconds between Toronto FC and the New York Red Bulls as TFC advances to the Eastern Conference final.
Toronto FC Pre-Game Locker Room Speech
Get an exclusive look inside Toronto FC's locker room as they get ready for their second leg match against the Red Bulls. Coach Greg Vanney had this message for his players before the match: "I did a little research going into this game and in the last 50 matches, 90 per cent of the time, you've got the result you're looking for today, so take all the energy you have inside, take all the energy that the fans are going to give you and take all the energy from the city and be the best version of yourself," Vanney told the team in the huddle. "Play your way and make them deal with you don't sacrifice anything and execute."
Toronto FC Offside No Goal
Sebastian Gionvinco crossed the ball in to Jonathan Osorio who was called offside, disallowing his goal.
Giovinco's Late 1st Half Scoring Chance
Giovinco's shot squeaked just wide of the Red Bulls' net, coming within inches of a goal late in the first half.
Jozy Altidore 1st Half Scoring Chance
Toronto FC striker Jozy Altidore broke free of the Red Bulls' defence and narrowly missed opening the scoring for the Reds.
March to the Match
Fans make their way to BMO Field ahead of TFC's potential clincher against the Red Bulls.
Pre-Game Warm-Up
Toronto FC getting in reps in warm-up prior to second leg action.
Get an up-close view of Toronto FC's pre-game warm-up from the NetCam.
Pre-Game Fireworks