Whitecaps defeat Minnesota, leapfrog into fifth in MLS West
Forward Brian White scored once and played a role in a Minnesota United FC own goal as the Vancouver Whitecaps used a 2-1 victory to climb into a Major League Soccer playoff spot Wednesday night.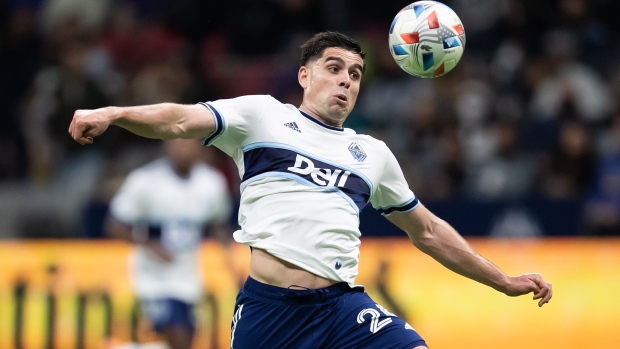 VANCOUVER — The journey isn't over yet, but the Vancouver Whitecaps used a 2-1 victory over Minnesota United FC Wednesday night to take a huge step toward securing a Major League Soccer playoff spot.
Forward Brian White scored once and played a role in a Minnesota United own goal for the Whitecaps (12-9-11) who have 47 points and leapfrogged over three teams into fifth spot in MLS's tight Western Conference.
The Whitecaps, who at one point this year were last in the West, can now clinch a playoff spot with a win over LAFC at Banc of California Stadium Tuesday.
White said it's huge that Vancouver now controls its own destiny.
"You don't want to leave anything up to anybody else to depend on," said the 25-year-old White. "To have our fate in our own hands is great."
White was part of a pretty three-way passing play that gave Vancouver a 2-0 lead in the 64th minute.
Forward Cristian Dajome started the play just outside the Minnesota box.
He passed to forward Ryan Gauld who dished to White who buried the shot for his team-leading 12th of the season.
"It's great to contribute to the team and help win games," said White, who Vancouver obtained in June in a trade with the New York Red Bulls. "Hopefully I can continue to score goals and we can continue to win games."
The goal came just minutes after Minnesota's Adrien Hunou came close to tying the match when his shot at an empty net hit the post.
Fanendo Adi made things interesting scoring for Minnesota in extra time.
Minnesota (12-11-9) drops below the playoff line into eighth place, tied with Real Salt Lake with 45 points.
Just five points separates fourth place Portland (49 points) from ninth place LAFC in the West.
After stumbling early in the season the Whitecaps have found their legs. The Caps are 10-2-8 in their last 20 games. Since returning to BC Place Stadium on Aug. 21, after playing the first part of the season in Sandy, Utah, due to COVID-19 protocols, they are 7-1-0 at home.
Minnesota United FC dropped to 3-7-6 on the road.
Interim head coach Vanni Sartini celebrated the win by leading fans in singing "Stand By Me" the song the Whitecaps have adopted this year. An excited Sartini exchanged high-fives with fans and pumped his fist in the air.
While thrilled with the win, Sartini said work remains to be done.
"I told the guys at the end of the game 'fantastic, but we need one more result for sure the make the playoffs,'" he said. "We did a fantastic job the last two months (but) it's not enough yet. We need to get the job done."
The Whitecaps went ahead 1-0 in the dying seconds of the first half.
White got behind the Minnesota defence to track down a long ball launched by veteran midfielder Russell Teibert from deep in the Vancouver zone. Goalkeeper Tyler Miller came out to challenge on the play but White chested the ball past him. It hit defender Michael Boxall and rolled into the net.
"I knew he was off his line a little bit," said White. "I was trying to loop it over him but unfortunately I missed it. Fortunately, he swatted it into his defender and it rolled in."
Centre back Ranko Veselinovic said the win showed how Vancouver has matured over the season.
"We didn't play our best game, especially in the first half," he said. "What I liked is that we became a team that wins the game even when we don't play 100 per cent."
Both teams had opportunities during the opening half.
Minnesota forward Franco Fragapane took a left-footed shot from the side of the box that Vancouver goalkeeper Maxime Crepeau stopped. Crepeau also leaped into the air to grab a corner kick.
Early in the game Vancouver midfielder Leonard Owusu had a kick from distance that drifted wide. Dajome also headed a shot inside the box that hit the side of the net.
NOTES: Sartini used the post-game teleconference to wish happy birthday to his father Andrea in Italy who turned 63. He said his father always wakes up at 4 a.m. to watch the Whitecaps, then listens to the news conference. … The Whitecaps' final game of the season is Nov. 7 at home against Seattle. … The Caps last home loss was a 1-0 defeat at the hands of Portland on Sept. 10. …. Vancouver played without midfielder Caio Alexandre (left foot, fifth metatarsal fracture), forward Tosaint Ricketts (right calf strain) and defender Andy Rose (left calf strain). … Minnesota's last road win was Aug. 28, a 2-1 victory at Houston.
This report by The Canadian Press was first published Oct. 27, 2021.