Whitecaps hope teenager Davies can sweeten their trip to Minnesota
He was still feeling a little sour from a case of food poisoning, but Alphonso Davies offered up some sweet relief for the Vancouver Whitecaps last week.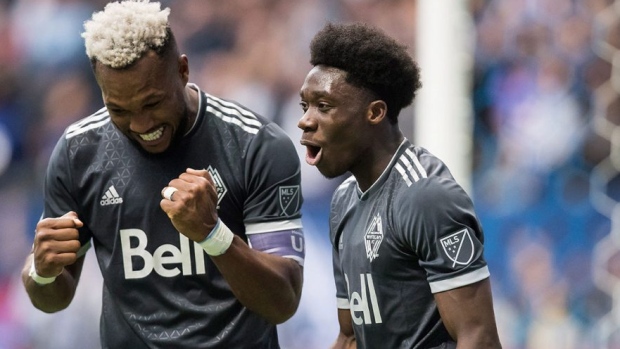 VANCOUVER — He was still feeling a little sour from a case of food poisoning, but Alphonso Davies offered up some sweet relief for the Vancouver Whitecaps last week.
The teenager with the long stride and smooth moves came off the bench in the 67th minute and helped set up an insurance goal with his team playing a man down, as the Whitecaps defeated Real Salt Lake 2-0 to snap a three-game losing streak.
The Whitecaps will probably need more saccharine from Davies and other players in the lineup when they face Minnesota United FC on the road Saturday in a Major League Soccer match.
"When I come into the game I try to do what the coach tells me, try to make an impact on the field," the 17-year-old midfielder said after a training session this week.
Born in a refugee camp in Ghana, Davies moved to Canada at age five. He joined the Whitecaps residency in 2015 and earned a spot on Vancouver's MLS roster in July 2016 as a 15 year old. He scored his first MLS goal in the Whitecaps' season-opening win over Montreal.
At five-foot-11 and 160 pounds, Davies has grown physically from when he first joined the team. He's also become more confident on the field and better understands his role.
"Friday was a perfect example of what he brings to the group and brings to the table in relation to what we are as a team," said head coach Carl Robinson. "Energy off the bench, creating the second goal.
"I think he's matured, he's grown physically. You can see his body shape has changed. He's still a young boy. He's still got to do his homework. He still does things he shouldn't do as well, which I make him aware of."
Davies, who grew up in Edmonton, has started seven of Vancouver's nine games this season. Besides his goal, he's also collected three assists.
"Sometimes I think I can be better in the final third, putting in quality crosses," he said. "Going forward I think I'm happy with my performance but I think I can be a little bit better."
The Whitecaps are very protective of Davies. He's rarely made available for interviews, something Robinson makes no apologies for.
"When you are a young player everyone wants to build you up, but they build you up to knock you down," said the former Welsh international. "I protect him for his own good, for the club's good.
"There is a time for interviews and a time for media, but he needs to do his talking on the pitch with his football. I think he's doing that this year."
The Whitecaps (4-4-1) head into the weekend sitting third in the MLS Western Conference with 13 points. Minnesota (3-5-0) have nine points and are seventh in the conference, just one point out of a playoff position.
Scoring goals and discipline have both been issues for Vancouver. The Whitecaps have managed 10 goals this season, one less than Minnesota, but have been held scoreless in three games.
In nine games this year the Whitecaps have had four players ejected, including two in a 6-0 loss to Kansas City two weeks ago.
Cristian Techera was sent off in the win over Salt Lake when shown his second yellow card of the game when he pulled off his jersey after scoring on a penalty kick.
Robinson called Techera's action "naivety, stupidity" and said he's stressed discipline with his team.
"I've addressed it with them because I don't want to play with 10 men or nine men," he said. "There are not many times you can win games when you go down a man."
Minnesota recovered from an early deficit to beat Houston 2-1 last week to end a four-game losing streak.
"Hopefully it gives us something to build on," head coach Adrian Heath said after the match. "Sometimes you get your rewards at different times.
"It showed great character, teamwork and belief from the guys to dig themselves out of the hole."
Someone the Whitecaps will pay special attention to Saturday is forward Darwin Quintero. The 30-year-old Colombian, who joined Minnesota in March from Club America of Liga MX, is the team's first designated player. In three games he has scored twice and added an assist.
"He causes problems whether he plays as a wide player or a second forward," said Robinson. "He just brings energy and quality to the field.
"We have to make sure we are aware of him, what he does on the attacking side and also we can try to take advantage of what he doesn't do on the defensive side. It's a game of cat and mouse."