WJC Ice Chips: Blackwood back in for Canada
Keep up to date on all the news and injury reports from the World Junior Hockey Championship.
Mark Masters, TSN.ca Staff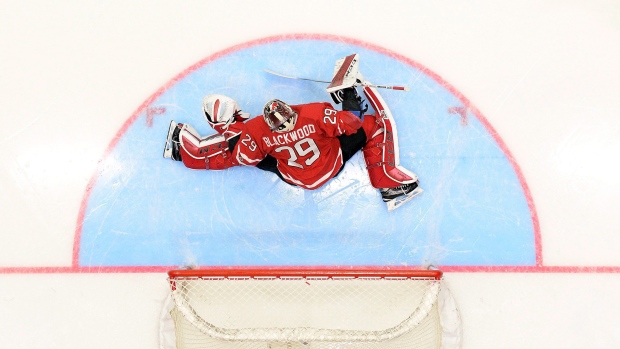 Keep up to date on all the news and injury reports from the World Junior Hockey Championship.
Mackenzie Blackwood gets the start for Team Canada for the second straight game. "I settled in a little bit and did a lot of things well so, overall, I was pretty happy with the way I played," Blackwood said when asked to assess his performance against Switzerland. "As the game went on I felt better and better. As the game went on my movements, my eyes, everything started feeling better and better. I was in as much of a rhythm as you can get in one game." Head coach Dave Lowry, for one, was impressed by the New Jersey Devils prospect, who signed his first NHL contract yesterday. "He made timely saves and he was calm in the net," Lowry noted.
While today's game doesn't mean anything for Sweden in the standings, Alexander Nylander is looking for some personal payback on Blackwood, who he faced earlier in the season in Mississauga. "I played against him one game in the OHL and we didn't even get a goal on him so I got to get a little revenge, I got to try and score on him," said Nylander, who is tied for fourth in tournament scoring (six points). Blackwood made 27 saves, including two on Nylander, in a 6-0 Barrie Colts win over the Steelheads on Nov. 1.
Brendan Perlini is one of just three Canadian forwards without a point in the tournament. But, the Niagara IceDog is second on the team with 11 shots on goal. So, does he feel a bit snakebitten? "No, not really," he said. "I think every guy goes through that. But, for me, it's only been a couple games so I'm not hitting the panic button by any means." Perlini skated as the 13th forward at yesterday's practice. "When he's playing his game and playing to his strengths he's skating," Lowry said. "You look back to the (pre-tournament) game against Sweden and how quick he was, how he created opportunities, getting in on the forecheck, when he's doing that he's creating chances." Perlini had a goal and an assist in Canada's 7-6 win over Sweden on Dec. 23.
Travis Sanheim is also seeking his first point of the world juniors, but the Calgary Hitmen defenceman seems to be growing in confidence. "He's getting better every game and that's the history with Travis," said Lowry, who coaches against Sanheim in the WHL. "He has a tendency to get better as he gets more comfortable and confident." Sanheim admits he's always been a slow starter. "I'm not sure exactly why that is the case, but for some reason that seems to be the way things have worked out," said Sanheim. "I've gotten more comfortable each and every game. For me, it takes a little bit to get my game rolling and I think lately I've been playing much better."
Sanheim says he remains in close contact with his twin brother and Hitmen teammate Taylor. "It's kind of hard for him to keep up," Sanheim said. "He was practising when we played our last game and he's trying to watch as much as he can. I'm talking to him on a regular basis and he's just telling me to keep working hard and make sure I'm playing my game." Has Sanheim been keeping an eye on Taylor's progress? "A little bit. I try to watch the highlights of our games and I know he scored the other night so that's pretty good for him and the team's been rolling." Taylor Sanheim scored a goal in a Calgary win over Kootenay on Sunday, the first of three straight wins for the team.
Travis Konecny says he's feeling fine after taking a big hit from Noah Rod early in Tuesday's game against Switzerland. "It felt good," the gritty Ottawa 67s forward said with a smile. "It got me into the game, it got me alert and ready to go so I kind of like those ones." Really? He likes taking big hits? Konecny laughs, "I'd rather not take one, but if I get one, instead of getting mad I just use it to my advantage."
Canada will be playing Sweden for the second time in eight days. Dylan Strome was asked for his break down on the Swedes. "They can score," he said. "They're similar to the Russians in that sense, when they can just strike at any time and goals come in bunches. But you got to be prepared, because they can win a game 1-0 (like against Team USA in this year's world juniors) or they can play a game 7-6." Alexander Nylander was asked what stood out most about the exhibition game against Canada. "We shot three pucks through the net," he quipped.
Here's yesterday's Sportscentre story on Mitch Marner.
Team Canada did not skate this morning. Here are the lines from yesterday's practice:
Chartier-Point-Marner
Crouse-Strome-Virtanen
Beauvillier-Barzal-Gauthier
Quenneville-Stephens-Konecny
Perlini
Chabot-Hicketts
Fleury-Hickey
Sanheim-Dermott
McKeown
Blackwood
McDonald
Montembeault (scratch)