Wright on WJC cancellation, draft-year pressure and signed Crosby picture
The gold medal game at the World Juniors is always held on Jan. 5. It's the same day Shane Wright was born.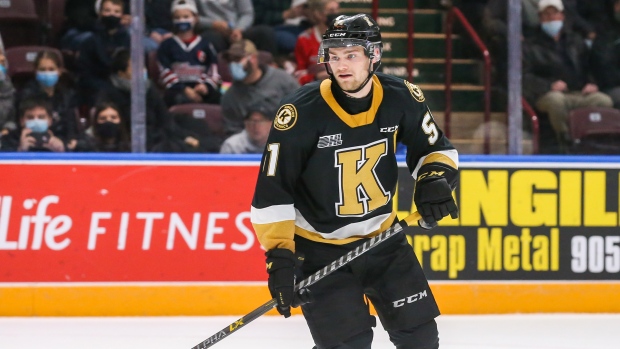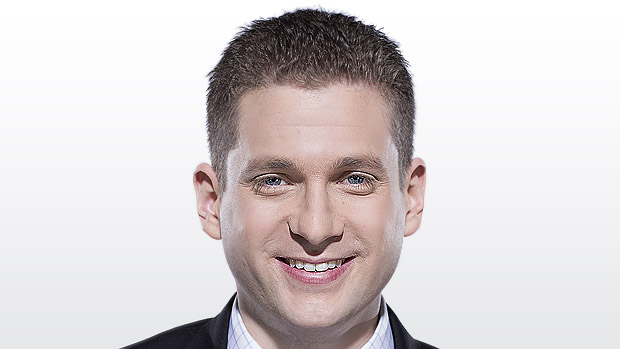 The gold medal game at the World Juniors is always held on Jan. 5. It's the same day Shane Wright was born.
"It's been a tradition to watch it and celebrate that and my birthday," the Kingston Frontenacs captain said. "I was looking forward to playing in it on my birthday.
That dream, like so many others, was dashed when the World Juniors were cancelled last week due to the COVID pandemic. On Wednesday, Wright will turn 18 and, for the first time in his life, the medal games at the World Juniors won't be taking place.
"Very weird," he said of the situation. "Really weird."
Wright, the favourite to be picked first overall in the 2022 National Hockey League draft, is already back in Kingston and gearing up for a stretch drive in the Ontario Hockey League. During an interview with TSN, the Burlington, Ont. native spoke about the abrupt ending in Edmonton, what he'll remember most about the experience with Team Canada and the significance of the signed Sidney Crosby picture on his wall.
The following is an edited transcript of the conversation.
---
How did you find out the World Juniors were being cancelled?
"The whole team was called downstairs for a meeting. We had to leave our phones outside on a table. They kept us waiting for a little bit and then all the coaches came in and told us the news. They told us we were cancelled and we'd be heading home the next day."
Did you have any sense that was coming?
"A little bit. Obviously, when you get a message that you have a meeting in 15 minutes, a pretty urgent meeting, it's never really a good sign. We were talking about it and making assumptions, but we didn't know anything for sure."
What was the message from Hockey Canada at the meeting?
"Just apologizing to us and thanking the guys for all the time. We had such a good time and such a good team. We had a lot of good things happen and had a lot of good memories made and the message was just to enjoy those and remember those."
What was the aftermath like for the players?
"We stayed after and chatted with each other and gave hugs and just thanked everyone. We talked a little bit and appreciated the times we had and everything we've done and how hard we've worked and competed. At night, we spent a lot of time as a team just in our room hanging out with one another and just being a team for one last night."
How would you describe the emotions that day?
"Shock and disappointment are the biggest two. You don't really expect that to happen. Disappointed for the 19-year-olds who won't have a chance next year to come back. It was their last opportunity to win a gold. Guhls [Kaiden Guhle], G [Dylan Garand] and [Cole] Perfetti, who lost last year in the finals and wanted to come back this year and win gold, they're most likely not going to get a chance to do that. So, just overall disappointment and sadness."
Are you holding out hope that maybe this gets re-scheduled and you're back at a World Juniors in a few months?
"I'm hopeful. It's all I can do right now is hope that they can figure out a plan and figure out a way for us to get back. Whether or not it's in a different location or whatever it may be or whatever it looks like, any way that they can get a different tournament going or get some sort of World Juniors going this summer or whatever, it's something I'd definitely be looking forward to."
Has it crossed your mind that you might be done with the World Juniors after only two games? Obviously, you could be playing in the NHL next year?
"Yeah, a little bit. It's definitely something I've kind of been thinking about. Is that game against Austria the last game I'll ever play at the World Juniors? I'm not sure. I'm not really sure what's going to happen in the future or what it's going to look like next year or where I'm going to be playing so a lot of unknowns right now and I'm just trying to not worry too much about those."
What will you remember most about being part of this Team Canada?
"I met some unbelievable guys ... Hanging out in the meal room, playing ping pong, playing corn hole or playing NHL or FIFA [video games] or just hanging out and interacting with the guys and talking with the guys, laughing, having fun and all that, is something that's always going to stick with me. And just playing in front of fans. Playing in Canada. Representing my country. Having all those people cheering us on in those couple games was such a cool feeling for me. It's pretty surreal. I finally got to live out that dream of mine."
Any moment, in particular, stand out?
"That first round robin game against the Czechs when I went on the ice for the first period. I wasn't out on the ice yet. I was still in the tunnel and could hear the fans cheering us on. The feeling of representing my country and being there and being in that spot in the World Juniors and playing for Canada, I've dreamt of it as a kid, it's something I've always pictured myself doing, so just that moment, in particular, was so, so special for me."
How confident are you that this team was destined for gold if the tournament had been played out?
"I was pretty confident. I really, really liked the team we had. We had a super deep team. We had lines that could play all different types of ways. We had skill, high-scoring lines, but we had checking lines as well and lines that could beat you in different ways and hit you down. We had big PK guys, power-play guys, defence that could score, defence that could shutdown, and three really strong goalies plus a great coaching staff."
What are your goals the rest of the way now that you're back in Kingston?
"The goal for us is to win the OHL championship and, if there is one, the Memorial Cup ... Obviously, lots of games being postponed right now and a lot of uncertainties with COVID so the biggest thing is taking advantage and not taking for granted these games or being out there with the guys or being around the room."
How do you deal with the uncertainty of the pandemic?
"A lot of it is stuff that's outside of my control. I can't control the vaccines or the cases or who's getting tested or whatever that stuff may be. All I'm controlling is myself and going out and playing hockey. I've been telling myself, 'Just take advantage of every single second you get on the ice.' Last year, I didn't get to play at all [in the OHL] so just not taking anything for granted. I'm always taking advantage of every second on the ice and just enjoying and soaking in every second of it with my teammates."
How are you feeling about your own game?
"I'm feeling really good. I'm feeling super confident with my game. I feel like I'm going to bring a lot of confidence from the World Juniors here to Kingston and really looking forward to getting back going here."
Has this year felt different, because it's your draft year?
"Yeah, definitely a little different. Those pressures and expectations are always going to be there. They're always going to be in the back of my mind, but I'm trying my best to ignore them and tune them out and just focus on playing hockey and being a kid and having fun and enjoying the game. That's why I've got to where I am today and that's why I play the game is because I love it. It's my passion."
Is there a story behind that Sidney Crosby picture on your wall?
"It says, 'To Shane, Keep working hard and good luck,' and it's signed by Crosby. It's pretty special that he personalized it like that. He's a role model of mine and someone who I love watching. It's pretty special to have someone like that personalize a picture like that to you."
When did you get it?
"I got it before I came to Kingston so over two years ago. I got it signed through one of my buddies or my agent, I think."
Is that something you were surprised to receive at the time?
"A little bit, yeah. I was surprised to get something like that. I mean, from one of my favourite players and he personalized it to me, so pretty surprised."
In terms of game style I know Patrice Bergeron is a role model of yours as well. What do you take from Crosby?
"Crosby is similar to Bergeron. Obviously, 200-foot centres who take good face-offs and that's kind of how I see myself. They're smart players. They think the game at such a high level and they're always doing the right thing, always making the right play and always in the right positions all over the ice so definitely two guys I really like watching and see qualities in myself as well."