World Junior Selection Camp Blog
TSN's Mark Masters brings you all the latest from the first day of Team Canada's selection camp in Blainville, Quebec. Canada opens the upcoming World Junior Hockey Championship against Russia on Boxing Day.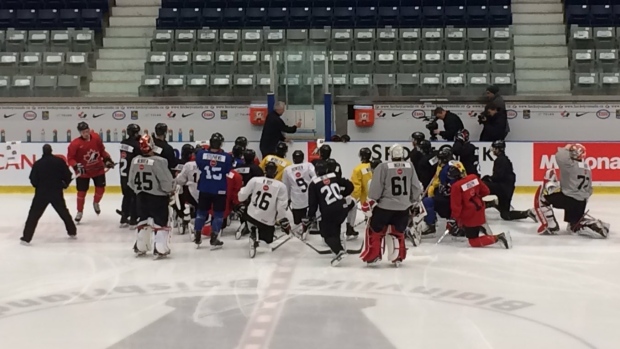 TSN's Mark Masters brings you all the latest from the first day of Team Canada's selection camp in Blainville, Quebec. Canada opens the upcoming World Junior Hockey Championship against Russia on Boxing Day.
* A lack of discipline cost Team Canada dearly during a wild 6-5 quarterfinal loss to Finland at last year's World Juniors. The memory is still fresh in the mind of Dylan Strome. "It's pretty easy to remember, obviously. I wish I could forget it," he said. "It's not a good feeling. So many people in your country and family and friends watched the game." How long did it take him to get over that loss? "I'm still not over it. Hopefully I'll be over it on January 6th." Strome is one of five returning players from last year's team currently at Canada's camp. His message to teammates so far has been a simple one. "It's a long process up to Day 1 of the tournament, but I think it starts here," said Strome. "Teams win tournaments by the stuff they do before the tournament." Head coach Dominique Ducharme was an assistant on Dave Lowry's staff at last year's event in Helsinki where Canada finished sixth. What did he learn from that experience? "The first thing is how quick you need to adjust and how quick you have to raise your game and that's really what we're preparing our players to do," said Ducharme, who coaches Drummondville in the QMJHL. "It's about little things and little things make a big difference at this tournament. The margin between winning and losing is really thin." Strome believes playing on home ice could be a key factor this time around. "It's going to be crazy," the Mississauga, Ont. native said. "Obviously, two years ago it was here (in Montreal and Toronto) and they did something special so we're going to try and follow that up."
* Just like at Canada's summer camp, Tyson Jost and Strome found themselves paired together at practice on Sunday. "Tyson was an energy bug and him and Strome played really well together," said Ryan Jankowski, Hockey Canada's director of player personnel, when asked what stood out during the summer. "They think the game really well. Jost isn't afraid to do the heavy lifting and do the hard work and can get pucks to Strome so I think there's chemistry there that can carry on to the tournament." The pair had never played together before the camp in Plymouth.
* Blake Speers, who broke his wrist and had surgery in late October, sat out the first practice before returning to the ice in a non-contact jersey in the afternoon session. "The original goal was to be back in contact (drills) in six weeks and that's Tuesday so we're going to stick with that right now," the New Jersey Devils prospect said. "I'm working on strengthening it and getting my range of motion back and every day it has gotten better." Speers said it's unlikely he'll play in tomorrow's scrimmage against a group of Canadian university all-stars, but he's hoping to take part in Tuesday's scrimmage. "This is something I don't have a whole lot of control over. I mean, if it's ready, it's ready and if it's not, it's not." Speers doesn't believe conditioning will be a big issue, because he's been on the ice throughout the recovery process. The Sault Ste. Marie Greyhound said his biggest challenges will be getting his timing back and getting to a point where he's not thinking about the wrist when he's shooting. "I'm pretty strong mentally so I should be OK."
* Taylor Raddysh admits he was motivated after not getting invited to Canada's summer camp. "I just tried to prove myself this year and I think I've done a pretty good job," he said. The numbers speak for themselves: Raddych leads the OHL in scoring with 61 points in 28 games. "I worked really hard in the off-season and the confidence of getting drafted (58th overall by Tampa Bay) last summer was huge for me," he said. The Erie Otter has played himself onto Canada's selection camp roster and it's pretty clear what he has to do to make the team: keep scoring. "What he's done with Dylan Strome for part of the year, but without Dylan for the first half (when Strome was in the NHL) was score goals, create offence, make plays off the rush. He's a big body and he's an adequate enough skater to come to this level. It's definitely a tryout for him, because he wasn't at the summer camp, but his offence is what we want to have with our depth. We want that skill on our third and fourth lines."
* All three goalies – Everett's Carter Hart, Kamloops' Connor Ingram and Owen Sound's Michael McNiven – will see action in the scrimmages on Monday and Tuesday. Ducharme said one will play for the university all-star team while the other two will split time in Canada's net. The plan for Wednesday's scrimmage against the Czech Republic is to be determined. This is the first time in four years that Canada has had a competition for goalie roster spots at the selection camp. In the past, Hockey Canada opted to bring the minimum number of goalies in an attempt to alleviate the pressure to a degree. "Well, three deserve to be here," Jankowski explained when asked about the change. "That's the biggest thing."
* Lines at first practice:
F
Howden-Roy-Dubois
Steel-Cirelli-Senyshyn
Joseph-Barzal-Gauthier
Dube-Stephens-Raddysh
Wagner-McLeod-Merkley
Jost-Strome
D
Chabot-Fabbro
Brisebois-Clague
Bean-Juulsen
Girard-Myers
Lauzon-Mete
G
Hart
Ingram
McNiven
* Special teams drills at second practice:
Power play: Girard (QB), Bean, Clague, Chabot (QB), Myers, Barzal, Strome, Gauthier, Roy, Jost, Dubois, Steel, Raddysh, Senyshyn
Penalty kill forwards: Wagner, Cirelli, Dube, Stephens, Howden, Speers, Merkley, Joseph, McLeod
Penalty kill defence: Brisebois, Mete, Fabbro, Juulsen, Lauzon