X-rays negative on Roughriders QB Durant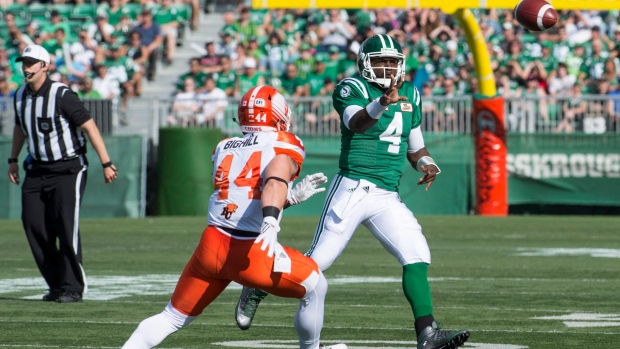 Saskatchewan Roughriders QB Darian Durant left Saturday's game against the BC Lions in the second quarter with a left leg injury and did not return.
However, Durant's injury is expected to be minor as CTV's Lee Jones reports X-rays returned negative for a broken bone.
Durant appeared to be injured when Lions defensive lineman Michael Brooks hit the QB in the legs. Brooks was assessed a roughing the passer penalty on the play.
Durant stayed in the game and threw a touchdown to Rob Bagg on the next play, but did not return for the Roughriders' next offensive possession.
After staying on the sidelines for a couple minutes, Durant went to the locker room. He later returned to the sidelines on crutches.
Mitchell Gale took over for Durant at QB.
Shamawd Chambers and Brandon LaBatte (upper body) also left the game for the Roughriders and were ruled out.
While Durant appears unlikely to miss significant time, the Lions will likely spend the rest of the season without defensive back T.J. Lee, who reportedly suffered a torn Achilles in the win.