Young's collegiate, pro football resume
Another household name from south of the border appears to be heading to the CFL. Take a look back at Vince Young's accomplishments - and tribulations - from his collegiate days at the University of Texas and his pro career in the NFL.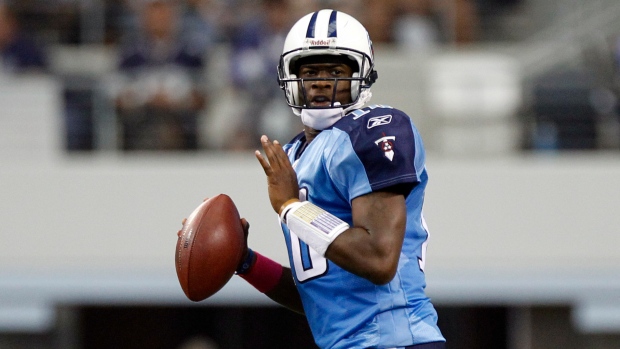 Another household name from south of the border appears to be heading to the CFL.
Vince Young is expected to sign with the Saskatchewan Roughriders as early as Thursday, making him the biggest "name" signing since Michael Sam's short tenure with the Montreal Alouettes in 2015.
Young has been out of the football spotlight the last couple years, but had a five-year run as one of the most well-known players in the sport.
Young's rise to notoriety came at the University of Texas, where he played three seasons. The Houston native led the Longhorns to a National Championship over Heisman-winner Reggie Bush and USC in 2005, his junior season.
Young was outstanding in the 2006 Rose Bowl, finishing 30-40 for 267 yards while adding 200 yards and three touchdowns on 19 carries. It was argued at the time had the Heisman voting process occurred after Bowl season, Young would have been awarded College Football's top individual prize over Bush.
With his draft stock at an all-time high, Young declared early and was taken third overall in the 2006 NFL Draft by the Tennessee Titans. The good times kept rolling for Young in his rookie season, when he accounted for more than 2,500 combined yards and nearly 20 touchdowns and was named to the Pro Bowl and Rookie of the Year.
Young couldn't build on his promising rookie campaign, and threw a career-high 17 interceptions the year after, before struggling through injuries in Year 3. Young bounced back in 2009, his fourth year in league, combining for more than 2,100 yards and 12 touchdowns and was named Comeback Player of the Year, as well as earning a trip to his second Pro Bowl.
The next year was Young's last with the Titans, after the then 27-year-old struggled through injuries again.
Free to sign anywhere for the 2011 season, Young chose the "Dream Team" Philadelphia Eagles, signing a one-year deal to back up Michael Vick. Young appeared in six games, starting three of them, in what would be the last year he saw regular season action in the NFL, finishing with 866 passing yards and four touchdowns to nine interceptions, and adding another 79 yards on the ground.
Young would try to catch on with a team in each of the next three years, but ultimately couldn't make it through the preseason without being cut by the Buffalo Bills (2012), Green Bay Packers (2013), and Cleveland Browns (2014).
Young has been out of professional football ever since, but will have a chance to prove he still has some of the talent that made him a household name a decade ago when he joins the Roughriders for training camp in May, nearly three years since last practicing with a professional football team.