YYZ: Three letters on a boarding pass that led to a magical night for TFC
A young girl walks alone heading east on King Street. She wears a black cap backwards with three letters projecting off it in the Toronto night. YYZ.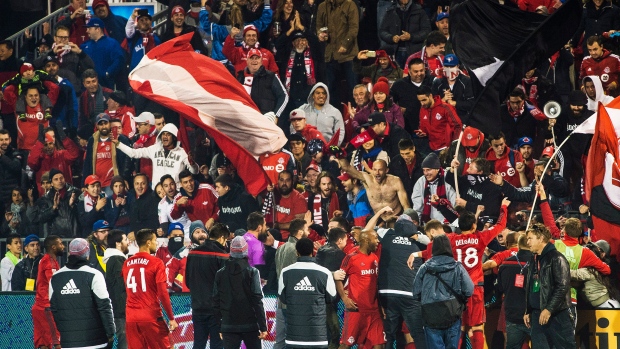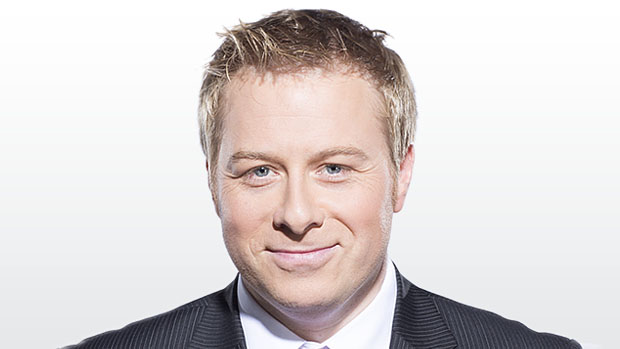 A young girl walks alone heading east on King Street.
She wears a black cap backwards with three letters projecting off it in the Toronto night. YYZ.
Headphones on, she seems oblivious to her surroundings but as father time clicks past 10pm on this special night she finds herself in the middle of two stadiums, two homes that turned dreams into reality for fan bases who had long since reached the point of deserving.
She walks faster than the onlookers stuck in all too familiar traffic. Car horns blaze but these are not of frustration. Not on this night.
A couple cross the street at Spadina Avenue, he wears the red of Toronto FC, she is dressed from head to toe in the blue and white of the team now four wins away from the American League pennant. They stop, they kiss, and they smile. At this point only they know where they spent this night but it's just too perfect to imagine them reuniting after watching their teams taste glory.
Ten minutes in the entertainment district of the city at this hour gets you a glimpse of many different names on the back of jerseys and that's even without going into a bar. The streets are painted blue and the night of Wednesday October 14th, 2015 will always go down as the night belonging to the Blue Jays. It should. It's a team that has taken over the city, but on this extraordinary night in Toronto the city was allowed to add more glory to its baseball party. It became a night of celebration for all comers, even perennial losers of the past.
It was a night that could have gone very differently for the city's soccer team. The moment the Jays extended their series to five games the club that has fought so hard to be relevant in a town too used to sports mediocrity looked destined to be doomed into further abyss. For some, that's what happened and there will be nothing wrong with that. Multitasking, they tell us, leads to stress and there were millions of single-minded Toronto sports fans that went to sleep Wednesday night unaware of what Toronto FC accomplished. They would dream of Stroman's strikes and Bautista's bat.
Many of them have visited the soccer stadium over the years, told their friends how much they enjoyed it and then have forgotten about it since. Yet since this team was born in 2006 there have been loyal fans who have been by this team through thin and thin. Eight straight years of missing the playoffs, far too easily, a laughing stock across North America and now given the task of clinching their first ever playoff spot on a night when, seemingly, no one in the city cared.
It could have gone the way you may have thought if you read the score or had a quick check at a headline. Yes, Toronto FC made the playoffs after an impressive 2-1 win over New York Red Bulls, but that's not how the story should be told. Oh no. Not on this night.
Sebastian Giovinco landed on the runway in Toronto seconds before Marcus Stroman threw out the first pitch on this second Wednesday of October. He had spent the previous ten hours travelling from Rome, where on Tuesday he had come off the bench to help his national team defeat Norway 2-1 in a qualifying match for next year's European Championships.
As Canada slept, including the Toronto Blue Jays and Texas Rangers, anxiously awaiting dawn on a defining day for the city, the Italian made his way to the airport to get back in time for the match, scheduled to start seven minutes past the 7pm hour local time. 1.07am in Rome.
Giovinco greeted coach Greg Vanney with a smile when he arrived and hoped he wasn't joking when it was suggested to him that he would start. He wanted to but instead spent the first half in an enormous jacket keeping warm while sitting on the bench. Wednesday had become Thursday in Italy by now while across town another number 10 had turned the game back into the Jays favour.
Career home run number 217 was easily the most important swing of Edwin Encarnacion's career. Walk the Parrot.
It would be a night for number 10s.
The coat disappeared to start the second half and the magician began to prepare for his grand entrance. The game remained 0-0, a point was all that Toronto FC needed even though for any kind of relevance in this city they needed much more. They would go ahead, through Herculez Gomez, and the game seemed to be drifting towards a moribund finish. Not on this night.
It was 2:38am by now in Rome. Giovinco's national teammates had all returned to their clubs and were sound asleep when he was called from his intense workout to enter the field. The stadium had erupted twice already; no bigger than when the Jays secured more playoff games would be born next week in pursuit of a pennant. Now the TFC faithful with glowing hearts rose again to welcome the return of their talisman.
Giovinco had travelled thousands of miles to be with his team for a historical moment but this was no designated player being handed a fabulous front row seat for the drama. Not on this night. Last year this club couldn't keep their own star DP away from Europe, now they had one leaving it to come back and make a difference. On the same day. Too often DP's of the past have lived on their reputation but this player has always cared much deeper about creating his own reputation right now. A man for many other nights wanted this one too. He wouldn't want it any other way. Not on this night.
Give me the ball said his body language as he invaded space and opened up his arm in anticipation. A touch on the left foot to control it. One on the right, two, three, four, five, six, gliding through defenders, a dummy and a strike on his left foot that kissed the post and knocked a white towel in the net. Oh my.
On a night when fifty thousand white towels celebrated a famous victory across town it was the towel of Red Bulls' 'keeper Luis Robles that would get the final appearance.
Cue more bedlam. Having watched fans jump into rows they'd never come close to sitting in across town now it was time for the fans in red. Giovinco had scored some sensational goals all season but this was easily the best, arguably one of the finest in the history of MLS let alone Toronto FC. It was a goal that brought the team's coaching staff to its knees, others with their mouths wide open in disbelief.
Yet it was no dream. Not on this night.
Toronto FC had their moment. It will be lost amongst the coverage that will brilliantly tell a tale of a sensational baseball game but that doesn't matter to this team and its loyal supporters. They needed this. Games against New York Red Bulls in the past have too often crushed dreams of playoff spots for another year; but this is a different year, a different night, and a different city.
It is a city that has grown more comfortable in its own skin where people, not interested in sports, wear clothes to represent where they are from. A city that no longer just looks to its hockey team for representation, a city that has embraced the Raptors and their turnaround in success and image and is now absolutely smitten with its Blue Jays. It is moments in the city like this that drives Toronto FC to want to get in touching distance of such passion. In their own world they had their own moment on this night and have found a player who cares about YYZ. Three letters on a hat, three letters on a Wednesday morning boarding card that led to something very special just west of something sensational. What a night.