10 players the Blue Jays should eye as trade targets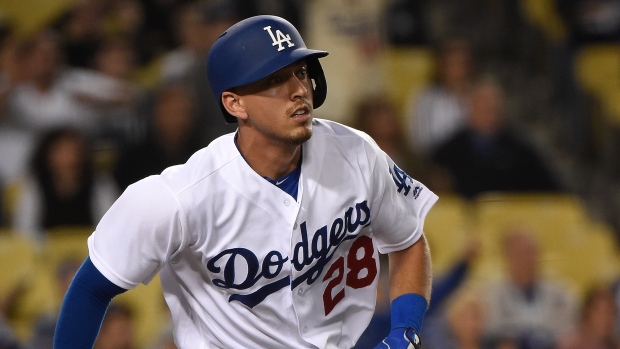 LAKE BUENA VISTA, Fla. – Free agency is far from free.
Any roster holes the Toronto Blue Jays decide to patch using that route is going to take a hefty sum of money and, in some cases, a scary amount of term.
There isn't usually a lot of surplus value to be found in free agency.
But GM Ross Atkins can also go the trade route, something he's mentioned as a possibility since the off-season began for the Jays more than six weeks ago.
While most free-agent opportunities are going to be about improving the roster in the short term, trades could bring in controllable players that could become part of the new core, one that the club hopes will soon include Vladimir Guerrero Jr. and Bo Bichette.
Of course, this is going to cost the Jays, too, as they'll have to use assets other than just cold, hard cash to acquire controllable talent, but that's business.
Here, we'll take a look at 10 players on other rosters who could help provide solutions in the Jays' areas of need.
Some of these players are actually rumoured to be available, and some aren't.
But everyone's available for the right price.
C/2B Austin Barnes, Los Angeles Dodgers
A personal favourite, chances are remote the Dodgers would even entertain dealing Barnes after he put up a .895 OPS in his first full major league season at the age of 27.
Buried in the minors until now, by the end of the year Barnes had wrestled most of the work behind the plate away from Yasmani Grandal, who, of the two Dodgers catchers, is far more likely to be traded.
In 197 plate appearances as a catcher, Barnes posted a ridiculous 154 wRC+, the best offensive mark in the majors for a player behind the dish. For comparison's sake, Buster Posey, while catching, put up a 132 wRC+.
Barnes is also lauded for his pitch framing skills, and those soft mitts allow him to dabble at second base (21 games in 2017), third base, and he even played a minor league game in 2016 as a centre fielder.
He'd be able to take a lot of the burden off veteran Russell Martin, and John Gibbons could find a way to get him into the lineup in multiple ways when he's not catching.
Controllable, productive and versatile. Barnes is pretty darn valuable.
INF Jurickson Profar, Texas Rangers
Profar's name has come up in trade rumours over the last couple of years, as the former top prospect in baseball has struggled to carve out a role in Arlington behind shortstop Elvis Andrus, second baseman Rougned Odor and future hall of famer Adrian Beltre.​
Right shoulder surgery cost Profar the 2014 and 2015 seasons, but he'll turn just 25 prior to next season, and he's built up a versatile portfolio over the past two seasons, playing first base, second base, third base, shortstop and left field.
Sounds like exactly the type of player the Blue Jays need, other than the penchant for hitting the disabled list.
Profar's 70 MLB at-bats didn't go so well last year and he's slashed just .229/.309/.329 in 206 career games, but he put up a .383 on-base percentage at Triple-A and walked 11.2 per cent of the time.
The New York Yankees reportedly checked in on Profar's availability at the GM Meetings this week.
2B/OF Jason Kipnis, Cleveland Indians
Jose Ramirez has turned into a star and Cuban Yandy Diaz has shown he's too good for Triple-A – putting up a .352 on-base percentage in 179 plate appearances with the Indians last year.
That led to Cleveland experimenting with Kipnis in centre field where he wasn't very good.
But Kipnis was an outfielder at Arizona State way back in 2009, so it's not totally foreign to the left-handed hitter.
Injuries ruined Kipnis' 2017 season, but he was coming off back-to-back seasons of 4.9 and 4.8 Wins Above Replacement.
Kipnis will turn 31 in April and has $44.5 million owing over the next three years.
He would provide Devon Travis insurance and spend some time patrolling left field, too.
2B Dee Gordon, Miami Marlins
Atkins reportedly had conversations with the Marlins about Gordon leading into the trade deadline, but nothing came to fruition.
Derek Jeter is in full cost-cutting mode now, though, so it's likely Gordon's contract — $51 million owing through 2021 — is very available.
Not only is Gordon dynamic on the basepaths with 278 career stolen bases, he's also an excellent second baseman who can play shortstop in a pinch and there's no reason to think he wouldn't be a capable left fielder if asked.
Shooting even higher, outfielder Christian Yelich could be available and the 26-year-old rising star would fit in nicely with the next wave given that he's signed to a team-friendly contract through 2022.
Yelich, who slashed .282/.369/.439 with 18 home runs and 16 steals in 2017, would cost the Blue Jays a lot of prospect capital.
INF/OF Chris Owings, Arizona Diamondbacks
Owings' best asset is his versatility.
The 41st overall pick in 2009, Owings is entering his age-26 season without much of an offensive resume at this point — he's posted wRC+ marks of 85 and 86 over the past two seasons, representing a below-average bat — but there were signs Owings was breaking out last season.
In 333 plate appearances in the first half of last season, Owings slashed .290/.323/.484 with 12 home runs, before struggling and then getting hurt and appearing in only 14 games in the second half.
A middle infielder by trade, Owings has also played all three outfield spots in his career.
SS Aledmys Diaz, St. Louis Cardinals
After a sensational rookie season in 2016, Diaz fell flat on his face this past season, eventually being demoted to Triple-A and watching Paul DeJong steal his shortstop job.
With Diaz's future now uncertain, the Cards moved him around the diamond in an effort to increase his versatility, giving him looks at third base, second base and left field.
Diaz struggled mightily with the bat in 2017, slashing just .259/.290/.392, and he didn't exactly turn that around in the minors, either.
But GMs will eye up that 2016 campaign when he batted .300/.369/.510 with 17 homers and a 133 wRC+ and wonder if they can buy low.
Diaz is controllable through 2022.
With the Cards focusing on upgrading their outfield this winter, potentially with Giancarlo Stanton, the Jays could ask about part-timer Randal Grichuk, too, a 26-year-old outfielder with oodles of power but no path to a starting job.
2B Cesar Hernandez, Philadelphia Phillies
One of the Phillies' top prospects, Scott Kingery, is on the way and that could make the underrated Hernandez available.
Quietly, Hernandez has put up seasons of 4.3 and 3.3 WAR over the past two seasons, getting on base at a .373 clip this past season.
With 51 stolen bases over the past three years, Hernandez also brings some speed, but, like most of the names on this list, he's also versatile.
In addition to second base, Hernandez has dabbled at short (21 career games), third (24), and also has 22 outfield games on his resume.
The Venezuelan has three more seasons of contract control.
While they're at it, if the Phillies want to clear a spot for prospect Jorge Alfaro, Cameron Rupp and Andrew Knapp would represent interesting backup catcher solutions for the Jays.
2B Logan Forsythe, Los Angeles Dodgers
The Dodgers aren't just loaded with stars.
They're also loaded with versatile pieces that allows manager Dave Roberts to mix and match with the best of them.
Acquired last winter in exchange for pitching prospect Jose De Leon, Forsythe disappointed in his first season in L.A., slashing just .224/.351/.327, but he was still able to get on base and post a 90 wRC+.
In his last two seasons with the Tampa Bay Rays in the AL East, the right-handed hitter was worth a total of 6.7 WAR and has played every infield spot as well as outfield in his career.
The Dodgers thought enough of him to pick up his $8.5-million option for 2018, but if they're able to add a big bat in the outfield, they also have the versatile Chris Taylor and Enrique Hernandez on hand.
Forsythe will be a free agent next winter so the Jays won't have to give up as much as the Dodgers did.
INF Josh Harrison, Pittsburgh Pirates
The versatile 30-year-old is a very valuable player in Pittsburgh if they plan to contend next season.
But you never know when the payroll-conscious Pirates are going to need to move money, and Harrison is starting to get expensive as he's owed $32 million over the next three seasons.
Harrison might not be the 5.0 WAR player he was in 2014, but the 2.6 WAR he posted last year in slashing .272/.339/.432 with a 104 wRC+ is a valuable asset that will cost some prospects.
He's spent the majority of his time flipping between second and third, but he's also played short and the outfield at times when needed.
INF Wilmer Difo, Washington Nationals
The fantastic trio of Daniel Murphy, Trea Turner and Anthony Rendon block Difo in the Nats' infield, leaving him in a super utility role for 124 games this past season as a 25-year-old.
Controllable and versatile, Difo hasn't hit much as a big leaguer, but his minor league production suggests there might be some untapped potential if he ever got a regular gig.
He's also proven to be an excellent defender.