10 topics that mattered from Blue Jays' Shapiro Sessions
Blue Jays president/CEO Mark Shapiro knows that fans are frustrated after the club's recent trades, but promising to spend when the time is right and jumping from Rogers Centre renovations to Vladdy Jr.'s defence to a potential work stoppage in 2022 are among the 10 topics that mattered from Thursday's Shapiro Sessions, Scott Mitchell writes.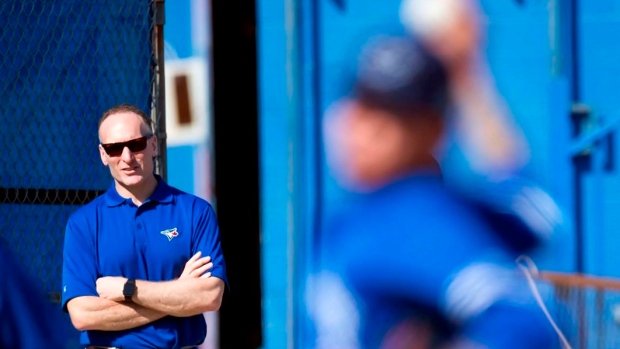 TORONTO — With Bo Bichette the talk of baseball and his team returning home off a successful 7-3 road trip, it was the perfect time for Toronto Blue Jays president/CEO Mark Shapiro to meet with the media and provide a state of the union address.
After all, tiny sample size aside, things seem to be looking up.
The team is hitting, the trio of young kids everyone was waiting for have arrived, and the general sense is the days of the nameless, faceless, stopgap Jays — at least when it comes to the position player group — has come and gone.
But just over a week ago, the anger and disappointment living deep within the fan base surrounding some of the team's personnel choices seemed to crest as the final connections to the postseason fever of 2015-16 were traded away, one last salvo fired in the direction of the ticket-buying public.
That's the perception, anyway.
Reality and perception, however, can be two different things and Shapiro wanted to set the record straight.
As the one hour meeting inside a Rogers Centre boardroom got started, the 52-year-old executive began with some prepared notes and talking points, saying he was aware of the frustration and the negative tone surrounding his franchise.
"We feel a sense of urgency to win," Shapiro said. "We're doing everything humanly possible to push that envelope. Every little thing we can do. With human beings, there is no finite date you can give, but we're not going to set a limit to how soon that can happen and we hope that can happen faster than anyone thinks is possible."
Shapiro is on the record from last year saying he expects the contention window to re-open in 2021, while GM Ross Atkins pushed that envelope even further this week, comparing them to the 2014 Houston Astros, a team that earned a wild-card berth the following season.
It's easy to question both, and there's a whole lot of work to be done.
There's no doubt there's now something for fans to cheer for on the field with three sons of former big leaguers sure to at least provide a draw, but three, four, five, six, or even seven solid pieces do not guarantee pennants.
Look no further than the Los Angeles Angels.
They have the greatest player of this generation patrolling centre field and winning MVP awards, yet he's never won a postseason game.
Mike Trout isn't the only talent on that roster, either, and they've tried to spend to add talent around him.
It just hasn't worked.
With Shapiro promising to spend when the time is right and jumping from Rogers Centre renovations to Vladdy Jr.'s defence to a potential work stoppage in 2022 to how they're going to find pitching in order to contend, here are 10 topics that mattered from Thursday's Shapiro Sessions.
You've gone through situations in the past where you've made decisions that weren't popular with the fan base, but is there something about the reaction to this trade deadline that's out of the ordinary?
"It's the nature of both media and fans to want to judge trades in the short term. Whether it's Willy Adames for David Price, if you go back and read the media, that was largely panned. He was outside of the top-100 (prospects) and it ended up being a really good trade for Tampa Bay. Or Josh Donaldson to Oakland from Chicago. It was Sean Gallagher (as the key piece), it wasn't JD. He was outside the top-100, ran out of options.
"Even my own experience in Cleveland with Cliff Lee. Traded a Cy Young Award winner and Carlos Carrasco has returned a ton of value for the Indians and will once he returns from cancer, but that was largely looked at as a terrible trade, highly criticized in the short term and in the two, three years that followed. Trades take a while to ultimately evaluate. If you're evaluating them on a small amount of information and a small set if data, they can feel unpopular in the moment and you have to be more confident of the group of people and the information that led to that decision."
Will getting back into contention erase the hard feelings with the fans?
"Winning will fix everything, without a doubt. There's no question in my mind. And that's ultimately the only thing that will satisfy people. Sympathize with the frustration. No one likes to go through any period other than winning, particularly when it means changing players people build a strong attachment to and identity with.
"I feel like people build that attachment and identify with players who are there when you win. And we've got a group of really great guys that as they begin to win together and that our fans will form a strong attachment and appreciation for Bo Bichette, for Vladdy, for Cavan (Biggio), for Nate Pearson and Danny Jansen.
"These are going to be the guys that we see the next set of jerseys printed and on our fans' backs. So yeah I think ultimately you've got to win. And everything is solved by winning."
What are the front office's goals this off-season?
"Clearly starting pitching is the area where we've got to spend the bulk of our resources, maybe some bullpen pieces as well. Other than that, position player wise we likely have good alternatives that we at least need to give opportunities to and continue to play."
When is the right time to spend significantly?
"So, basically, I would say all wins aren't created equal, right. So a player who's a three-win player who takes you from 82 to 85 wins probably doesn't move that needle. But if you're at 87 wins and it takes you from 87 to 90, does that make sense? So it's more like when we're at that point, when we have and you can get the player who helps take you from a good team to a team that's a potential championship team, we need to go out and get that player, and that support will be there."
When you think about your competitive window, what level of concern do you have about a potential work stoppage when the current CBA expires at the end of the 2021 season?
"I try not to think about that. For the exact reason you mentioned that it's largely out of my hands and I did actually go through that in 1994 when the Indians were right on the brink of contention.
"We were like literally just breaking through and moving into a new stadium and so many great things. Although it did certainly interrupt that first season, it didn't interrupt eight straight winning years. So what we're trying to build is hopefully something that is sustainable for a long period of time and doesn't have a short window.
"That's something we can't control, it's not something we're factoring in or planning for but are you asking me, is it in the back of my mind, if I have periodically thought of it, yes, I have thought about that. But I don't want anyone else to think about that."
What do you think about Vladimir Guerrero Jr.'s performance at third base?
"I went back to the reality with Adrian Beltre leading the league at 21 years old in errors. Chris Sabo. All kinds of experience first-hand of guys coming up who struggle defensively. The speed of the game most impacts guys, usually, defensively who are great players when they first get up here. Learning to adjust to that, learning to develop routines. Sometimes it is position changes, sometimes it's not. I'm not surprised. Ross (Atkins) clearly articulated that we felt there was still development left to be done in the areas of his game outside of his offence. We've seen that and he's working hard on those things."
It's currently one of the youngest teams in baseball, so why trade away all of the veteran voices?
"Once we identify clearly where the gaps are and think there's not an internal alternative, then we'd look for a veteran player who both provides that performance in that area where the gap is as well as provides leadership and experience.
"I remember talking to (former big league third baseman) Travis Fryman a long time ago — I don't know if I've ever said this in this setting — but he always talked about it, that there's kind of three segments of the player population. There's young players that are just happy to be in the big leagues; there's players in their prime who are looking to get paid; and there's veteran players who want to win.
"You need to make sure you're balanced when you build a roster and you've got representatives from all three of those segments of the player population."
Was there a mandate from ownership to cut payroll and are there any assurances that next year or in the near term that you can get back to the type of payroll you had in the past?
"The only directive from ownership is to run a business that doesn't lose money which means obviously payroll's going to reflect revenue and revenues are down because attendance is down.
"Part of the plan from day one and part of the understanding has been that there will be a time that we need to outspend, outpace revenue with spending on players. I think that (when that time arrives) they'll (rely on our front office) to say, 'OK, we are close enough to a contending team that we need to go out and spend on players now that kind of supplement this core.'
"We'll have the flexibility to do that starting this off-season because when you're young, by nature your payroll goes down, but I think the key is as we start to mature and guys start to get in their prime, they're going to become more expensive, we need to make sure we a) keep those players in place and b) we add the necessary pieces at the right time."
At its best, where does Toronto fit amongst the marketplace in baseball?
"Toronto's clearly one of the greatest markets in Major League Baseball, but based on revenues it's probably in that eight to 10 range, somewhere in there. Clearly one of the more advantageous positions in the game.
"I would just say, you can just look at market size, like number of households, take some reality of the exchange rate, which is a disadvantage for us and discount off that and say that's where we fit."
How are potential large-scale renovations to Rogers Centre and ongoing renovations at the spring training complex in Dunedin going?
On Rogers Centre: "We've got one of the most unique, if not the best, locations in Major League Baseball for a stadium. That, combined with the age of the facility, creates a dilemma as how do you best attack which is a large-scale project and becoming a larger scale project in consideration.
"That is being led by a group of people at our ownership group at Rogers as well as some people with the Blue Jays. It's just a question of it's taken a long time to figure out what's best, what's best for our fans, what's best for the province, the city and I feel like we're getting closer to that, but we're not quite there yet."
On Dunedin Stadium and training complex: "By the time spring training hits, our development complex, those fields will all be done, (as well as) all the external buildings, which are going to be some of the more unique external buildings in Major League Baseball. We'll have a completely covered infield, which no other team has, new batting tunnels, a running hill, various other things will all be done.
"The stadium will be completely done for spring training. We'll be playing in what will feel like a new stadium in spring training."