17 things we learned about the Jays in 2017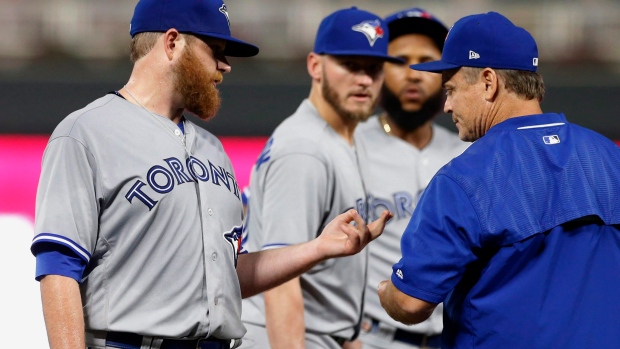 The past calendar year has been a long, painful one for Toronto Blue Jays' faithful.
Coming off consecutive playoff appearances for the first time in more than two decades, expectations were rightfully high heading into 2017, but a lacklustre winter improving the roster led into the Jays getting old in a hurry when the games began and a 76-win season followed.
With the calendar about to flip into a new year, let's take a look at 17 things (we think) we learned in 2017:
1. Troy Tulowitzki's past-prime days might be darker than we thought.
No stranger to the disabled list over the course of his brilliant 12-year career, Tulowitzki hit the DL with a hamstring injury in late April, returned at the end of May for two months, and then saw his season end in late July with a severe right ankle injury.
The most concerning part, however, was how below average Tulowitzki was in every aspect even when he was healthy.
His .249/.300/.378 slash line was ugly, his 78 Weighted Runs Created Plus (wRC+) was even worse, while his usually stellar defensive reputation also took a hit.
Expected to be healthy for spring training, Tulowitzki is motivated to silence doubters at the age of 33, but we'll see if his body can back up that mindset.
2. Devon Travis confirmed he was injury prone.
Most of you are saying, 'Yeah, we already knew that,' but many were ready to give him one last chance to prove that wasn't true, including the Jays' front office, who, with apologies to now-ex-Jays Ryan Goins and Darwin Barney, didn't exactly have an everyday fallback plan ready and paid the price.
Adding dual right knee surgeries over the past 14 months to his dual left shoulder surgeries has Travis' career at a crossroads.
But his May performance — .364/.373/.646 slash line with 16 doubles and four homers in 26 games — also confirmed exactly why the soon-to-be 27-year-old is worth so many chances.
3. Ross Atkins & Co. were right about Justin Smoak's breakout.
As everyone was pointing and screaming at the first base hole last winter (me included), the Jays were quietly confident in Smoak's ability to have a breakout season at the age of 30.
Nailed it.
Smoak steamed out of the gates to his first all-star appearance on the strength of 23 home runs, and he was by far the feel-good story of an otherwise dismal year.
While his second-half numbers didn't match the start, the Jays attributed some of the drop off to a leg injury that Smoak kept quiet, as well as the grind of playing a career-high 158 games.
Standing pat at first base was about the only thing that the Jays did right last off-season.
4. Josh Donaldson is still an MVP-level player capable of carrying an offence.
Not that anyone was really questioning he wasn't, but there is a faction of the fan base looking at Donaldson's age (just turned 32) and seeing what's happening with Tulowitzki, and starting to worry about the viability of a long-term contract extension.
While the contract is another story altogether, Donaldson did miss 49 games, but he was still worth 5.0 WAR and posted a 149 wRC+, right in line with his 154 and 155 marks from 2015 and 2016, respectively.
In the second half, Donaldson was the hottest player in baseball not named Giancarlo Stanton, crushing 23 homers from July 31 on for a 1.121 OPS in 51 games.
5. Kevin Pillar can still play sensational defence, but that might not be enough.
The first six weeks of the 2017 season was an exciting time to be a Pillar supporter.
Backed by Gold Glove leather, the bat seemed to be rounding into form in his third full major league season, as he hit .303 with seven home runs through May 24.
Pillar was more selective, had more power, and was looking like a complete player.
Then he slashed .200/.255/.316 with five homers through his next 272 plate appearances, before rebounding over the final six weeks to finish around his career norms.
Pillar's defence will continue to make him a valuable piece, but it was much easier to carry his dormant bat when the offence was one of the best in baseball.
6. Father Time is still undefeated and Jose Bautista was the latest victim.
The low-risk signing last January made complete sense at the time.
Sure, part of it had to do with Atkins not finding a way to acquire a better solution when the off-season started, but Bautista's track record and the fact nagging injuries limited him to 116 games during the 2016 campaign made it feel like there was a bit of upside on a one-year, $18-million deal.
Even at his advanced age, a motivated and healthy Bautista would surely be at least a slightly above average bat in John Gibbons' lineup, right?
Not so much.
At the age of 36, Bautista ended up setting new single-season Blue Jays records for lowest batting average (.203) and most strikeouts (170) in his final go-round in Toronto.
7. The team that captured hearts in 2015 and 2016 got old in a hurry.
This was essentially the story of the season.
Just about everything that could've gone wrong did, but age-related decline hit the Jays hard and they looked like a shell of the vaunted offensive lineup that they had been.
The core of the teams that went to back-to-back post-seasons was MIA, and we don't mean in Miami for the All-Star Game.
Edwin Encarnacion was in Cleveland.
Bautista was awful.
Tulowitzki alternated between injured and awful.
Marco Estrada got hit hard for about two straight months when it mattered most.
Russell Martin hit the disabled list twice.
Even Atkins and president Mark Shapiro admitted they were shocked by the defensive regression, something that clearly had a lot to do with aging legs all over the field.

8. Russell Martin's presence is important.
By the numbers, his third season in Blue Jays' colours was his worst, but we got a good look at what the veteran catcher means outside of the many metrics players are judged on thanks to two stints on the DL.
In the 87 games Martin started last season, the Jays went 45-42.
In the games he sat out entirely, 30-41.
9. Finding a quality backup catcher isn't easy.
It was a worry heading into last season and the only solution Atkins could find was was no-bat, no-glove Jarrod Saltalamacchia, who ended up being released a month into the season after striking out 16 times in 26 trips to the plate and watched nine successful steal attempts on him in nine tries.
Things went from bad to worse when Martin went on the DL in May with a nerve issue in his left shoulder and again in August with a strained left oblique.
From there, it was a revolving door as, including Salty, the Jays used five different catchers behind Martin — Luke Maile, Mike Ohlman, Miguel Montero and Raffy Lopez — and the results were ugly.
Only Martin and Maile remain on the depth chart heading into 2018, but at least prospect Danny Jansen authored a breakout year in the minors to provide some hope.
10. Vladimir Guerrero Jr. is as close to can't-miss as it gets.
Everyone knew he was a bluechip prospect heading into the year, but as an 18-year-old who had all of 62 games on his resume in pro ball, the baseball world was still taking a wait-and-see approach with Guerrero.
Consider everyone all-in now.Vladdy Jr. was not nice to opposing pitchers in his first full minor league season, and definitely started the process of living up to his dad's name, slashing .323/.425/.485 across two levels to position himself to have a slim chance at a major league debut as a teenager this summer if he tears up Double-A.
11. The organization had a severe lack of starting pitching depth.
In 2016, the Jays used just seven starters.
That helped mask what couldn't be hidden this past season, as injuries to Aaron Sanchez, J.A. Happ and Francisco Liriano early on forced Atkins to dig into his depth.
He dug in and came up empty-handed on almost every occasion.
In total, 14 starters took the ball for the Jays, including names like Mat Latos, Nick Tepesch, Casey Lawrence, Mike Bolsinger, Cesar Valdez and Brett Anderson, all of them posting ERAs north of 5.00.
To make matters worse, the pitching prospects closing in on the big leagues at Double-A — Sean Reid-Foley, Conner Greene and Jon Harris — regressed, with lefty Ryan Borucki's rise from A-ball to Triple-A the notable exception.
12. Joe Biagini could be a starter but probably won't be in the end.
As of today, the plan for Biagini is to prepare for a starter's workload coming into spring training, but that could change in an instant if Atkins can reel in a new fifth starter.
Forced into a starting role last May, Biagini went 2-12 with a 5.73 ERA in 18 starts.
At times it wasn't pretty and he never seemed quite comfortable as a starter, but at times he dazzled, including three outings of seven-plus innings and two or less runs allowed.
If the Jays were in a complete rebuild, they could afford the ups and downs Biagini, the starter, will bring, but the fallback of being a multi-inning weapon of the bullpen might be too tantalizing in the end.
13. Teoscar Hernandez has some serious power, and some serious swing-and-miss.
Acquired at the trade deadline from the Houston Astros for Liriano, the deal was an immediate win for Atkins, who wasn't going to re-sign the veteran lefty and was aided by the Astros' plethora of outfield prospects.
Hernandez is an interesting piece, but the Jays aren't ready to commit to the 25-year-old as an everyday option just yet, and with good reason.
The eight home runs he smashed in 95 September plate appearances were exciting and many of them were tape-measure shots, but he also struck out 36 times.
Successful major leaguers don't strike out 37.9 per cent of the time, and that's a problem Hernandez will have to rectify in order to fulfill his potential.
14. Aaron Sanchez's injury was the reason the Jays couldn't get to the .500 mark.
Eight starts and 36 innings was all the Jays got out of the 2016 American League ERA champion last season, and it killed them.
His blister troubles, which started in spring training, ended up being a microcosm of their entire season.
There were issues all over the roster, but a healthy Sanchez and around 200 quality innings would've come close to the five-win difference between a 76-86 record and an 81-81 mark, which, as sad as it sounds, would've had the Jays only two games back of the Minnesota Twins' 83 wins and the second wild-card spot.
15. Anthony Alford is not getting enough attention.
Guerrero Jr. and Bo Bichette stole all the prospect headlines in 2017, but Alford is quietly starting to add some polish to all the baseball tools the two-sport high school pick from the 2012 draft possesses.
His MLB debut was made of necessity in May — he was already on the 40-man roster — but it didn't last long thanks to a broken hamate bone.
In between that setback, Alford slashed .310/.406/.429 with five homers and 18 steals in Double-A, showing improved plate discipline and above-average centre field defence.
There reason he's not getting more attention? He keeps getting hurt, and that seemed to continue when he rolled an ankle recently in winter ball in Mexico.
If his health cooperates, don't be surprised if Alford is pushing for call-up from down the road in Buffalo by June.
16. The Kendrys Morales signing is a failure.
Signed to a three-year, $33-million contract in the early days of free agency, Morales did hit 28 home runs, the third-best mark of his career.
But that was about all the plodding, 34-year-old DH did.
Over the past three years, Morales' walks have dipped, his strikeouts have gone up, and his offensive production as whole has plummeted.
Add it all up and you have a player who doesn't play defence, can't run, and is now below league average with the bat as his 97 wRC+ will attest to.
Morales has been worth just 0.2 WAR over the past two seasons, including a minus-0.6 mark in his first season in Toronto.
Both Atkins and Gibbons believe a year of getting used to AL East pitching will help Morales, but that seems like wishful thinking at this stage of his career.
Not to mention he's owed $23 million over the next two seasons and plugs a DH spot that could be used to rest all of the aging stars.
17. Marcus Stroman is one of the best pitchers in the American League.
Aside from Smoak and a couple bullpen arms, Stroman's second-straight 200-plus-inning season was one of the lone bright spots.
His impressive consistency was needed.
Stroman's worst ERA in any one month was 3.69 as he essentially kept the Jays from hitting rock bottom every fifth day.
Approaching the age of 27, Stroman was eighth in Cy Young balloting, finishing eighth in WAR amongst qualified AL starters (3.4), fourth in ERA (3.09), seventh in innings (201), and first in groundball rate (62.1 per cent).
The "ace" label is subjective as it gets, but Stroman could reach that rarefied air with a bump in his strikeout rate, which at 7.3 per nine innings was good for 15th in the AL.​