A closer look at an airtight Western Conference
With no team more than seven points out of a playoff spot, TSN.ca takes a look at an airtight Western Conference and what it might mean for bubble teams as the trade deadline inches closer.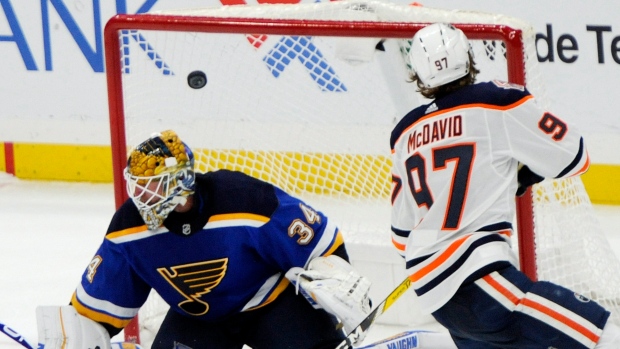 The Anaheim Ducks have won just two times in the last 52 days. They're currently on a six-game losing streak where they've been outscored 31-6 over that span. They've won just two of their last 20 games and sit second-last in the West.
And yet they're somehow on the cusp of the playoffs.
Anaheim enters play Friday just four points back of the St. Louis Blues and Vancouver Canucks at 55 for the second wild card slot. With a small winning-streak or two, they could be looking at the postseason – something that would usually be considered unthinkable for a team on the kind of slide the Ducks are.
The same thing is happening in St. Louis. As recently as Jan. 3, the Blues sat 31st in the NHL and were a dismal 15-18-4 after high expectations to begin the season. But they've surged recently thanks to a four-game winning streak and now occupy the final playoff spot despite being dead last just over a month ago.
The problem for the Ducks and Blues is that pretty much every other team in the Western Conference is also right in the thick of things too. Outside of the top three in the Pacific and Central Divisions, just seven points separate the remaining nine teams in the West. None of those teams have winning records and at least five are on winless streaks of three games or longer.
Of the six teams in non-wild card playoff spots, only Dallas' total of 61 points looks like it can be caught from behind.
It's a noticeable drop-off from last year. The two 2017-18 wild card spots went to the Los Angeles Kings (98 points) and Colorado Avalanche (95). At this season's current pace, neither team that ends up claiming the final two spots will come close.
Western Conference Wild Card Race
| Team | Games Played | Points | Streak | Last 10 |
| --- | --- | --- | --- | --- |
| MIN | 54 | 57 | L4 | 4-4-2 |
| STL | 52 | 55 | W4 | 7-2-1 |
| VAN | 55 | 55 | L3 | 4-3-3 |
| COL | 53 | 53 | L5 | 2-7-1 |
| EDM | 54 | 53 | W1 | 3-5-2 |
| CHI | 55 | 53 | W6 | 6-2-2 |
| ARI | 54 | 51 | L5 | 3-5-2 |
| ANA | 55 | 51 | L5 | 2-7-1 |
| LAK | 54 | 50 | W3 | 6-3-1 |
Given the density of the wild card race, teams that would usually be sellers with their current record could convince themselves to become buyers and shoot for the remaining two spots. According to TSN Senior Hockey Reporter Frank Seravalli, that might not be the case with a few teams in particular.
"I think there's a couple that won't be fooled by the historically low bar that's being set in the Western Conference - namely the Chicago Blackhawks and Los Angeles Kings. Those two teams need major reconstructive surgery. You see Artem Anisimov from the Blackhawks joining the Trade Bait Board for the first time," Seravalli told SportsCentre on Friday.
"The Kings have had guys on there all season long and general manager Rob Blake has made no bones about the fact that they need to significantly rebuild but there's another couple teams, mainly the Colorado Avalanche, but what about the Vancouver Canucks and the Edmonton Oilers? They're there and they'd certainly like to get in, but they're not going to be mortgaging their future either to get in. So if there's a piece that they can add in a small way that makes sense they probably do it, but for other teams like the Blackhawks and certainly the Kings, they're not going to be adding to go all-in to make it."
Despite their hot streak, St. Louis could still be one of those teams.
"They were left for dead, 31st place as recently as Jan. 3. But you've also seen Doug Armstrong last year with his team one point out of the playoff race trading Paul Stastny at the deadline. This year they also won't have their first-round pick which they traded to get Ryan O'Reilly. Many teams thought that they would be a contender this year, I thought the Blues thought they would be as well. They're starting to play like that, I just don't know if they're going to be adding and in fact to try and get a first-round pick for the future like Armstrong did last year, they might even be selling," Seravalli said.